Finder is committed to editorial independence. While we receive compensation when you click links to partners, they do not influence our opinions or reviews. Learn how we make money.
Bank of America HELOC review
finder.com's rating: 3.9 / 5.0
★★★★★
Reduce your interest rate by setting up autopay and being a Preferred Rewards member.
This Big Four bank offers HELOCs from $25,000 up to $1 million and $500,000 on second homes. It also rewards eligible customers with rate discounts, but look out for climbing APRs and early closure fees.
Details
Name
Bank of America
Description
Minimum credit
620
Origination fee
Varies
Other fees
Bank of America takes care of the closing costs on lines up to $1 million and waives application or annual fees. It doesn't charge a fee to convert a variable-rate balance to a fixed-rate, either.

But if you close your account within 36 months, you'll have to pay a $450 base fee, along with any mortgage and government taxes, recording fees and closing costs Bank of America paid on your behalf. The site says the average fee is between $456.10 for a $25,000 line — or $778.60 in New York — and $23,897.10 for a $1 million line.

Because of higher taxes, New Yorkers can expect to pay between $778.60 and $34,413.10 in fees for the same credit lines.

Pros
Low fees
Speedy online application
Large physical presence
HELOCs for secondary residences available
Cons
Application can be confusing
High maximum APR
Early closure fee
Bank of America is accredited with the Better Business Bureau and holds an A+ rating for its customer interaction. The BBB has recorded 5,739 complaints in the last three years, all of which were addressed by the banking giant. Customers awarded the bank a 1-star rating based on 250 reviews — standard for a traditional bank with several arms. That said, these reviews aren't specific to the home loans division.

On TrustPilot, Bank of America has a 2-star rating based on 51 reviews. Customers praised the bank's wide physical presence and personalized service, while many others complained about their experience.
What makes Bank of America unique?
Bank of America has a strong HELOC program for these reasons:
HELOC range
Eligible borrowers can open a HELOC between $15,000 and $1 million on a primary residence, and $500,000 on a secondary residence. Most major banks cap their HELOCs at $500,000.
Interest rate discounts
Set up automatic monthly payments from your Bank of America checking or savings account and you'll earn a discount of 0.25%. The bank also offers an initial draw discount of 0.1% for every $10,000 withdrawn, up to a maximum discount of 1.5%. Finally, Preferred Rewards members score a discount of 0.125% for Gold tier, 0.25% for Platinum or 0.375% for Platinum Honors.
High borrowing limits
With Bank of America, you can typically borrow up to 85% of your home's equity — which is more than many traditional lenders.
Do I qualify for a loan with Bank of America?
The bank is tight-lipped on its eligibility requirements, though it does say borrowers need a loan-to-value ratio of 80% or less.
The site suggests the best rates are reserved for Preferred Rewards customers who set up automatic payments from their Bank of America checking account.
What are the benefits of taking out a HELOC with Bank of America?
Along with its wide HELOC range and interest rate discounts, opening a line of credit with this lender also has these benefits:
Low fees. The bank covers the closing costs on lines of credit up to $1 million and doesn't charge application or annual fees. You also won't pay a fee for converting to a variable-rate balance.
Speedy online application. Bank of America claims the online application takes 15 minutes or less.
Live chat feature. During business hours, you can reach a rep via online chat.
Fixed-rate option. For more predictable payments, you can convert all or part of your variable-rate balance to a fixed-rate without paying a conversion fee.
HELOCs on secondary residences. You can take out a line of credit up to $500,000 on your second or vacation home.
Large physical presence. The bank has 4,000 branches nationwide. If you prefer to do your banking in person, there's a good chance there will be a loan officer near you.
What to watch out for
Bank of America may fall short in these ways:
Online application can be confusing. With a few repetitive fields, it could use an edit.
High maximum APR.The bank says your APR won't exceed 24% over the life of the loan. Other banks, like Wells Fargo, keep lifetime interest rates under 7%.
Early closure fee. If you close your account within 36 months, you'll be slapped with a $450 base fee, plus any mortgage and government taxes, recording fees and closing costs Bank of America paid on your behalf. This fee doesn't apply to Texas HELOCs.
Compare Bank of America HELOC to other lenders
How do I get started?
The easiest way to apply is online. These are the steps:
Head to the Bank of America website. Hover over Home Loans and click Home Equity.
Click Apply Now.
Provide details about the property's location, use (e.g. primary residence), estimated value and how much you're hoping to borrow.
If you're a Bank of America customer, Sign In to prefill your application. Otherwise, click Continue.
Fill out the form with your employment information, income and financial assets.
Upload any necessary documents and submit your application. A home loan officer will take over the application and reach out about the next steps.
To apply over the phone, call 800-779-3894 weekdays from 8 a.m. to 10 p.m. or Saturday from 8 a.m. to 6:30 p.m. ET. Or, hop online to schedule an appointment at a financial center.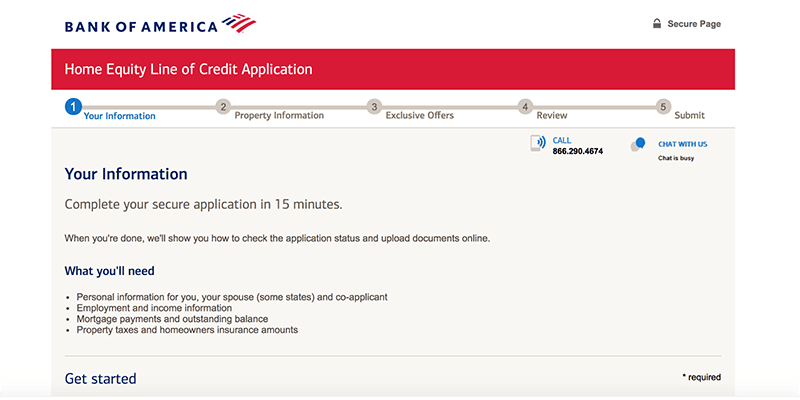 Required documentation
The application will ask for the following
Social Security number for you and your co-borrower if you have one
Employment and income information
Property type and location
Estimated value of the property
Mortgage balance
Details about your homeowners insurance and property taxes
Driver's license or government-issued photo ID
I got the HELOC. Now what?
Make the most of your HELOC with these tips:
Convert to a fixed-rate. To switch to steady monthly payments, convert all or part of your variable-rate balance to a fixed-rate during the draw period. The minimum amount that can be converted is $5,000.
Access your credit. These are your options:
Online transfers. Sign into online banking to move money between your accounts.
Over the phone. Call 800-934-5626 weekdays from 8 a.m. to 9 p.m. ET.
At a branch. Visit a financial center to withdraw funds.
Credit checks. Write a home equity line of credit check. These checks aren't available in Texas.
Enhanced Access Visa credit card. Tap into your credit by using your card anywhere that accepts Visa. Customers in Connecticut, New York and Texas need to explore other options.
Contact customer service. You can reach the team by:
Phone. Dial 800-934-5626 weekdays from 8 a.m. to 9 p.m. ET.
In person. Go online to search for a financial center near you. Filter the results by checking the box that says Home Loans Specialist.
Email. Log into online banking to send a secure message.
Social media. Ask questions via Facebook Messenger, or tweet @BofA. The bank's representatives are online weekdays from 8 a.m. to 9 p.m., Saturday from 8 a.m. to 8 p.m. and Sunday from 8 a.m. to 5 p.m. ET.
Live chat. Speak to a Bank of America HELOC specialist online during business hours.
Frequently asked questions
Home loans ratings
★★★★★ — Excellent
★★★★★ — Good
★★★★★ — Average
★★★★★ — Subpar
★★★★★ — Poor
We analyze top home loan providers and rate them one to five stars based on factors that are most important to you. These factors include: rates and fees, product selection and borrower experience.
Read the full methodology of how we rate home loan providers.
Expert review
Review by
katia.iervasi@finder.com
---
Katia Iervasi is a staff writer who hails from Australia and now calls New York home. Her writing and analysis has been featured on sites like Forbes, Best Company and Financial Advisor around the world. Armed with a BA in Communication and a journalistic eye for detail, she navigates insurance and finance topics for Finder, so you can splash your cash smartly (and be a pro when the subject pops up at dinner parties).
Expert review
Bank of America is for borrowers looking for high-dollar HELOCs. It offers loans up to $1 million or up to 85% of the value of your home — more than other lenders. But if you're looking for a low maximum interest rate, BOA is not your bank — its lifetime interest rates are capped at 24%.