Finder is committed to editorial independence. While we receive compensation when you click links to partners, they do not influence our opinions or reviews. Learn how we make money.
Guide to bank fees for wire transfers
With fees ranging from $0 to over $45, learn what major banks actually charge for wire transfers.
Your local bank branch offers an easy way to send money overseas straight out of your account, but often there are high fees attached to this convenience. We've researched the wire transfer fees of some of the top banks in the US to show how they compare against one another and against independent money transfer services.
Wire transfer fees for top US banks
We've gathered the wire transfer fees charged by 10 major US banks. You may also be subject to foreign transaction, minimum balance and other fees — and some banks waive fees depending on your account status.
| Bank | Incoming domestic wire | Outgoing domestic wire | Incoming international wire | Outgoing international wire |
| --- | --- | --- | --- | --- |
| Ally (online bank) | $0 | $20 | $0 | Not offered |
| Bank of America | $15 | $30 | $16 | $35–$45 |
| BB&T | $15 | $30 | $15 | $30 |
| Capital One 360 (online bank) | $0 | $30 | $0 | Not offered |
| Chase | $15 | $25–$35 | $15 | $40–$50 |
| Citibank | $15 | $10–$25 | $15 | $10–$35 |
| PNC Bank | $15 | $30 | $15 | $45 |
| TD Bank | $15 | $25 | $15 | $40 |
| US Bank | $20 | $30 | $25 | $50 |
| Wells Fargo | $15 | $30 | $16 | $45 |
Find the best provider for your transfer
Answer three quick questions and we'll give you an instant recommendation for a money transfer service based on your needs.
Based on your answers, check out: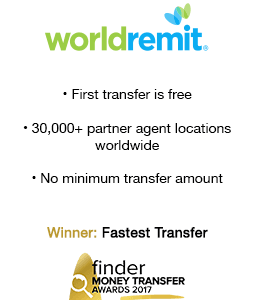 What fees should I expect?
The fees your bank charges depend on whether you're sending or receiving the money, as well as whether the recipient or sender is overseas. Some banks charge more depending on how you initiate the wire transfer — for example, online or in person.
Generally, it's cheaper to send money domestically because fewer financial systems are involved. International transfers involve banks and wire processing services for each country — and with more banks come more fees.
Based on our research from 10 US banks, these are the average fees you can expect for wire transfers:
Incoming domestic fee. $15 to $20 for receiving money from another US bank account.
Outgoing domestic fee. $20 to $30 for sending money to another US bank account.
Incoming international fee. $15 to $25 for receiving money from an overseas bank account.
Outgoing international fee. $35 to $65 for sending money to an overseas bank account — if it's offered at all.
Initiation fee. $10 to $35 that depends on how you make your transfer, for example, in a branch or over the phone.
Tracer fee. Up to $15 for requesting tracing services for a previous wire transfer.
How can I compare these bank fees?
To make your decisions a bit easier, we've gathered wire transfer fees for several US banks below.
When assessing these fees, how much you'll pay depends on where you're sending money to and other elements like:
Incoming vs. outgoing. Incoming wire transfers tend to be cheaper than outgoing wire transfers. This is because the sender usually bears the brunt of the costs associated with the wire transfer.
Domestic vs. international. Because domestic wire transfers involve less processing, they tend to be cheaper than international wire transfers. International wire transfers typically involve multiple banking systems and operators between the two countries.
Recurring vs. one-time fees. Some banks offer savings of a few dollars per transfer when you set up recurring wire transfers.
Initiation fees. Your bank could charge a fee for requesting the wire transfer in a branch or over the phone, instead of online.
Tracer fees. If your recipient hasn't received your transfer as scheduled, you may need to trace it. This could incur more fees.
Exchange rates. An exchange rate shows how much one currency is worth in another currency. Nearly all banks skew the published exchange rate for a profit, and they aren't always forthcoming about the margin they add. You may need to call your bank or initiate a transfer online to see the best exchange rate offered.
---
How can I beat the banks and reduce what I pay in fees?
Many providers give a break on fees if you send more money each time you use its service. Some smaller banks even give you a break on transfers to and from student accounts. This helps parents or guardians avoid being double charged if they're funding both accounts.
Case study: Wiring $1,000 to Australia
| | Bank transfer | Cash pickup transfer | Money transfer service |
| --- | --- | --- | --- |
| Fee | $30 + bank fees | $3.99 | $10 |
| Exchange rate | 1 USD = 1.449 AUD | 1 USD = 1.505 AUD | 1 USD = 1.498 AUD |
| Transfer speed | 2–5 days | Minutes | 1–2 days |
| Amount received | 1,406 AUD | 1,499 AUD | 1,483 AUD |
| Verdict | Slowest and most expensive | | Better than a bank transfer |
The bank ends up being both the slowest and most expensive option, resulting in the least amount of money delivered among the three. Using a bank transfer would cost 93 AUD more than other, faster options.
---
Compare banks to independent money transfer services
Bottom line
Banks offer a secure and familiar way to complete wire transfers with friends, family members and merchants. However, you can expect to pay high transfer fees on top of weaker exchange rates than you would get by using an online money transfer service. There are more ways than just your bank to send money domestically and internationally, so be sure to compare your options before paying high fees.
Frequently asked questions
More guides on Finder