Finder is committed to editorial independence. While we receive compensation when you click links to partners, they do not influence our opinions or reviews. Learn how we make money.
Compare Umpqua Bank products: Savings and Checking
Find a full range of personal and business banking products, but only for West Coast residents.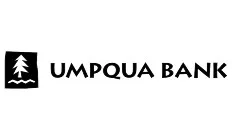 Choosing a financial provider can be a painstaking process. Whether you're looking for a fee-free checking account or high-yield savings, Umpqua Bank offers a competitive selection of both personal and business products for residents of the West Coast.
What banking products does Umpqua Bank offer?
Personal banking
Umpqua Bank's personal banking products come with a number of perks but are limited to residents of Washington, Oregon, Idaho, California and Nevada.
Small business banking services
Community Business Checking. With an opening deposit of at least $100 and a monthly account fee of $10, receive up to 200 free checks a month and deposit up to $10,000 each month free of charge.
Marketplace Checking. A $25 monthly fee and opening deposit of $100 will get you 500 free checks a month and $150 off your first order of checks and supplies through Harland Clarke.
Business Analyzed Checking. An opening deposit of at least $100 is needed for Umpqua Bank's top-tier business checking account, which offers earnings credit allowance to offset the $18 monthly fee.
Community Business Savings. Comes with six free monthly withdrawals and a $3 monthly maintenance fee that can be waived if a daily balance of at least $200 is maintained.
Main Street Money Market. With a minimum opening deposit of $100, enjoy ATM access, up to $10,000 of free cash deposits monthly and the option to waive the $10 monthly maintenance fee if a daily balance of at least $2,500 is maintained.
Marketplace Money Market. You won't pay a fee on your first 50 checks and $10,000 in cash deposits each month, and you can waive the $15 monthly fee if a daily balance of $25,000 is maintained.
Other products
Credit cards. Umpqua Bank has a number of different personal credit cards to choose from, including Visa Platinum, Visa Real Rewards, Cash Rewards American Express and Premier Rewards American Express.
Business credit cards. If you're looking for a business credit card, Umpqua Bank offers Visa Business Platinum, Visa Business Cash, Visa Business Real Rewards and Visa Business Rewards PLUS.
Loans. If you're looking to finance your next home or personal project, Umpqua Bank offers fixed and adjustable-rate mortgages, home equity lines of credit, personal loans, personal lines of credit and auto loans.
Business loans. For small businesses seeking capital, Umpqua Bank offers business term loans, SBA loans, real estate loans, business lines of credit, equipment financing and vehicle financing.
Compare Umpqua Bank to the competition
Umpqua Bank isn't one of the nation's heavyweight financial institutions. In fact, it doesn't even crack the list of the top 50 bank holding companies by deposits in the US.
Big names like JP Morgan, Bank of America and Wells Fargo hold the top spots with over $1 billion in customer deposits apiece and thousands of nationwide bank branches. But West Coast provider Umpqua Bank suggests on its website that its small-town roots help keep it grounded and people-oriented.
Why should I open an account with Umpqua Bank?
In addition to expected services like Umpqua Bank online banking, here are other highlights:
Low fees. Monthly fees for Umpqua Bank's basic savings and checking accounts are just $3 and $5 respectively with options to waive fees if you maintain the minimum daily balance requirement.
Mobile banking. Umpqua Bank's mobile banking app is free to download for Android and iOS and allows you to transfer funds, check your account balance and deposit checks.
Bill pay. As part of Umpqua online banking, checking accounts allow you to automate your bill payments.
Complimentary savings. Umpqua Bank's checking accounts automatically qualify you for complimentary savings and money market accounts.
Reward programs. Umpqua Bank offers reward point programs and cash back programs on its Visa and American Express cards.
Customer service. Umpqua Bank's customer service is available by phone and email seven days a week.
What should I look out for?
Limited availability. Umpqua Bank accounts are only available to residents of Washington, Oregon, Idaho, California and Nevada.
ATM fees. There are no fees to access your funds at an Umpqua Bank ATM but expect a $2.50 fee when using any ATM outside its network.
Lack of transparency. Umpqua Bank doesn't post its interest rates for its savings accounts online which means you'll need to call customer service for your potential rate.
Umpqua Bank ratings, reviews and complaints
Umpqua Bank is not an accredited business with the Better Business Bureau. The BBB gives Umpqua Bank a D- rating due to its failure to respond to four official complaints.
A majority of complaints on the Consumer Financial Protection Bureau against Umpqua Bank were about its home loans, although a number of customers also complained about issues with automated bill payments and checking accounts being closed due to inactivity.
Umpqua Bank is insured by the FDIC, from which it receives a Satisfactory CRA rating.
Bottom line
As is the case with any financial provider, an account with Umpqua Bank has its benefits and drawbacks. Take advantage of bill pay, mobile banking and rewards programs but be on the lookout for ATM fees and its limited availability.
Common questions about Umpqua Bank
More guides on Finder