Finder is committed to editorial independence. While we receive compensation when you click links to partners, they do not influence our opinions or reviews. Learn how we make money.
Compare TIAA Bank products: Savings and Checking
High yield checking and competitive CDs can grow your cash over time.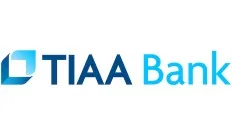 TIAA Bank offers competitive interest rates with minimal account maintenance fees. But you'll need to deposit a hefty sum to get started with one of its high-yield accounts.
What banking products does TIAA Bank offer?
TIAA Bank's parent company, TIAA, specializes in providing financial services to academic entities. But the bank also offers a competitive suite of checking and savings accounts, plus high yield CDs.
Compare TIAA Bank accounts

How does TIAA Bank compare to other banks or services?

TIAA Bank's parent organization, TIAA, is a Fortune 100 company and provides financial services that cater to the research, medical, cultural, academic and government fields. But the bank itself doesn't rank on the nation's list of top 50 holding companies by total direct deposits.

It has 146 physical locations around the country, which is fewer than industry giants like Bank of America or Wells Fargo. The ATM fee reimbursement policy is fairly competitive and could help offset its limited physical presence.

Checking accounts

Pros

Earns interest. The Yield Pledge Checking account and the Small Business Checking earn introductory APYs for one year. Even after these rates end, APYs are still competitive.
Debit card protection. If you purchase something with your High Yield debit card and the price goes down within 60 days, TIAA Bank will pay you the difference, up to $250. Likewise, if you return something within 90 days of purchase and the merchant won't accept it, TIAA will refund you for up to $250 of the purchase amount.
ATM fee reimbursement. If you're often on the move, TIAA reimburses up to $15 in ATM fees each statement cycle unless you have a balance of $5,000, in which case it's free.

Cons

High opening deposits. You'll need at least $100 to open a Yield Pledge Checking account and $1,500 to open all business checking accounts.
Overdraft fees are expensive. You'll pay $30 per transaction for insufficient funds, which can happen up to two times daily. So if your balance falls short, you could face up to a $60 fee.
Miscellaneous fees. Expect to pay $10 for cashier's checks, $10 for returned deposit items and anywhere from $4.95 to $14.95 for expedited BillPay services.

Savings accounts

Pros

Strong APYs. TIAA Bank's interest rates for its money market accounts are competitive with most online banks.
Low minimum deposits for basic accounts. All you need is $25 to open the basic savings accounts.
Minimal fees. You won't pay anything to open or maintain a TIAA Bank savings account. Plus, most accounts come with ATM reimbursements.

Cons

Hefty deposit for high-yield accounts. You'll need $500 to get started with its High Yield Money Market account.
Best APYs expire after one year. For most accounts, you'll earn the highest rate in the first year. After that, your APY depends on your account balance.
Excessive transaction fees. TIAA Bank charges a $10 fee each time you make more than six outgoing transactions a month.

CDs

Pros

Competitive CDs. TIAA's CDs offer solid rates with APYs ranging from 0.9% to 1.9% depending on the CD type and term.
Wide range of terms. Terms range from three months to five years. Generally, the longer your term, the more interest you'll earn.
No monthly fees. You won't pay anything to open or maintain a CD with TIAA Bank and interest rates are locked in for the length of your term.

Cons

High opening deposit. TIAA Bank requires a minimum $1,000 opening deposit for Basic CDs, $1,500 for bump rate CDs and $5,000 for High Yield CDs.
Early withdrawal penalties. Expect to pay a penalty fee if you need to withdraw money before your CD matures.
Maximum deposits. You can't deposit more than $250,000 in a bump rate CD.

Overall banking

Pros

24/7 customer service. If you find yourself needing assistance, you can chat with a representative at any time by phone. Or, during normal business hours on Twitter.
Large ATM network. TIAA Bank partners with Allpoint and MoneyPass to bring its customers free access to over 80,000 ATMs nationwide.

Cons

Limited brick-and-mortar presence. If you don't live near a physical location, you'll do most of your banking online.
No live chat function. Unlike other banks with limited branches, TIAA Bank doesn't offer any real-time support on its website.

TIAA Bank reviews and complaints

The BBB gives it an A+ rating, though it's not officially accredited there. There's only one complaint lodged against TIAA Bank on the CFPB website, but that could be because it was officially launched under that name in 2018 after merging with EverBank. Prior to that, its banking branch was called TIAA Direct.

It's a member of the FDIC, but hasn't been reviewed by the FFIEC. In 2019, its parent company was voted one of the World's Most Ethical Companies by the Ethisphere Institute and has also been given The Mixed Assets Large Fund award from Refinitiv four years in a row — but that's more relevant to its suite of investing products.

TIAA Bank customer service

Get in touch with TIAA directly in one of the following ways:

Online messaging: Send a secure message through the bank's webpage email portal.
Twitter: Support specialists can help with general questions @TIAABankHelp

Compare TIAA Bank to the competition

If TIAA Bank isn't quite what you're looking for, consider these top-rated institutions:

Bottom line

TIAA Bank's high yield accounts and CDs position it competitively, plus its investing and retirement products could be a one-stop-financial shop for some. But if you're looking for an account with lower initial deposit requirements or more branch locations, look around to find a better fit.

Frequently asked questions.
More guides on Finder