Finder is committed to editorial independence. While we receive compensation when you click links to partners, they do not influence our opinions or reviews. Learn how we make money.
Huntington National banking products: Savings, Checking, and CDs
A Midwest-based provider with excellent customer service but low interest rates.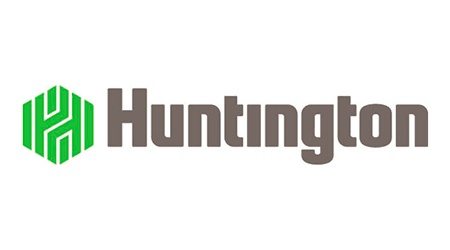 Huntington National Bank has a strong brick-and-mortar network in the eight states it services, and is best for folks looking to open more than one account; otherwise, fees can quickly pile up.
What banking products does Huntington National Bank offer?
Huntington Bank is a full-service provider with personal and business products in addition to one-to-one private wealth management assistance.
Personal
All of Huntington Bank's personal accounts come with a 24-hour grace period for overdrafts, waiving the $37.50 fee if you bring the account balance back up to at least $5 within 24 hours. It also provides standard tools for online banking — mobile deposit, online bill pay, and the ability to set up email and text alerts.
Business
Huntington Bank serves thousands of small businesses, and was recognized in 2018 as the nation's top SBA 7(a) loan originator by volume. Its products come with access to The Hub, an online resource with tools to help you manage revenue.
Compare Huntington Bank accounts
How does Huntington National compare to other banks or services?
Huntington Bank was founded in 1866 in Columbus, Ohio where it still operates today. Its brick-and-mortar locations are mostly limited to Midwestern states like Illinois, Indiana, Kentucky, Michigan, Ohio, Pennsylvania and West Virginia, .but it has over 1,700 branded ATM locations.
It ranks 26th on the FDA's list of Top 50 Bank Holding Companies by Domestic Deposits, beneath Ally Financial but above Discover. While its physical presence is less expansive than big-box competitors like Wells Fargo or Bank of America, it claims to focus on building deep relationships with each client.
Checking accounts
Pros
Perks for opening multiple accounts. Avoid maintenance fees by opening a checking and savings account and gain access to higher APYs by maintaining a high-tier checking account.
Strong business options. Huntington Bank offers four attractive business checking accounts. The Checking 100 account is free and the Unlimited Business Checking account comes with unlimited transactions.
ATM rebates. The Huntington 5 Checking and Huntington 25 Checking accounts come with ATM reimbursements.
Cons
Online applications. You must open business bank accounts in person at a local branch.
Expensive ATM fees. If you choose an account that doesn't have ATM rebates, expect to pay $3 each time you need to use a non-network ATM in addition to potential operator fees.
Low APYs. The Huntington 5 Checking account earns interest, but the rate is only 0.02%.
Savings accounts
Pros
Avoidable monthly fees. Most of its savings accounts have monthly fees, but you can avoid them when you maintain a certain account balance or have a linked Huntington checking account.
Several account options. Huntington offers three personal savings accounts and two business savings accounts that cover a range of banking needs.
Serves as overdraft protection. Link your savings account to your Huntington Checking account and money will automatically transfer if your balance dips below $0. Plus, it's free.
Cons
Low APYs. Its savings account tiers favor high balances, and Huntington's APYs in general aren't competitive for the industry.
Other fees. Expect to pay $2 for excessive transactions, $3 for non-network ATM withdrawals and $75 for outgoing international wire transfers.
High opening deposits. Some savings accounts have opening deposit requirements as high as $2,500 or $25,000 for money market accounts.
CDs
Pros
Wide term ranges. Standard CD terms range from one month to six years while Jumbo CD terms range from one week to five years.
No monthly fees. You won't pay anything to open or maintain a CD with .
Daily compound interest. Your money grows faster with this compounding method because you earn interest today on yesterday's interest.
Cons
Low APYs. All of its CD rates are much lower than rates offered by other banks.
High opening deposits. Huntington requires a minimum $1,000 opening deposit on all its CDs.
Can't open online. You'll have to visit a local branch if you want to open a CD with Huntington.
Overall banking
Pros
Industry reputation. It's been in business for over 100 years and is well-regarded as a financially stable institution that offers an excellent experience for customers.
Range of products. If you're in the Midwest and are looking for a one-on-one, personalized experience, Huntington's full-service financial products means you can keep mortgages, personal loans and even life insurance under one roof.
24/7 customer service. Even though it's a regional bank, you can reach a customer service representative seven days a week, anytime you need help.
Cons
Lack of national presence. Its ATMs and branch locations are only available in eight states, mainly across the Midwest.
Complicated fee structure. Huntington may not be best for individuals in search of a fee-free experience. Similar to most traditional banks, its complicated fee structure means you'll have to vigilantly maintain certain balances to waive excess fees.
Few ATMs and branches. This bank only has about 1,800 ATMs and less than 1,000 branches.
Huntington National Bank reviews and complaints
Huntington Bank has been accredited by the Better Business Bureau since 1921, where it has a shining A+ rating — a reflection of how thoroughly it replies to customer complaints. There are over 2,700 complaints lodged against it on the Consumer Financial Protection Bureau, but nearly all have received responses in a timely manner. Most Huntington branch locations have been rated "satisfactory" or "outstanding."
In February 2019 it was awarded five national Greenwich Excellence Awards, including for Overall Satisfaction and Cash Management Overall Satisfaction. Huntington is regarded throughout the industry as excellent, as it ranked in the top five on the annual American Banker survey of bank reputations.
Huntington customer service
Get assistance with your Huntington accounts via:
Phone: Call 800-480-2265. General customer service reps are available 24/7.
Online chat: Go to Huntington's website and click Ask Us in the lower right hand corner. You instant message a customer service rep in real time.
Social media: Send a general query via Facebook messenger or Twitter direct messaging.
Compare Huntington Bank to the competition
If Huntington Bank doesn't meet your banking needs, consider accounts from these popular institutions:
Bottom line
Huntington Bank rewards clients that want to open more than one account within its personal banking umbrella, as fees can get steep when you don't play by the rules. If you're looking for fewer fees or a bank with a larger national presence, shop around for bank accounts to see what else is out there.
Frequently asked questions.
Read more on this topic