Finder is committed to editorial independence. While we receive compensation when you click links to partners, they do not influence our opinions or reviews. Learn how we make money.
Compare Citizens Access banking products: Savings and CDs
No-fee digital accounts with best-in-class APYs that require a hefty deposit.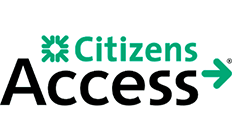 Citizens Access is a younger digital offshoot of brick-and-mortar heavyweight Citizens Financial. Its accounts are free to set up and maintain, though a hefty initial deposit is required and must be maintained to earn competitive interest.
What banking products does Citizens Access offer?
Citizens Access is focused on helping clients grow their money, focusing its products on savings accounts and CDs only. You won't pay any fees with its accounts. But, they all require an initial deposit of at least $5,000.Citizens Access's savings products include:
Online savings. Expect an APY of at least 0.6%, and rest assured that your deposits are insured by the FDIC.
Online CDs. Term lengths range from one to five years, with APYs of 0.6% to 0.75%. Choose whether to receive interest payments directly or add them to the principal.
Liquid CDs. This 11-month CD offers a competitive 1.35% APY and allows you to make a one-time, penalty-free withdrawal as soon as seven days after funding.
CD ladders. Invest your cash across multiple CDs with staggered term lengths. When one CD ends, your money is reinvested into another with a longer term and higher interest rate. Regular opportunities to reinvest your cash means less risk of getting stuck with a weak rate.
How does Citizens Access compare to other banks or services?
Citizens Access doesn't support ATMs or branch locations, unlike industry giants you're used to seeing in your neighborhood. It doesn't offer debit cards or checks, because it's designed to help you meet your savings goals, not spend cash.. While most banks curate a suite of banking products, from checking to loans to investments, Citizens Access homes in on just digital savings.
The bank launched in 2018, so it's relatively new. Parent company Citizens Bank, however, ranks 21st on the FDIC's list of the top 50 commercial banks and savings institutions and has been around for almost 150 years.
Savings accounts
Pros
Competitive APYs. You'll earn 0.6% APY with Citizens Access Bank — an interest rate that's on par with even bigger online banks.
No fees. There are no fees for account opening, monthly maintenance, excessive transactions and more. But Citizens Access reserves the right to close your account if you make more than six outgoing transactions a month.
Quick sign up. According to Citizens Access, you can open this account online in as little as five minutes.
Cons
Hefty account minimum. You need at least $5,000 to open this account. Plus, you'll have to maintain this minimum balance to earn 0.6% APY.
Strict APY requirements. If your account balance dips below $5,000, you'll only earn 0.25% APY with this savings account.
No cash withdrawals or deposits. Citizens Access doesn't offer debit cards, ATM cards or checks, which means you'll need an outside account to transfer money.
CDs
Pros
Competitive APYs. You'll earn anywhere from 1.35% APY to 0.75% APY depending on which CD type and term you choose.
Accessible interest. Opt to either have your interest credited to your CD or sent to a linked bank account for immediate access.
No-penalty CD option. Citizens Access offers a liquid CD for those who want to lock in a competitive APY but also maintain access to their funds with a one-time, penalty-free withdrawal.
Cons
High opening deposit. Regardless of which CD you choose, you'll need at least $5,000 to get started.
No short-term CDs. Although it offers an 11-month liquid CD, online CDs are only offered in one, two, three, four and five-year terms.
Early withdrawal penalties. Citizen's Access charges a fee equal to 180 days interest if you need to access funds in your Online CD or CD Ladder before they mature.
Overall banking
Pros
Slick online experience. Customers rave about the clean and easy-to-navigate website — though it doesn't offer an app.
Weekend support. Live customer service extends beyond the typical workweek, making for convenient support if you work a typical office job.
Transparent products. Citizens Access offers banking products with little-to-no fees and competitive APYs, making them an attractive option if you can swing the $5,000 opening deposit requirement.
Cons
No branches. If you have a question, you can't visit a local branch for a meeting with a banker.
Savings and CDs only. If you're hoping to seamlessly link savings, checking and other accounts under one roof, you'll have to look at other banks.
Relatively new. Although it's backed by the financial stability of Citizen's Bank, Citizens Access has only been around since 2018.
Compare Citizens Access to the competition
Citizens Access reviews and complaints
Founded in 2018, Citizens Access is too young to have cemented a reputation among the industry. But research indicates its supported by a good family.
It's a subsidiary of Citizens Financial Group, which is accredited by the BBB, earning an A+ based on the BBB's internal criteria. It's stayed out of trouble with the government since its founding in 2018, and it has a good reputation for responding to customer complaints through the site.
Citizens Access customer service
Help is limited to calling toll-free or logging in to your online account:
Phone. Call 888-201-6505 weekdays from 8 a.m. to 10 p.m. ET, Saturdays from 9 a.m. to 3 p.m. ET and Sundays from 10 a.m. to 3 p.m. ET.
Online message. Send a secure note through your online account.
Bottom line
The savings-focused Citizens Access offers competitive rates and a sleek website without the bells and whistles you might expect, like an ATM card or checks.
For a more broad suite of products, compare bank accounts designed to help you save and manage your overall spending.
Frequently asked questions.
More guides on Finder