Finder is committed to editorial independence. While we receive compensation when you click links to partners, they do not influence our opinions or reviews. Learn how we make money.
Compare Capital One banking products: Savings, Checking, and CDs
Reach your financial goals with the help of high interest rates and savings programs.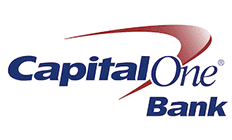 With so many banks to choose from, it can be daunting to decide where to stash your hard-earned cash. With two entities under its umbrella — Capital One and Capital One 360 — the bank appeals to business and personal customers alike. It has a suite of high-interest CDs, savings and checking accounts for short-term savings goals or preparing for the future — all with online tools to make it easy to manage your money anytime, anywhere.
What banking products does Capital One offer?
Capital One offers checking and savings accounts for personal and business banking. It's 360 products are all completely online.
Compare Capital One to the competition
How does it compare to other banks and services?
With nearly $303 billion of deposits in its vaults, Capital One is the sixth largest bank in the US. It's financially strong and only trails behind banking heavyweights like Bank of America and JP Morgan Chase, Wells Fargo and Citigroup. This is a testament to the bank's online prowess. While it has 605 physical offices across the country, the top three banks have more than 4,400.
Thanks to its stability, suite of products and tech-savvy tools, Capital One appeals to savers of all ages and business banking customers.
Checking accounts
Pros
No monthly fee for personal accounts. There are no fees or minimum balance requirements for personal Capital One checking accounts.
Flexible overdraft options. You have multiple ways to protect yourself from overspending. Chose to automatically decline transactions that'll cause you to overdraw your account, transfer funds from your savings, or enroll in its programs designed to protect you from overdrafts — Next Day Grace or Overdraft Loan of Credit.
Cons
Steep overdraft fees. If you're enrolled in Next Day Grace, you have 24 hours to replace the money before the bank charges you $35 per transaction.
Monthly fees for business accounts. Fees range from $15 to $35 a month. But you can waive them if you meet a minimum balance.
Savings accounts
Pros
High APYs. Earn 1% APY with the 360 Performance Savings account and 0.5% with Kids Savings — both of which are higher than the national average.
Sophisticated savings tools. Capital One helps you get into the habit of saving with the Automatic Savings Plan and allows you to track your progress with My Savings Goals. You can even open up to 25 savings accounts.
Cons
ATM fees. If you're dipping into your Business Savings account, you'll pay up to $5 to use non-Capital One ATMs.
Cap on transactions. Like other savings accounts at other banks you have a six monthly transaction limit. But Capital One may be temporarily waiving this policy due to the coronavirus, so contact the bank to be sure.
CDs
Pros
High APYs for long-term CDs. Choose a CD with at least a 12-month term and you'll earn 1.4% to 1.3% APY.
IRA CD options. Retirement savers can open a traditional or Roth IRA CD and earn anywhere from 0.60% to 2% APY.
Cons
Average APYs for short-term CDs. If you choose a six or eight-month CD, the APY tops out at 0.8%, which is lower than a traditional savings account.
No partial withdraw. If you need to access your money before it matures, you must withdraw the full balance and pay a penalty equal to three to six months of interest depending on the CD's term.
Overall banking
Pros
No minimum balance required. It's free and easy to open a personal savings or checking account online, and you don't need to maintain a minimum balance to earn interest.
Extensive ATM network. You can use 39,000 Capital One and Allpoint ATMs across the country for free. You'll find those in select Target, Walgreens, CVS and convenience stores.
Top-rated mobile app. Use the app to check your balance, transfer money, pay bills, manage multiple accounts and deposit checks. Plus, send money to just about anyone using the app's Zelle feature.
Complimentary access to CreditWise. Whether you have an account with Capital One or not, you can monitor your credit score for free and learn how to improve it.
Cons
Limited branch access. Capital One is proudly modern, and that means you won't find a bank branch on every corner. Also, beware that any accounts under the 360 brand are online only.
Expensive outbound wires. The bank charges up to $40 to process outbound wires. You'll also need to fill out a Wire Request Form.
Compare Capital One to the competition
Capital One Bank reviews and complaints
Capital One is accredited with the Better Business Bureau (BBB) and boasts an A+ rating for its customer service and interaction. While the BBB registered nearly 5,000 complaints over the past three years, the bank addressed and solved all of them.
Customer forums echo this. While there are a series of complaints on Trustpilot and the Consumer Financial Protection Bureau (CFPB) website, Capital One appears to close them in a timely manner. Most complaints hone in on issues with overdrafts, deposits and withdrawals. On the flipside, customers appreciate how simple it is to save and manage their money thanks to tech-savvy banking tools.
The Federal Financial Institutions Examination Council (FFEIC) gives Capital One a satisfactory CRA rating.
A Fortune 500 company, the bank is insured by the FDIC and reinforces security with debit card locks, online fraud reporting and alerts for suspicious transactions. To log in to your online or mobile banking account, you can use your fingerprint or set up a custom pattern with SureSwipe.
Capital One customer service
For account support, contact customer service in the following ways:
Live chat. Sign into your account for real-time help during business hours.
Phone. To speak to an associate, dial 800-289-1992 between 8 a.m. and 8 p.m., seven days a week.
Interactive Phone Service. Call 888-464-7868 and follow the prompts. This service is available 24/7.
Bottom line
Capital One shines brightest when it comes to goal setting and savings. The bank has designed accounts for savers of all ages, and it rewards growing balances with high interest rates. It makes it easy to manage your money online or on the top-rated app, and tap into the nationwide ATM network.
However, watch out for Capital One steep overdraft fees and limited brick-and-mortar branches.
Before committing, read our guide to bank accounts.
Frequently asked questions about Capital One
Read more on this topic