Finder is committed to editorial independence. While we receive compensation when you click links to partners, they do not influence our opinions or reviews. Learn how we make money.
Bank of the West banking products: Savings and Checking
Waiving fees isn't complicated, and its structure is concise.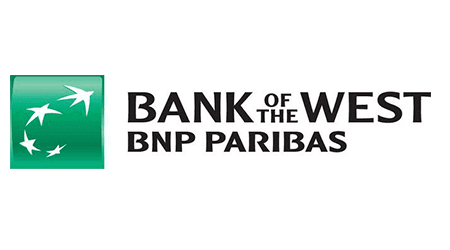 Headquartered in San Francisco and primarily based in — you guessed it — the western states, Bank of the West's product list is relatively short compared to competitors. It's a straightforward approach that it also applies to its clear-cut fee structures. But you must live in a state with a branch location in order to open an account.
Compare Bank of the West bank accounts
Its checking accounts feature secure chip debit cards, online protection and fraud protection guarantee. Savings accounts also allow for mobile deposits, payments and transfers.
However, to be eligible you must live in a state with a branch location. These include:
Arizona
California
Colorado
Idaho
Iowa
Kansas
Minnesota
Missouri
Nebraska
Nevada
New Mexico
North Dakota
Oklahoma
Oregon
South Dakota
Utah
Washington
Wyoming
How does it compare to other banks or services?
It's more regional than industry giants like Wells Fargo. And it's ranked 20th against the nation's other banks for number of branches, with around 550 in 18 states.
Overall, its product offerings are more concise than competitors — but while many banks have hefty and complicated fee structures, Bank of the West's service costs have fewer caveats than similar accounts.
Checking accounts
Pros
Low opening deposits. Open any Bank of the West checking account with as little as $0. But you may need to maintain a higher balance to avoid the monthly fee.
Easily waived monthly service fees. There are fewer hoops to jump through to get the monthly service fees waived, and the Any Deposit checking account just requires one deposit a month.
Overdraft fee eraser. At your request, Bank of the West will forgive one overdraft or returned item fee once every 12 months.
Cons
Expensive overdraft fees. If you overdraw on your account by more than $5, Bank of the West will charge you $35 each time, up to 5 times daily.
ATM fees could add up. Bank of the West has a small network of 750 ATMs, and it charges $3 for non-network ATM usage.
Savings accounts
Pros
Low deposit requirements for basic accounts. You only need $25 to open a Classic Savings account and $100 to open a Choice Money Market account.
Several account options. Bank of the West offers three personal and three business savings account options.
Free account for minors. If the account holder is 18 years old or younger, Bank of the West automatically waives the monthly service fee.
Cons
Savings accounts won't earn you big bucks. The Premier Savings account has the highest APY at 0.4%. But even if you meet the $25,000 minimum deposit requirement, this rate isn't as competitive as other online savings accounts.
Monthly service fees. Every Bank of the West savings account has a monthly fee — even its most basic option. But these can be waived when you meet certain requirements.
Some accounts can't be opened online. You'll need to fill out an application at a local branch if you wish to open the Money Market Premier Savings account.
CDs
Pros
Flexible terms. Lock your money away for as short as 32 days or as long as five years.
Daily compound interest. Your money grows even faster when you earn interest on yesterday's interest.
No monthly fees. Like most CDs, the only time you'll pay a fee is if you withdraw your money before your CD matures.
Cons
Low APYs. Bank of the West's CD rates start out at 0.03% APY and top out at 0.75% APY, which are astonishingly low compared to the competition.
High deposit requirements. You'll need at least $1,000 to open a Flexible-Term CD, $2,500 to open a Premium Money Market CD or Relationship CD and $25,000 to open a promotional CD with the highest APY.
Can't be opened online. All CDs must be opened in-person at a local branch.
Overall banking
Pros
Award-winning service. In the last three years, it's been lauded for great client service, excellence in consumer retail banking and innovation in private banking, among other achievements.
Convenient customer service options. Get assistance by starting a live chat on Bank of the West's website, calling 800-488-2265 or making an appointment for in-person support at a local branch.
Cons
Travel may be inconvenient. If you need help on-the-go, or move to a state without branch locations, you'll have limited access to in-person help.
Low rates overall. If you're looking to grow your money fast with a high APY, Bank of the West may not be right for you as it has low interest rates across the board.
Limited service area. Bank of the West is only open to those who live in a state with a branch location, so you may not be eligible for an account.
Bank of the West reviews and complaints
It's not accredited by the BBB, but has an A+ rating overall, which means that it's likely to respond to customer complaints. 34 customer reviews average out to a little over one star — but most complaints seem to be case-specific, and revolve especially around loans and credit cards.
It's a member of the FDIC and has "satisfactory" ratings from the FFIEC. While it has its fair share of complaints recorded in the Consumer Financial Protection Bureau, most of the cases indicate a timely response from the bank.
Bank of the West customer service
Get support through:
Phone: Reach Bank of the West's customer service at 800-488-2265.
Live chat: IM an agent from the comfort of your home computer.
Branch: Make an appointment to get one-on-one help.
Bottom line
If you're in a state that Bank of the West services, its minimal fees and strong customer service reputation could be appealing. But if you're hoping for better branch access and more product options, find a bank with more locations and variety.
Frequently asked questions.
More guides on Finder