Finder is committed to editorial independence. While we receive compensation when you click links to partners, they do not influence our opinions or reviews. Learn how we make money.
Compare Bank of America products: Savings, Checking, and CDs
It's dependable and accessible, but monthly maintenance fees can be high.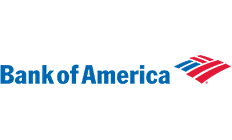 Bank of America is financially stable, has a vast network and offers a variety of saving and checking account options. But its APYs aren't the highest, and you'll need to be careful to avoid monthly maintenance fees.
What banking products does Bank of America offer?
Bank of America offers products for a wide span of financial situations. Options include:
Checking accounts
Savings accounts
Bank of America Advantage Savings The more you save, the higher your APY. Plus, you'll qualify for BankAmeriDeals and Keep the Change.
Bank of America Minor Savings Account. Meant for kids, but parents have joint ownership. No fee until the child is 18 and requires a minimum opening deposit of $25.
Bank of America Custodial Savings. Also for kids, but parents are custodians and there's a minimum opening deposit of $100. The $8 monthly fee can be waived with a minimum daily balance of $500.
Bank of America Featured CD account. Requires an initial deposit of $10,000, but rates are guaranteed and it offers term lengths of 13, 25 or 37 months.
Bank of America Standard Term CD account. Open with at least $1,000 and choose a term length from between 28 days to 10 years. Rates vary by term.
Business accounts
Bank of America Business Fundamentals Checking. Meant for business owners, the $15 monthly fee is waived if you spend $250 on new purchases, maintain an average monthly balance of $5,000 or a minimum daily balance of $3,000, or enroll in the Business Advantage Relationship program.
Bank of America Business Advantage Checking. There's a monthly maintenance of $29.95, but you can waive it with a $2,500 debit card purchase, average monthly balance greater than $15,000 or enrollment in the Business Advantage Relationship Program.
Special programs
Extra benefits you can tap into as a Bank of America account holder include:
Other products
Credit cards. Choose from eight different standard credit cards and more than a dozen cobranded credit card options, each with their own perks and rewards.
Home loans. Take out a mortgage or home equity loan, or refinance your house.
Auto loans. Get coverage on your vehicle with quick approval.
Investing. Prepare for retirement, college or other investment goals with its Merrill Edge account.
Compare Bank of America to the competition
How does Bank of America compare to other banks or services?
Bank of America has been on the Fortune 500 list for 24 years, has 209,376 employees and is financially stable. It has 4,475 offices nationwide and receives more total domestic deposits than any other bank. Its product offerings are similar in scope to direct competitors, but customer service isn't available 24/7 like it is for Wells Fargo or Chase.
Checking accounts
Pros
Several account options. BOA offers three personal checking accounts and two business checking accounts.
Easy access. Use your Visa Debit card to withdraw cash for free at over 16,000 ATMs and 5,000 branches nationwide.
Budgeting tools. Get access to budgeting tools that help you take control of your money when you open a BOA checking account.
Cons
Account fees. All checking accounts require account holders to meet certain requirements, like a minimum account balance, to waive the monthly fees.
Overdraft fee. If you overdraw on your account, you'll pay a $35 fee each time, up to four times daily.
Overdraft protection fee. If you opt in to overdraft protection, you'll pay a $12 fee if BOA needs to transfer money from your savings account to your checking account.
Savings accounts
Pros
Tiered APYs. You'll earn a higher interest rate as your account balance grows.
Automatic savings. Bank of America Keep the Change Savings helps you build savings without thinking about it, rounding every purchase you make up to the nearest dollar to deposit directly into your account.
Preferred rewards program. You may qualify for higher APYs, free ATM transactions and other rewards when you're a Preferred Rewards customer.
Cons
Low interest rates. Compared with Goldman Sachs' Marcus Savings account or Ally's equivalent, the APYs on Bank of America's savings accounts are unimpressive to say the least.
Opening deposit requirements. You'll need at least $100 to open most savings accounts.
Excessive transaction fee. You'll pay $10 each time you make more than six outgoing transactions a month.
CDs
Pros
Wide range of term lengths. Bank of America CD terms range from 28 days to 10 years, so you're bound to find a term that's right for you.
Two types of CDs. Open a standard CD with as little as $1,000. Or, lock in a higher rate with a featured CD when you deposit at least $10,000.
Partial withdrawals. Unlike other banks, BOA doesn't force you to withdraw your total balance if you need to access your CD early.
Cons
High minimum deposits. You'll need $1,000 to open a standard CD and $10,000 to open a Featured CD, which is higher than the competition.
Low APYs. BOA offers some of the lowest CD rates we've ever seen. Standard CD rates range from 0.03% to 0.03% depending on the term length and Featured CD rates are 0.05% APY.
Early withdrawal fees. Like other CDs at other banks, you'll pay an early withdrawal penalty if you access your money before it matures.
Overall banking
Pros
Wide product selection. BOA offers a wide range of personal and business accounts, as well as special programs that give account holders access to extra benefits.
Easy accessibility. Due to the sheer volume of branch locations, it's likely that there will be a brick and mortar spot near you. You can also bank online.
Sophisticated mobile app. The app has a built-in financial assistant, budgeting tools and mobile banking features to help you manage all your accounts in one place.
Cons
Slow customer service. Due to BOA's size, teller lines can be long and it can take a while to reach customer service online.
Low rates. BOA has low interest rates across the board, so it may not be ideal for those who want to watch their money grow fast.
Monthly fees. Almost every BOA account has an associated monthly fee. But you can waive most of these fee when you meet certain requirements like a minimum account balance.
Compare Bank of America to the competition
Case study: Kellye's experience – September 2019

Kellye Guinan
Writer
While Bank of America offers solid checking and savings accounts, I didn't exactly choose the BofA life. My parents opened an account for me when I was in middle school, and I've stuck with it ever since. It's easy to use and manage my finances. And as a freelance writer, I can quickly move money from my checking into my savings — or back again — when tax time comes.
However, as I become more well-versed with finance and start looking into accounts that can help build my savings, Bank of America's low interest rates are starting to get in the way of my goals. Compared to other large banks and my local credit union, I might be making a switch soon. I'll still keep my Bank of America checking account open, but my savings will be better off somewhere that can earn me more interest.
Bank of America reviews and complaints
It has an A+ rating from the BBB and has been accredited since 1949, but customer reviews average out to one star. Most of the complaints are about muddled customer service experiences or unexpected fees, likewise on the CFPB complaint database.
The FFIEC has given Bank of America's branch locations either an "Outstanding" or "Satisfactory" rating, and it's financially backed by the FDIC. In 2019, it received awards for "Outstanding Customer Service" by J.D. Power, and also got ranked highest in customer satisfaction for retail banking advice by the same research company.
Bank of America customer service
Get support from Bank of America's customer service by reaching out in one of these ways:
Phone: Call 800-432-1000. Spanish speakers can call 800-688 6086.
Account messaging: Log into your account to send a note securely online or through the app.
Branch: Get face-to-face service at one of its 4,475 branch locations.
Mail: If regular mail is more your thing, send a letter to:
Bank od America
PO Box 25118
Tampa, FL 33622–5118
Bottom line
If close proximity to branch locations is important to you, Bank of America may be appealing. But if you're trying to open an account with the highest APY available, compare other bank accounts, especially online-only options.
Frequently asked questions
Read more on this topic