California is banning 25 toxic chemicals in makeup by 2025 – these brands already make the cut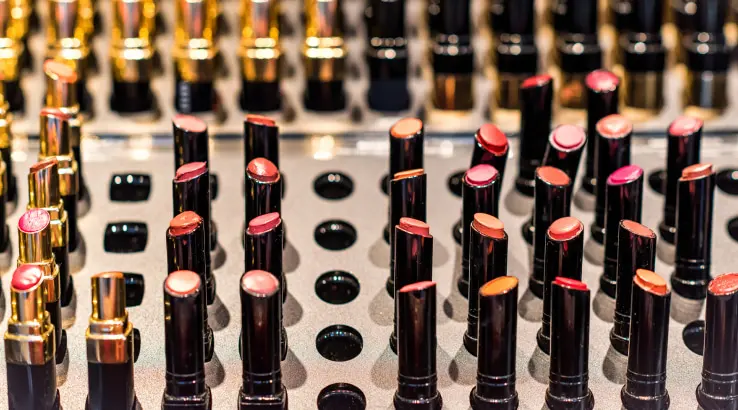 The act could change what's been a largely unregulated industry until now, but many clean beauty brands are ahead of the curve.
California lawmakers took a step toward ensuring safe beauty for all by passing the Toxic-Free Cosmetics Act on September 30th. The bill bans the manufacturing or sale of products purposefully containing 25 chemicals and contaminants in the state of California by 2025. Given that California makes up the largest portion of the US economy, and many influential makeup brands manufacture in California — including Colourpop, Kylie Cosmetics and KKW Beauty — we're predicting the bill will usher a shift across the entire cosmetics industry.
Though the beauty industry has historically gone unregulated, many brands have cleaned up their ingredient lists, forgoing chemicals like sulfates, parabens, phthalates and formaldehyde based on consumer demand for cleaner beauty. Phthalates and parabens are particularly avoided, as research shows they interfere with hormonal activity in both men and women.
But endocrine-disruptors like phthalates are still present in a worrying number of products, making the Toxic-Free Cosmetics Act a potential catalyst for mainstream makeup manufacturers to find better alternative ingredients.
Which ingredients are banned?
The Toxic-Free Cosmetics Act requires products to be free of the following ingredients, except in naturally and artificially occurring trace amounts.
Dibutyl phthalate
Diethylhexyl phthalate
Formaldehyde
Paraformaldehyde
Methylene glycol
Quaternium-15
Mercury
Isobutylparaben
Isopropylparaben
m-Phenylenediamine and its salts
o-Phenylenediamine and its salts
Several per- and polyfluoroalkyl substances (PFAS) and their salts:

Perfluorooctane sulfonate (PFOS); heptadecafluorooctane-1-sulfonic acid
Potassium perfluorooctanesulfonate; potassium heptadecafluorooctane-1-sulfonate
Diethanolamine perfluorooctane sulfonate (CAS 70225-14-8).
Ammonium perfluorooctane sulfonate; ammonium heptadecafluorooctanesulfonate
Lithium perfluorooctane sulfonate; lithium heptadecafluorooctanesulfonate
Perfluorooctanoic acid
Ammonium pentadecafluorooctanoate
Nonadecafluorodecanoic acid
Ammonium nonadecafluorodecanoate
Sodium nonadecafluorodecanoate
Perfluorononanoic acid
Sodium heptadecafluorononanoate

Ammonium perfluorononanoate
What's missing from the list
Though the Toxic-Free Cosmetics Act prohibits 12 toxic endocrine disruptors and their derivatives, a few controversial ingredients are notably absent — like talc. Although talc, or talcum powder, is generally regarded as safe by the FDA, it's been at the center of lawsuits filed by women who believe its use in baby powder contributed to their ovarian cancer. Talc is often used in powder foundation, blush, highlighter and eyeshadow to give products slip and absorb excess moisture.
The bill also leaves off coal tar and petroleum, used in products like lip balm and to make synthetic fragrances. Studies have linked both to cancer.
Discover clean beauty brands without the dirty dozen
Though the law doesn't go into effect until 2025, plenty of companies are already manufacturing quality beauty products without additives like parabens and phthalates. Here are just a few to shop in the meantime.
| Brand | Products available | Also free of | Where to shop |
| --- | --- | --- | --- |
| 100% Pure | Fruit-pigmented makeup, skincare, hair and body care | FD&C colorants, heavy metal dyes | 100percentpure.com |
| Ilia Beauty | Face, lip, eye and multipurpose products | GMOs, synthetic fragrances, gluten and talc | iliabeauty.com |
| Thrive Causemetics | Skincare and makeup | Synthetic fragrance, sulfates | thrivecausemetics.com |
| Briogeo | Haircare | Silicones, sulfates, DEA, artificial dyes | sephora.com |
| KitavaMD | Skincare developed by dermatologists | Sulfates, SLS, synthetic fragrance, petrochemicals, triclosan, artificial dyes | kitavamd.com |
| Sephora | Makeup, skincare, hair care and body products from Clean at Sephora brands | Coal tar, sulfates, hydroquinone, triclosan, synthetic fragrance | sephora.com |
Photo: Getty Images