Balancer (BAL) price, chart, coin profile and news
Find the latest Balancer (BAL) price, coin profile, news and history to get you started with Balancer trading and investing.

$5.18
Interest in decentralized finance (DeFi) has exponentially increased over the last year. DeFi seeks to decentralize traditional financial services, including exchanges. This has resulted in decentralized exchange platforms becoming very popular ways of exchanging cryptocurrency assets and earning passive income from cryptocurrency holdings.
Must read
DeFi protocols are experimental works in progress. Funds deposited into DeFi protocols in general can be at risk of smart contract vulnerabilities, malicious developers and hacks. DeFi Protocols are generally governed by token holders through a DAO (decentralized autonomous organization).
A promising DeFi protocol and decentralized exchange (DEX) is Balancer. Since launching in 2020, the platform has grown from strength to strength and now offers users a range of features.
In this guide, we will cover what Balancer is, how the Balancer protocol differs from competitors, and how to use the platform for both exchanges and liquidity mining opportunities.
Disclaimer: This information should not be interpreted as an endorsement of cryptocurrency or any specific provider, service or offering. It is not a recommendation to trade.
What is Balancer exchange?
Built on the Ethereum blockchain, Balancer is a decentralized exchange that utilizes an automated market maker (AMM) and liquidity pools. It offers users the ability to swap cryptocurrencies and also earn interest on idle crypto portfolios.
By making use of liquidity pools, users of Balancer can swap ERC-20 assets without relying on a centralized entity. They can also provide liquidity and earn a share of trading fees. Balancer differentiates itself from competitors by also offering users the flexibility to create their own private liquidity pools or create pools with more than two cryptocurrency assets. Balancer offers many incentives to ultimately increase the liquidity on the Balancer Protocol.
The Balancer Protocol was developed by Balancer Labs, a tech company that creates new blockchain-based products. Balancer Labs co-founders, Fernando Martinelli and Mike McDonald, are known for developing successful companies, and working with accomplished team members in the blockchain space.
Balancer's development started in 2018, but the bronze release, the first of three phases, went live in 2020. The release followed a funding round in March 2020, where the protocol raised $3 million. Since then, Balancer has risen to become one of the largest DeFi apps on Ethereum by total value locked (TVL). At the time of writing, the protocol currently has more than $850 million worth of assets locked up in its system. It is also one of the top 15 DEX platforms with regards to trading volume.
Like other DeFi apps, the Balancer protocol has its own native cryptocurrency token which is also called Balancer (BAL).
What is the Balancer token (BAL) and what does it do?
Balancer (BAL)
is the native governance token of the Balancer protocol. BAL token holders have a right to participate in the development of the protocol through voting. The platform does not yet have a formal governance structure, but according to Balancer, token holders have the right to vote on the implementation of layer two solutions, the deployment of Balancer in blockchains other than Ethereum, and adjusting fees at the protocol level. Balancer wants all BAL token holders to have a formal impact and contribute to the platform.
There are approximately 42 million BAL tokens currently in existence, with a maximum total supply capped at 100 million coins. The distribution of the 100 million BAL tokens will be as follows:
25 million will go to stakeholders in Balancer Labs including the founding team, investors, advisors and those who own stock options (for example, current and future employees of Balancer labs).
5 million will go to the Balancer Ecosystem Fund that will be deployed to incentivize strategic partners that will help grow the Balancer ecosystem. The direction that this fund takes will be determined by BAL token holders.
5 million will go to the Fundraising Fund. This will give Balancer Labs more opportunity to facilitate development and operations in the future.
The remaining 65 million will be distributed via liquidity mining, which was activated in June 2021. This process will distribute 145,000 BAL tokens each week. It will take approximately 9 years to fully distribute all BAL tokens.
To earn BAL, users have to lend cryptocurrency assets to a liquidity pool in the exchange. In return, users receive BAL rewards each week. Alternatively, BAL can be purchased from a cryptocurrency exchange. BAL is currently supported by centralized exchanges such as Bibox, FTX and Poloniex, and decentralized exchanges such as Uniswap and Balancer.
Where to buy BAL in the United States
How and where to buy the Balancer (BAL) token
How does Balancer work?
The Balancer exchange is an automated market maker (AMM), which means it does not use traditional order books to settle trades. Instead, it utilizes Balancer pools, which are liquidity pools composed of 2 to 8 cryptocurrencies. These provide the liquidity that traders need. It is the ratio of tokens within a liquidity pool that the AMM uses to set exchange prices. Exchanges are completed using smart contracts.
When a new Balancer pool is created, the ratio of the tokens in the pool is set by the creator. For instance, if a pool is composed of Tether, Ether and wBTC, respectively the ratios could be set to 25%, 25% and 50%. Proportionally, there would be twice as much wBTC when compared with Tether and Ether.
Liquidity pools are rebalanced whenever a trader uses the liquidity pool to facilitate a trade. Any imbalances in the pool can offer arbitrage opportunities for traders. The arbitrage trader profits from the imbalance in the pool in comparison to the real world market exchange price. This arbitrage process continually rebalances the liquidity pool. Meanwhile, liquidity providers and those that created the liquidity pool continue to collect fees.
Whenever a trade is conducted, the Balancer system automatically figures out the best exchange price from the available pools. Balancer uses a smart order routing (SOR) system to utilize multiple liquidity pools and ensure that traders receive the best possible exchange price after taking into account gas costs, fees and amount traded.
Unique to Balancer, liquidity pool creators are responsible for setting the fees charged for removing liquidity from their pool. The fees range from 0.0001% to 10% and are split proportionally between those that provide liquidity to the pool.
Balancer pools
Balancer offers two types of pools to suit different risk appetites: public pools and private pools.
Public pools allow anyone to provide liquidity to Balancer by adding digital assets. The parameters of these pools are set before the launch and cannot be changed, even by their creators. Public pools are, therefore, important for small-scale investors who would like to earn fees from their holdings.
Private pools are liquidity pools where only the creator can add or withdraw assets. The creator also adjusts other parameters of the pool including the acceptable assets, fees and weightings.
Private pools are better suited to asset managers who have large portfolios and wish to earn fees on specific assets.
A subsidiary of private pools are smart pools. These are private pools owned by smart contracts. Smart contracts allow smart pools to be programmed to perform additional functions such as creating index funds and changing weights.
How to trade on Balancer
Before trading on the Balancer exchange, a user will require access to cryptocurrencies via a Web 3.0 digital wallet such as MetaMask. The MetaMask digital wallet is a browser extension and acts as a bridge between your digital asset holdings and decentralized apps such as Balancer.
How to set up and use MetaMask for DeFi
To trade on Balancer:
Balancer. Visit the Balancer exchange.
Connect wallet. Connect your MetaMask or other Web 3.0 digital wallet (there are no signups or KYC requirements).
Select cryptocurrency. From the dropdown list of tokens available, choose which cryptocurrency you would like to sell or buy. To do this you can either enter the token's name, address or symbol.
Enter amount. Once happy with your selection you need to enter the amount of cryptocurrency you wish to sell in exchange. As you begin to enter the "token to sell" amount, Balancer will provide you the best possible price after it filters through applicable pools containing the tokens requested. Note: The larger the size of the trade, the more liquidity will be required to fill the order which means there is an increased risk of slippage. Slippage is a deviation of exchange price between trade order and trade execution. Once you have finalised your input amount, you can view the expected slippage and even set an additional limit to control the amount you pay.
Confirm. Click "Swap" and confirm the transaction on your MetaMask or Web 3.0 digital wallet.
After the transaction is processed on the Ethereum blockchain, the cryptocurrency sold will be removed from your digital wallet and the cryptocurrency purchased will enter.
How to provide liquidity on Balancer
To provide liquidity to Balancer a user will require access to cryptocurrency funds via a Web 3.0 digital wallet, such as MetaMask. Along with the cryptocurrencies a user wishes to deposit, they will also require a small amount of ETH to cover transaction fees.
Here's how to start providing liquidity to a Balancer pool:
Balancer pools. Go to the "Invest" tab of Balancer to view the available pools.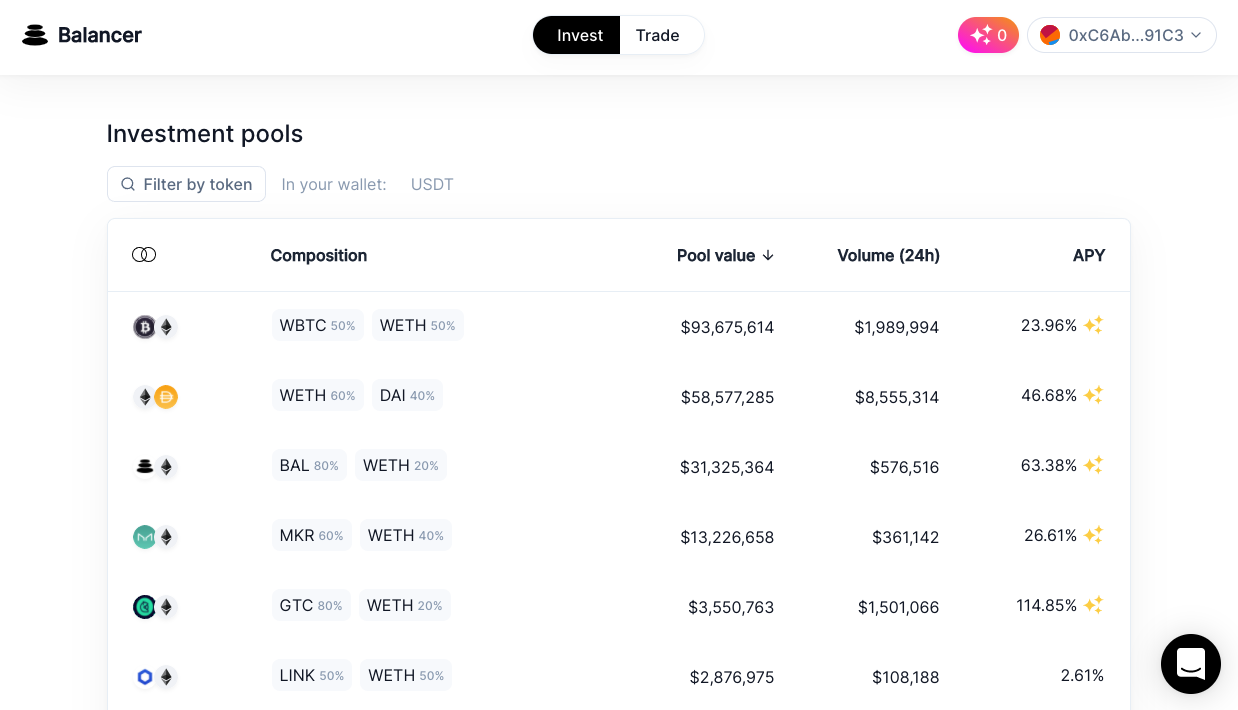 Connect wallet. Connect your Web 3.0 digital wallet. The wallet must be compatible with Ethereum. Options include Portis, MetaMask, Coinbase Wallet, WalletConnect and Formatic.
Choose a liquidity pool. Select your desired pool. If you prefer an ETH dominated pool, you will need Wrapped ETH (wETH) which you can buy through the Invest dashboard. The screenshot below shows the 50% BAL+ 50% wETH pool.
Add liquidity. Click on "Invest" on the right of the screen. You can choose to add assets through single-asset deposits or multi-asset deposits. If you use single asset deposits, you can deposit one of the assets in the pool. With multi-asset deposits, you have to deposit the proper weight of each asset according to the pool's parameters. You can also wrap ETH to create wETH from this screen.
Confirm. Once you've entered the appropriate amount, click "Invest" at the bottom and confirm the transactions on your Web 3.0 digital wallet. If this is your first time depositing the token on Balancer, you will have to approve spending first.
As soon as the transactions are verified on the Ethereum blockchain, you will be officially providing liquidity on Balancer. For providing liquidity, weekly rewards of the native BAL token will be deposited into your wallet.
How to remove liquidity from Balancer
To remove liquidity from Balancer, visit your pool page and click on "Withdraw". Choose how much you would like to withdraw as a percentage of the total and confirm within your Web 3.0 digital wallet.
What is impermanent loss?
Impermanent loss is the loss that occurs due to imbalances in a liquidity pool. When depositing assets into a liquidity pool, an investor has to deposit using the exchange rate at the time. If the price of one asset in the liquidity pool increases, the real world exchange rate and the exchange rate in the Balancer liquidity pool will be different. This provides an opportunity for arbitrage traders.
An arbitrage trader can make profit buying assets from the discounted liquidity pool and selling at real world prices. Eventually, this process rebalances the liquidity to the current market exchange price.
After rebalancing, the ratio of assets that an investor provided to the liquidity pool may have changed. Impermanent loss occurs if the new ratio of the deposited assets is less than if the original assets had been left outside of the liquidity pool. The loss only happens when assets are withdrawn.
Verdict: Should you use Balancer?
Balancer is among the top decentralized exchanges on Ethereum and is pushing on both the innovation, UX and governance front with its native BAL token. The platform is useful for those cryptocurrency investors who wish to exchange cryptocurrencies at optimum prices or who have an idle portfolio that they would like to put to work. The private liquidity pools on Balancer make for an interesting proposition to portfolio managers and large-scale investors, while the multi-token pools can offer access to an "Index" of cryptocurrencies that is automatically rebalanced.
Disclaimer: Cryptocurrencies are speculative, complex and involve significant risks – they are highly volatile and sensitive to secondary activity. Performance is unpredictable and past performance is no guarantee of future performance. Consider your own circumstances, and obtain your own advice, before relying on this information. You should also verify the nature of any product or service (including its legal status and relevant regulatory requirements) and consult the relevant Regulators' websites before making any decision. Finder, or the author, may have holdings in the cryptocurrencies discussed.