Finder is committed to editorial independence. While we receive compensation when you click links to partners, they do not influence our content.
Gift ideas for a bachelorette party
Easily choose a gift that any bachelorette will love with our gift guide.
Bachelorette parties are a great chance for soon-to-be brides to let off some steam before their wedding. You can get very creative when it comes to choosing your gifts. Bachelorette party gifts are usually fun, lighthearted, and can be designed to use just for the bachelorette party or as a keepsake for the bride-to-be. The team at finder.com has found the most exciting bachelorette gift ideas from our favorite online retailers to help you choose the gift you want. We've also collected some great discounts and promo codes so you can save your money for the bachelorette party.
Bachelorette party gifts for the bride-to-be
Bachelorette parties are usually fun, intimate gatherings of close girlfriends and family, so your gift should feel personal. Make sure you get a present that matches the unique personality of the bride you'll be celebrating, but here are some ideas to get you started.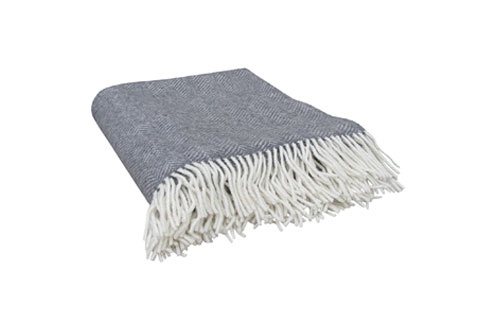 Urban Outfitters
A cashmere blanket
A gift classy enough for any classy bride and comforting enough for the bachelorette who plans to be very hungover in the morning. She can cuddle up under it with her new husband after all the crazy festivities are over and done. Add a yummy smelling candle for bonus cozy points.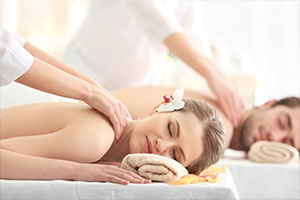 Groupon
Something to pamper her
It could be a gift certificate for a massage or just some really good moisturizer. The bride-to-be will likely need both to get her through the next few weeks of wedding craziness in one piece.
Sex toys
Bridal showers are for lingerie, bachelorette parties are for even naughtier bedroom equipment. If you feel comfortable picking out something for the future bride, it's sure to bring out some giggles and it will hopefully enhance her future sex life with her husband. These things have come a long way, so we'd recommend skipping the giant penis shaped dildo and buying a sleek and modern silicone vibrator instead.
Back to top
Best gag gifts to get the bride blushing
Silly bachelorette party gifts are practically becoming a rite of passage. If you have a bachelorette party without at least one penis-shaped novelty item, did you really have a bachelorette party? So get the bride-to-be a gift to turn her into a blushing bride and embarrass her a little: it's all in good fun.
Anything penis shaped
Anything shaped like a penis is a funny gift for a bachelorette, it's just a rule. This silly ice mold is perfect for chilling the party drinks in a hilarious way and is a great gag gift.
Victorias Secret
Raunchy lingerie
She got nice, sweet panties at her bridal shower, but the bachelorette is where things start getting a little more racy. Buying the bride-to-be lingerie that's so provocative it's ridiculous is always a fun, silly gift. Who knows, she might even wear it someday to spice things up.
Back to top
Cheap bachelorette favors
It's fun to provide favors for your guests. Usually this job is taken on by the Maid of Honor or whoever is in charge of hosting the bachelorette. Here are some ideas for cool and useful party favors.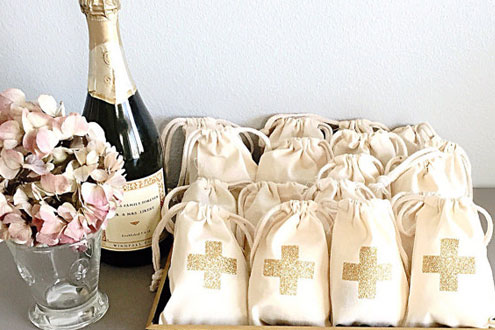 Emergency kits
If you're planning to party the night away, you'll probably need supplies for any emergencies you might run into going out and any headaches the next morning. You can buy adorable kits like this one and assemble essentials like aspirin, a nail file and energy drinks to make sure all the ladies at the party have a fun-filled night.
Matching shirts
For ladies who aren't planning to go anywhere too fancy, matching shirts can be a fun option to make everyone feel like part of the group. You can wear them for a beach house sleepover, a spa day and anything you plan to do in between. Plus, shirts are a fun keepsake to help you remember this night for years to come.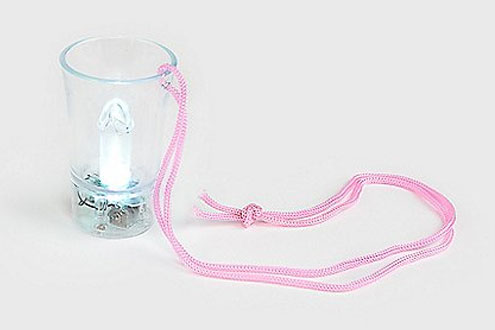 Shot glass necklaces
If you're going to get turnt at this event, you might as well be well prepared. Shot glass necklaces leave you permanently prepared for another shot, and this one has a surprise inside that's perfect for a bachelorette party.
Back to top
Shop bachelorette gifts
Back to top
Top sites to shop supplies and decorations for bachelorette parties
Instead of running all around town, grab a blanket and a glass of wine and stay in your PJs. You can totally plan this party from home.
Check this online retailer giant first for great deals on anything you might need for the party.
Remember Spencer's? You know, from the mall. Its website is filled with gag penis items and other supplies to make any bachelorette party memorably raunchy.
You might not have heard of this one, but it's a great resource for any bachelorette party. It has plenty of PG-rated decorations too, for a party that's not so scandalous.
Back to top
How to choose the best bachelorette party gifts
Choosing a gift for the bachelorette is almost as much fun as the party. A bachelorette party gift can be a fun and silly product to use at the party, or it can be something sentimental to remember your single years together. Here are a few tips to help you choose a gift:
Personality. Like with any gift, consider the personality of the person you're buying for. If she's fun and likes to have wild nights out, she would probably like a lighthearted type of gift. If she prefers curling up on the weekends with a good book, then she might enjoy a DVD set or beauty product.
Relationship. Also consider the relationship you have with the bachelorette. Is she your sister, your friend, your niece, your daughter? Your relationship will help define a fun yet appropriate gift that she will love.
Party plans. What is being planned for the bachelorette party can also give you a clue of what other people might be buying and what the bachelorette will expect to receive. If you are having cocktails and then heading out on the town, a fun present for the night such as a cocktail glass or treats might be a good idea. If you are all going for a spa day then you could get her a beauty-themed gift.
Back to top
Deals and coupons for your next bachelorette party
Back to top