Finder is committed to editorial independence. While we receive compensation when you click links to partners, they do not influence our content.
Away Bigger Carry-On luggage review
Meet the lightweight, chargeable suitcase of my dreams.
Whether you're a die-hard traveler or only get away once in a blue moon, having the right luggage can mean the difference between a hassle-free trip and a headache.
I personally hate clunky luggage that's too small to fit extra outfits, hair dryers and the like. And I never seem to have an outlet or USB port when I need one. That was until I was gifted an Away suitcase — and I haven't traveled with anything else since.
I received my Away Bigger Carry-On suitcase as a Christmas gift a few years ago and wasn't compensated to write this review. All opinions are based on my personal experience.
Away suitcase review
First impression
The Away bag's sleek, modern design was the first feature that caught my eye — shortly followed by its lock and built-in USB ports. I was immediately drawn to the fact that you can charge your phone right from your luggage — no more sitting on the floor in the corner of an airport trying to snag coveted outlet time.
This suitcase features a micro-USB port and two USB ports: one with 1A output and an even faster-charging one with 2.1A output. You can use both at the same time, and the battery is supposed to be able to completely charge an iPhone up to five times.
After several uses
I've been using my Away suitcase for just about every major trip I've taken in the past few years. The bag I was gifted is Away's larger carry-on model. It easily fits a short trip's worth of clothes and other items, so I don't have to check another bag when I fly.
Its hard case is incredibly lightweight and surprisingly flexible — another major selling point for me, considering I tend to jam more clothing items than I'll ever need inside my bag. It rolls easily too, navigating turns and corners like a dream.
And of course, the USB port has come in handy on countless occasions. But you do have to remember to charge the battery in the back of the suitcase before your trip — there's nothing like plugging your phone in and realizing your battery's out of juice.
Away issued a free replacement for the battery in my suitcase in summer 2018 to comply with new airline regulations. The old battery could only be removed with the use of a screwdriver from the inside, while the new version pops out from the outside with the click of a button.
Away offered three options to swap the battery, including mailing the suitcase to them, stopping in one of their stores or doing it yourself. I don't live near an Away store, so I opted for the DIY option. The company mailed me the new battery with step-by-step instructions in less than a week, and it took 20 minutes or less to swap it out.
New customers don't have to worry about this issue, but it's nice to know that the company has you covered and is upfront and honest if regulations change again.
Shop now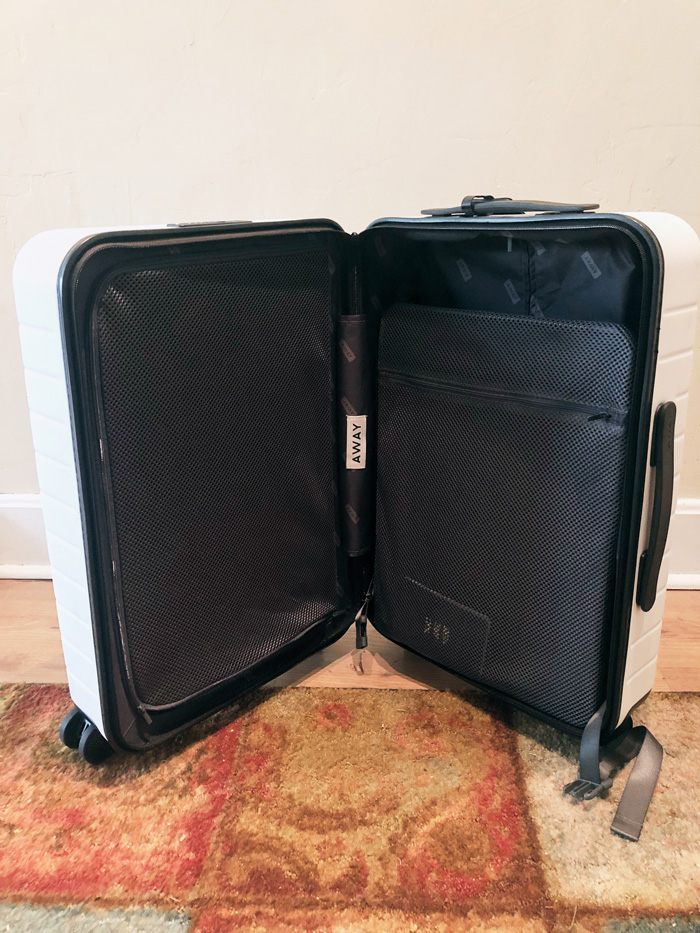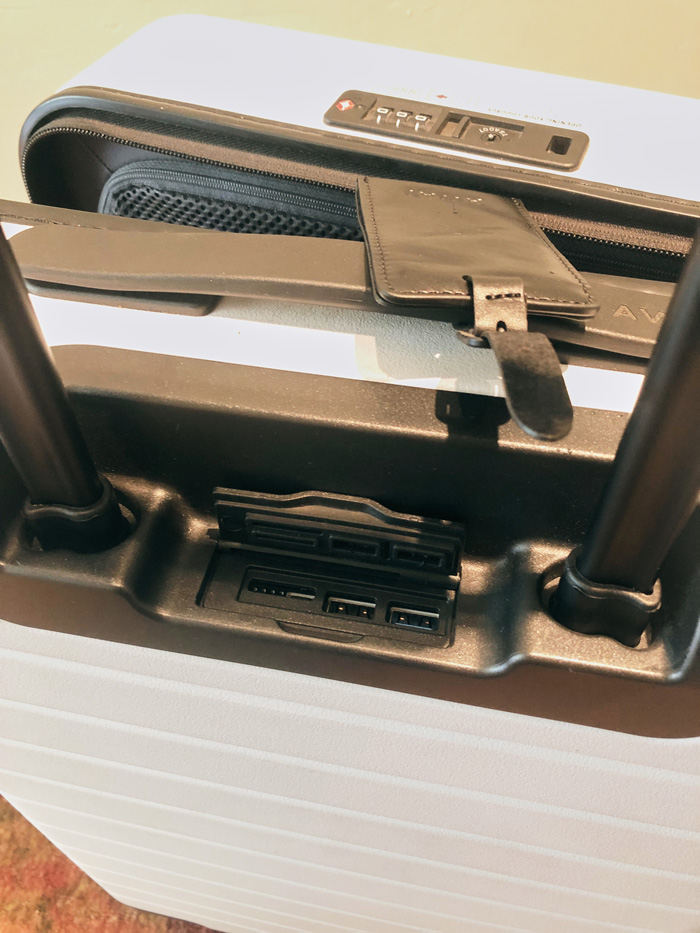 Pros and cons
Pros
Built-in USB ports. This feature gives you peace of mind that you won't end up stranded with a dead phone.
Lightweight and easy to maneuver. I'm beyond impressed with how lightweight and easy to roll this suitcase is.
Smart storage compartments. The inside of the bag comes with separate zippable compartments, including a removable laundry bag.
Excellent customer service. I was more than pleased with my experience requesting and receiving an updated battery for my bag.
Cons
Prepare for scuffs and scratches. Admittedly, I'm not the easiest on my travel equipment. But my suitcase has picked up a few scuffs here and there.
Away vs. competitors
I haven't used other chargeable suitcases, but I have lugged around heavy rollable suitcases before finding Away. There's really no comparison when it comes to how light and maneuverable Away is versus older, bulkier bags.
And I've never had a problem fitting everything I've needed inside. Away doesn't sacrifice space for ease-of-use, in my opinion.
Bottom line
The Away Bigger Carry-On suitcase packs plenty of storage, three charging ports, a battery and a forgiving yet strong hard cover into a lightweight and easy-to-carry piece of luggage.
For the price, it's a long-term investment that'll practically pay for itself in checked-bag fees and travel headaches.
Shop Away Luggage
Frequently asked questions
More guides on Finder