Finder is committed to editorial independence. While we receive compensation when you click links to partners, they do not influence our opinions or reviews. Learn how we make money.
Auto Credit Express car loans review
This online service could connect you with an auto lender in your area.
Auto Credit Express is an online connection service that can help you find a lender fits your budget. Even if you have bad credit or have filed for bankruptcy. But you might not find financing if you make less than $1,500 a month. And be prepared to screen calls from lots of car loan providers.
Details
| | |
| --- | --- |
| Product Name | Auto Credit Express Car Loans |
| APR | Varies |
| Interest Rate Type | Fixed |
| Requirements | Must be employed full-time or have guaranteed fixed income of at least $1,500/month and be a current resident of the US or Canada. |
First, do I qualify for an Auto Credit Express car loan?
Auto Credit Express is a referral source, not a lender. This means they don't require you to meet specific eligibility criteria but rather general requirements lenders may have.
To take out an auto loan with a partner in its network, you'll typically need to be:
At least 18 years old.
A current resident of the US or Canada.
Employed full-time or able to prove a guaranteed fixed income of at least $1,500 a month.
What's unique about Auto Credit Express?
Auto Credit Express isn't a direct lender. Instead, it's an online service that specializes in finding car loans for borrowers who have bad credit, no credit or simply trouble getting a loan because of a past bankruptcy. Auto Credit Express makes money by charging lenders to its partners to join the network, resulting in a free service for you.
A service like Auto Credit Express sounds helpful if you're in a financial pinch, but it also narrows the pool you're drawing from. Its network includes more than 1,000 lenders across the US and Canada, but borrowers complain that its options are limited in some states like California.
After you complete a quick online application, you'll meet with an Auto Credit Express specialist to go over your options. This can be particularly helpful if you have bad credit, since good deals can be far and few between.
What types of car loans does Auto Credit Express offer?
Bad credit and bankruptcy auto loans. Auto Credit Express can help you find a car loan with banks, credit unions and other traditional lenders willing to work with you.
Auto leasing loans. If you ever see yourself in a better future financial situation, consider leasing a car. Because you aren't paying off the entire car cost, your payments might be smaller. And a down payment isn't always required.
Auto loan refinancing. Maybe you have a car loan but think you could get a better deal, even with a low credit score. Auto Credit Express could help you find a lender willing to refinance your loan at a stronger rate.
Rent-to-own loans. Connect with dealers who can get you in a new car after you've made a down payment. You'll typically repay the loan weekly or even biweekly before you're the owner.
Buy here, pay here loans. This in-house financing is drawn and signed on the lot without a credit check. Auto Credit Express's network includes dealers offering these loans, but beware: They can come with astronomical interest rates and stiff penalties if you're late or default.
What rate will I get through Auto Credit Express?
It depends on the lender and your specific circumstances. Because lenders consider those who have bad credit a higher risk for default, you'll most likely be approved for a high rate.

Borrowers with bad credit pay an average interest rate of 10% to 13% on car loans — and much higher in some cases. Always compare your options before signing a contract.
Compare more car loan options
What are the benefits?
No credit requirement. Auto Credit Express may be able to find you a loan, even if you've filed for bankruptcy.
Personal touch. Unlike most connection services, Auto Credit Express has special finance managers that can help you navigate your way to a car loan with bad credit.
Past bankruptcies OK. You can find financing through this service even if you have a past bankruptcy on your credit report.
Program for service members. Members of the military might be able to discounts, lower down payments and lower rates by using Auto Credit Express's service for members of the military.
What to watch out for
Potentially high APRs. Because these loans are specialized for people with bad credit, interest rates may be higher than you'd find elsewhere.
Employment requirements. Although there's no credit score requirement, you must make at least $1,500 a month to qualify for a car loan with Auto Credit Express and have at least three years of work experience.
Lender calls. Like other connection services, you might end up fielding calls from lenders even after you've found financing when you use Auto Credit Express.
Auto Credit Express reviews and complaints
| | |
| --- | --- |
| BBB accredited | Yes |
| BBB rating | A+ |
| BBB customer reviews | 1.8 out of 5 stars, based on 31 customer reviews |
| BBB customer complaints | 10 customer complaints |
| Trustpilot Score | 4.7 out of 5 stars, based on 2,373 customer reviews |
| Customer reviews verified as of | 16 October 2020 |
Auto Credit Express's online reviews are generally positive for a bad credit connection service as of June 2019. The Better Business Bureau (BBB) gives an A+ rating and customers rated it 3 out of 5 stars on average. The connection service did slightly better on Trustpilot, earning a 9.1 out of 10 based on over 1,300 reviews. Nearly 80% of reviewers rated it as "Excellent."
Many customers were pleased with how simple and easy the process was. However, some were discouraged by how many dealerships asked to meet with them only to turn them down. And others didn't like how many local dealers were contacting them — a common complaint for car loan brokers.
Is Auto Credit Express a scam?
No, Auto Credit Express is a legit connection service. It's been been accredited with the BBB since 2004. It's also been around longer than a lot of online connection services, and has had no government actions or lawsuits against it.
How do I apply
1. Click the Go to site button on this page to go straight to Auto Credit Express's website.
2. Click Apply now to view the online application form.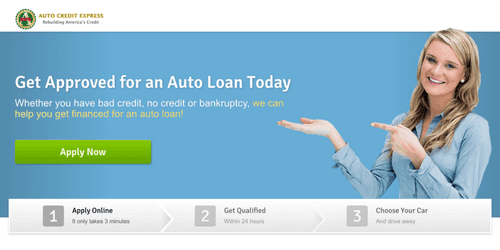 2. Enter your contact information and click Continue.
3. Follow the instructions to submit all required information.
After you submit your application, a call center representative will call you within 48 hours to set up an appointment with a special finance manager. Together, you'll review your options to find a lender and car that fits your budget.
What documents do I need to apply?
Government-issued ID. Such as your passport or driver's license.
Proof of residency. A recent piece of mail or a working phone number can be enough.
Verification of your income. Be ready to show either your tax forms or pay stubs.
How do I find an Auto Credit Express dealer near me?
The easiest way to find a dealership inn your area that works with Auto Credit Express is to call customer service. Or, if you have a preferred dealership, reach out to them to ask of they work with this service.
I got an Auto Credit Express car loan. Now what?
Once you're offered and accept a loan, stay on top of your payments to avoid stiff fees and penalties.
Set up autopay. Never miss a payment again with automatic withdrawals from your bank account.
Customer service. Get in touch with Auto Credit Express via phone or by completing an online contact form. Once you've accepted a loan, get your auto dealer's direct contact information.
Bottom line
If you need to buy a car but are in a financial bind, Auto Credit Express could connect you to a lender in its network. The representatives help you navigate your options to potentially find a better deal than you'd find on your own.
Because you'll need to sign up to learn the rates or terms you might qualify for, you may want to compare other car loan providers before you commit to a contract.
Frequently asked questions about Auto Credit Express
Loan ratings
★★★★★ — Excellent
★★★★★ — Good
★★★★★ — Average
★★★★★ — Subpar
★★★★★ — Poor
We analyze top loan providers and rate them one to five stars based on factors that are most important to you. These factors include: rates and fees, customer reviews, loan amounts, loan processing and borrower experience.