Finder makes money from featured partners, but editorial opinions are our own.

Advertiser disclosure
How to finance an Audi
Plus, explore its special car-buyer programs for college grads, servicemembers and more.
Audi may be owned by Volkswagen, but its models are anything but basic. If you've got your eye on one of its luxury vehicles, you have several financing options to consider. Plus, you may be able to score a discount through one of its many car-buyer programs, including ones for military servicemembers and college grads.
How can I finance an Audi?
When deciding how to finance your Audi, ask yourself whether speed or low interest is your biggest priority. The cheaper option for most people tends to be taking out a car loan from a bank, credit union or online lender.
However, these methods can also be the most time-consuming. After all, you'll need to compare lenders and fill out several prequalification forms to see what rates and terms you're eligible for. Taking out a personal loan is another consideration, though the rates and terms will likely be less favorable since your loan won't be secured by your car.
If you're looking for the fastest way to get behind the wheel of a new Audi, then financing through an authorized dealer might be your best bet. This can be especially handy if you already know what model and accessories you want, since you can negotiate your car price and loan interest rate all at the same time.
Audi offers two financing options:
Financing through Audi Financial Services. Audi offers financing through its authorized dealers so you don't need to go through a bank or other lender. In the past, it offered cashback deals of up to $1,000.*
Leasing through Audi Financial Services. Leasing tends to come with lower monthly payments, but you won't own the car at the end — unless you choose to buy it. Past three-year leasing offers ranged from $315 to $629 a month with between $2,999 and $5,614 due at signing.*
You might find additional deals depending on the dealership and where you live. The rates and terms you qualify for will vary based on your creditworthiness and personal finances.
*Rates as of November 16, 2018.
How to apply with Audi Financial Services
Audi's online application takes about 10 minutes, and you won't need to submit much personal information beyond your Social Security number and address.
Follow these steps to get started:
Visit the Audi Financial Services website and select Apply for financing.
Select your vehicle and the type of financing you want to apply for — lease or loan.
Enter information about yourself, including your date of birth and Social Security number.
Enter information about your current address and monthly rent or mortgage payment.
Enter information about your employment status and monthly income.
Select the dealership you want to work with and select Review application.
Read Audi's terms and conditions and hit Submit application.
Audi Financial Services pros and cons
Pros:
Multiple special offers and discount programs available
Streamlined online application
Estimate your payments for leasing or financing
Cons:
No preapproval process
Not up front about rates and terms
Compare car loans
Select up to four lenders at once to see their offers side by side.
What special discounts or programs does Audi offer?
Audi has a few special programs available to service members, diplomats, first-time buyers and more. Unfortunately, it doesn't discuss the exact savings you might be eligible for, so you'll have to visit your local Audi dealer to learn more.
Military sales and expatriate program. Active-duty servicemembers, Department of Defense employees and foreign expatriates may qualify for this program that comes with special offers and a 100% money-back guarantee if you're not happy with your purchase. And best of all? Your Audi can be delivered anywhere in Europe or to an authorized dealer in the US.
Diplomat program. Members of the diplomatic community can purchase an Audi while still overseas and have it delivered once they arrive in the US.
College graduate program. Recent college graduates may be eligible for special discounts and rates for new or certified preowned vehicles from Audi. This program doesn't require you to have a credit history or cosigner.
First-time buyer program. If you've never borrowed a car loan before and your credit is in good standing, then this program may be for you. To qualify, you need to have held a full-time job for at least a year.
Foreign business professionals program. Professionals visiting the US are eligible to buy or lease an Audi at a competitive rate. You must be working in the US or have a US employment visa with a gross income of at least $45,000 a year to qualify.
Corporate sales program. Audi's special buying program for business owners who want to outfit their team in luxury.
What will a new Audi cost me?
With luxury at the forefront of design, a new Audi comes with a hefty price tag. The cheapest models don't dip below $30,000 — and the R8 has a base MSRP of $169,900.
Choose a model
The A line
A3
Starting MSRP: $33,300
Build: Sedan
City/highway MPG: 22/30
A4
Starting MSRP: $39,200
Build: Sedan
City/highway MPG: 23/34
A5
Starting MSRP: $44,200
Build: Sportback
City/highway MPG: 23/34
A6
Starting MSRP: $58,900
Build: Sedan
City/highway MPG: Not available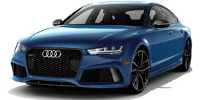 A7
Starting MSRP: $68,000
Build: Sportback
City/highway MPG: Not available
A8
Starting MSRP: $86,450
Build: Sedan
City/highway MPG: Not available
The Q line
Q3
Starting MSRP: $34,700
Build: Crossover
City/highway MPG: 19/27
Q5
Starting MSRP: $42,950
Build: Crossover
City/highway MPG: 22/27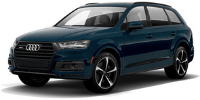 Q7
Starting MSRP: $53,550
Build: SUV
City/highway MPG: 19/25
Q8
Starting MSRP: $67,400
Build: SUV
City/highway MPG: 17/22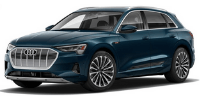 e-tron
Starting MSRP: $74,800
Build: SUV
City/highway MPG: 204 EPA-estimated
The TT and R8
TT
Starting MSRP: $44,900
Build: Coupe
City/highway MPG: 23/31
R8
Starting MSRP: $169,900
Build: Coupe
City/highway MPG: Not available
Average insurance costs for driving an Audi
What warranty can I expect for a new Audi?
Yes, Audi offers a simple four-year, 50,000-mile limited warranty on its new vehicles. Your first scheduled maintenance — at 10,000 miles or 12 months — is also covered. Plus, you'll have access to roadside assistance for four years as well.
If you opt for a certified pre-owned vehicle instead, Audi also has a limited warranty. There's no mileage limitation, but the exact length of your warranty will depend on how old the vehicle is when you buy it. If the original new vehicle limited warranty is in place, then the CPO limited warranty is good for five years from the vehicle's original in-service date. If it's already expired, then coverage will continue for 12 months after your purchase.
Bottom line
Audi is the epitome of luxury, and its costs reflect this. Luckily, you have plenty of financing options available depending on whether speed or affordability is your main concern. While a car loan from a bank or online lender typically comes with lower rates, you can likely get behind the wheel faster if you finance directly through Audi Financial Services.
Check out our guide to car loans to learn more about how they work and compare lenders.
Frequently asked questions
What kind of lease-end deals does Audi offer?
You have two options when your Audi lease is up:
Schedule a lease-end inspection and turn in your vehicle.
Purchase the vehicle through Audi.
How do I end my lease early?
Audi allows you to turn in your leased vehicle 30 days before the lease maturity date. If you chose to turn it in sooner, you'll have to pay an early termination fee, which is calculated when you apply.
What taxes and other fees should I factor in when buying an Audi?
It depends. Because of Audi's high price point, you should definitely calculate the sales tax before shopping for a loan so you know exactly how much to borrow.
Also note that Audi often charges a $995 destination fee on some of its models. The taxes and title registration fees vary by state, so talk to your local Audi dealer to know what costs to expect.
Pictures: Audi official page