Finder makes money from featured partners, but editorial opinions are our own.

Advertiser disclosure
How to finance an Aston Martin
Explore options to get behind the wheel of this 100-year-old luxury car brand.
Thanks to its sleek design and powerful engine, the price tag on an Aston Martin is only part of what sets it apart. If you've been thinking of investing in one, you likely won't be able to take out a traditional car loan due to limits lenders set on loan amounts. But you still have a few other financing options to consider.
How can I finance an Aston Martin?
Your financing options for buying an Aston Martin are slightly more limited because of the high purchase price. Traditional car loan providers typically cut borrowers off at the $100,000 mark, which won't be enough to finance the full cost of a new Aston Martin. Instead, you might want to consider one of the following options:
Exotic car loan. Lenders like JJ Best and Woodside Credit offer financing specifically for buying exotic and classic cars. You'll find higher borrowing limits and longer terms than you would with a traditional auto loan provider.
Secured personal loan. Taking out a secured personal loan backed by your investment account may be able to help you qualify for lower rates — especially if your credit score is less than perfect.
Financing through an authorized dealership. If you're looking to get behind the wheel of a new Aston Martin fast, financing directly through Aston Martin Financial Services might be your best bet. It doesn't list potential rates and terms on its website, so you'll need to contact your local Aston Martin dealership for more information.
Leasing through an authorized dealership. Like to switch up your sports car every few years? Then leasing through Aston Martin Financial Services may be for you. As of July 2019, it offers 24- to 48-month leases available for the 2019 DB11, Rapide S and Vanquish S models. However, exact rates and terms will depend on the model you select, where you live and your personal financial situation.
How to apply with Aston Martin Financial Services
Aston Martin doesn't have an online application. Instead, you'll need to submit some basic information and wait to hear back.
Follow these steps to get started:
Visit the Financial Services page on the Aston Martin website.
Scroll down to the inquiry form.
Enter your first name, email, phone number, city, ZIP code and country.
Select your preferred dealer and the model you want to lease.
Submit the inquiry form and wait to be contacted by an Aston Martin dealer.
If you're interested in scheduling a test drive, you can submit an inquiry on the page for the model you're interested in.
Aston Martin Financial Services pros and cons
Pros:
Lease waiver for up to three months on the Aston Martin Vantage
Top-quality luxury vehicles available
Cons:
Destination and acquisition fees capitalized into lease
Only two models available to lease
No online application
What will a new Aston Martin cost me?
A new 2019 Aston Martin will cost you anywhere from $150,000 to upwards of $300,000 depending on the model you choose and any extra features you add on. However, the exact price you pay will vary based on where you live, the dealership you visit and your negotiation skills.
Here are the starting manufacturer suggested retail prices (MSRPs) for its top 2019 models:
Vantage
Starting MSRP: $

149,995

Build: Sports Car
City/highway MPG:

18/25
DB11
Starting MSRP: $

201,495

Build: S

ports car

City/highway MPG: 18/24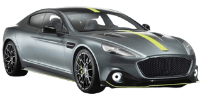 Rapide AMR
Starting MSRP: $

240,000

Build: Sedan
City/highway MPG: 14/21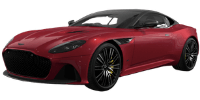 DBS Superleggera
Starting MSRP: $

304,995

Build: Sports Car
City/highway MPG:

21/27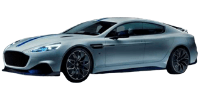 Rapide E
Starting MSRP: $

330,000

Build: SUV
City/highway MPG: Not available
Other models are available, but because they're all handcrafted, you'll need to contact an Aston Martin dealership to discuss pricing.
Car insurance costs that come with driving an Aston Martin
Does a new Aston Martin come with a warranty?
Yes, new Aston Martins come with a three-year unlimited vehicle warranty as well as a 10-year, unlimited-mileage warranty for anti-perforation corrosion.
For extra peace of mind, you also have the option of purchasing a 12- or 24-month extended warranty that kicks in when your unlimited warranty ends. This covers a wide variety of mechanical features, but leaves out important areas like brake pads and bodywork. You can contact an Aston Martin dealership for full details on what's exactly covered.
The extended warranty is available for vehicles up to 10 years old — no matter the mileage. And when your warranty period ends, most Aston Martins are eligible for renewal.
Compare car loan providers
Use our comparison table for a side-by-side view of available lenders to help you get behind the wheel of a new Aston Martin. Select up to four loan providers at once.
Bottom line
Aston Martin's 100-year history of selling luxury sports cars could become apart of your story — for a price. If you're not convinced dealership financing or leasing is the right fit for your needs, you can compare exotic car loan options instead.
Frequently asked questions
Where do I learn more about Aston Martin's certified preowned (CPO) vehicle program?
Visit Aston Martin's website for more info, to browse models available and read more about the inspection each car undergoes. All CPO Aston Martins come with a 12-month, unlimited-mileage warranty, along with a variety of other features.
Where can I find an Aston Martin dealership?
On the Aston Martin website, hit Dealers in the main menu. The next page brings you to Aston Martin's dealership locator and allow you to browse options nearest you.
Will I be able to finance taxes, fees and other costs?
It depends on your lender, but in general, yes. Lenders typically allow you to include costs beyond the purchase price in the amount you borrow.
Pictures: Getty Images and Aston Martin's official page