Are passengers on board with mid-flight credit card pitches?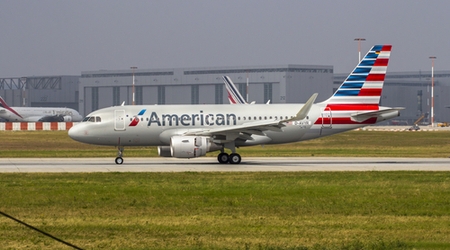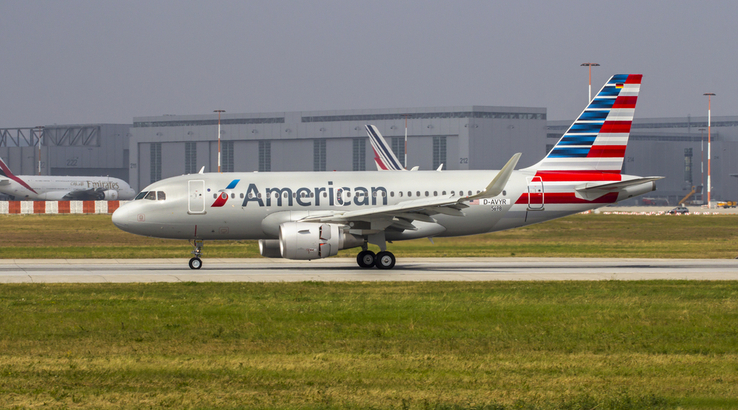 Flight attendants are encouraged to push airline credit cards mid-flight.
Airline rewards cards are nothing new to frequent flyers. But American Airlines flight attendants have recently been encouraged by upper management to step up their game concerning their credit card sales pitches to passengers.
American Airlines' co-branded credit card program, AAdvantage® Aviator® Red World Elite Mastercard® from Barclays, like many airline credit cards, is generally pitched mid-flight and targeted more towards first-class passengers. These are generally passengers who fly more frequently or travel for business.
It's no secret that flying first class entitles you to some perks not often experienced by passengers who board economy. And the benefits of having an airline rewards card are nothing to sneeze at.
The possibility of free flights, complimentary baggage checks, priority boarding and upgrades to first class are huge conveniences for an airline cardholder.
However, some passengers are getting more than they bargained for in the form of some very enthusiastic and sometimes disruptive credit card pitches.
So how do airline passengers really feel about the possibility of being asked: "Would you like a cocktail or a credit card?"
At finder, we wanted to learn more about how passengers and flight attendants feel about the aggressive mid-flight credit card pitches.
We spoke to a couple of flight attendants who worked for an airline other than American. They understandably wanted to remain anonymous, and one stated that she wasn't allowed to make public statements about her job.
Both airline attendants said they had no problem making the sales pitches. In fact, one stewardess said there were months that she nearly matched her salary with the bonuses and commissions she made through credit card sign-ups. The other flight attendant stated that she wasn't as good with sales and didn't fare as well.
We reached out to an American Airlines spokesperson, Sunny Rodriguez, about flight attendant compensation regarding credit card applications and was told she wasn't allowed to share details on compensation.
When asked how customers responded to the in-flight credit card pitches, the flight attendants stated passenger reaction was a mixed bag, but overall they were met with positive feedback.
Rodriguez defends the airline's credit card pushes and points out that passengers are often thinking about their next trip while traveling.
"We have found that in-flight is a great time to talk with our customers about airline credit cards," she said. "American Airlines' co-branded credit cards are a great way to get them closer to that trip."
Rodriguez also noted that involvement of any flight attendants offering the credit card pitches is strictly voluntary on their part.
"Many of our flight attendants are enthusiastic about the partnership and like to participate in sharing the opportunities with our customers. Our co-branded credit card program is an important and profitable part of our business."
Most airline consumers want to make their own decisions regarding credit cards.
Our team at finder wanted to learn for ourselves if passengers were really okay with the credit card sales pitches. After all, there are many things to consider when on board with 200 strangers.
Credit card applications ask you to divulge sensitive information like your Social Security number, and that's not something you generally want to release in an insecure setting.
We conducted an informal poll online and offline, asking 60 airline consumers if they've been approached with an invitation to apply for an airline credit card while in flight. According to the results, 45% of our respondents were consumers who fly only once or twice a year, while 25% cited that they fly three to five times a year and 6% were more frequent flyers who fly six or more times per year.
Of the respondents, 43% said they had been approached either directly or indirectly through the intercom during mid-flight. Some stated they'd been startled and were woken up by the credit card announcements.
More than a third (35%) of the poll respondents stated they were only mildly irritated by the pitches, while another 31% found them offensive and overstepping boundaries. About one in five (19%) weren't bothered by the pitches, and 15% said they were skeptical but wanted to know what the airline had to offer. Many were resigned and pointed out that all of the major airlines are doing the same thing.
Furthermore, 67% of the respondents stated that they'd consider flying another airline if they felt the pitches were over the top and pushy. In another question, however, 67% of the respondents stated they are more likely to use a particular airline if they have a rewards card through the brand.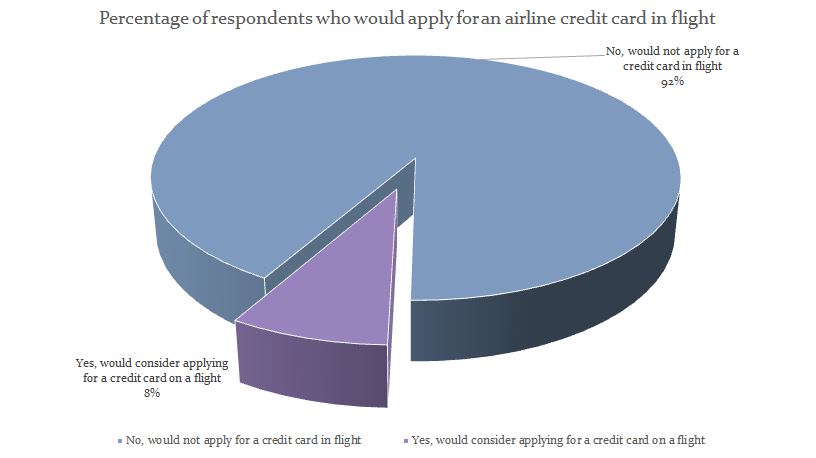 However, an overwhelming 92% said they'd never apply for a credit card in flight. When interviewed, many cited security issues as well as preferring to independently make their own choices about their financial decisions.
Most stated they make credit card decisions privately in the comfort of their own homes and that they're capable of coming to their own conclusions about which credit cards they want to carry in their wallets.
Picture: Shutterstock