Arc8 play-to-earn game guide
This mobile gaming platform features 11 play-to-earn crypto mini games.
Free to try
Complete daily quests
Earn crypto & trade card NFTs
Runs on HIVE blockchain
Go to site
Disclaimer: This page is not financial advice or an endorsement of digital assets, providers or services. Digital assets are volatile and risky, and past performance is no guarantee of future results. Potential regulations or policies can affect their availability and services provided. Talk with a financial professional before making a decision. Finder or the author may own cryptocurrency discussed on this page.
GAMEE developed the Arc8 app, which it calls a high-engagement mobile e-sports gaming platform. The full version of the app launched in late October 2021, with 11 play-to-earn game modes up and running.
Mini-games are based on skill, and so players that prefer to earn passively with idle games may want to look elsewhere. With 11 games to choose from, the gameplay is deliciously varied and conveniently located on one mobile app. Crypto games typically require a digital wallet and PC to play. Arc8's platform offers a way for newbies looking to earn to get involved in cryptocurrency gaming.
Highlights:
11 games
Easy signup
Free to start playing
Third-party digital wallet not required
Daily rewards and seasonal tournaments
Mobile platform only
What is Arc8?
When GAMEE launched the full version of Arc8 in October 2021, it had already attracted 1.5 million players, according to its blog.
The Arc8 platform uses the GAMEE token (GMEE), an ERC-20 fungible utility token launched on the Ethereum blockchain, which is also a bridge to Polygon and the Binance Smart Chain.
GMEE can be earned through sponsored tournaments and winning 1v1 matches against other players. You can use it to purchase the in-game NFT G-Bot at the Arc8 marketplace for scheduled drops. The Arc8 app's built-in wallet holds your earned GMEE tokens, though you can transfer them to outside wallets that support the Polygon network.
You also earn credits, which you can use to improve your skills in practice mode or enter tournaments that can earn you GMEE.
Credits are earned by playing games, completing daily tasks and forming playing streaks. You can claim free credits up to four times a day, according to the app.
Playing Arc8
Get started with the Arc8 gaming platform in three steps:
Download the mobile app on Google Play and the App Store.
Sign in with either your Apple, Gmail or Facebook account. Or sign in as a guest and complete your profile later. A third-party digital wallet isn't required for play or signup.
Choose a game mode and get playing.
You can start playing games right away without completing a profile or attaching a digital wallet. And the 50 free credits gifted to you at signup mean you don't need to invest anything to play. However, to withdraw your earnings, you need a digital wallet that supports the Polygon network, like MetaMask. You must also add GMEE as a custom token.
You have access to 10 game modes through the app — or 11, if you have the in-game NFT:
99 Blocks
Asteroids
Globo Run
Hexonix
Marble Dash

Pirate Solitaire
Pixel Dungeon
Samurai Hold'em
Solitaire Star
Wizard's 21
Choose from three tiers in practice mode. Each game pits you against a random player. If you win, you earn the credits.
You can also participate in tournaments, where you pay an entry and see if you've got the chops to take the winner's pot.
Games are based on familiar classics — 99 Blocks is similar to Tetris (with a twist), while Solitaire games like the Solitaire you already know and Asteroids a direct descendant of (you guessed it) the Atari classic Asteroids.
Sky Lords is the one game that requires an NFT to play. G-Bots battle each other, with your NFT's stats determining the outcome.
What is Arc8's token?
Arc8's native currency is GMEE. It's the utility token of the GAMEE ecosystem, and it's an ERC-20 token on the Ethereum blockchain.
While playing the Arc8 platform and winning tournaments, you can earn the token and use it to buy G-Bots and other digital assets.
How to buy Arc8 token
To get the Arc8 token GMEE, you can swap ETH or USDT for GMEE on multiple exchanges, such as UniSwap, MXC Exchange, BitMart and Gate.io.
First you need an exchange to buy ETH or USDT, and we've listed a popular exchange.
Find an exchange to buy, sell and trade GMEE by comparing deposit methods, supported fiat currencies and fees. Select Go to site to sign up directly with the provider.
How does play-to-earn work with the Arc8 platform?
You must enter tournaments to earn the native currency GMEE in Arc8. You may want to tool around with practice mode first to learn the game and hone your skills.
You will eventually run out of credits while playing one of three practice mode tiers, which reward you in credits only:
| 5 credits to play | 9 reward credits |
| --- | --- |
| 10 credits to play | 20 credits to play |
| 18 reward credits | 36 reward credits |
You can play practice modes of each game at any time, though tournaments are limited, timed events.
Before joining, you can see how much it costs to enter, how many other people are competing and the reward for being top dog.
As an example of prize pools, the Hexonix tournament came with a 50 GMEE prize pool (or $8.45 USD, at the time of writing), while a Sky Lords tournament came with a 3350 GMEE prize pool (or $566.15 USD).
What are the Arc8 NFTs?
Arc8 currently has one type of NFT: G-Bots.
G-Bots are ERC-721 NFTs released for purchase in limited batches or earned by winning matches. Each G-Bot is unique, playable and collectible with differences in color, appearance and stats.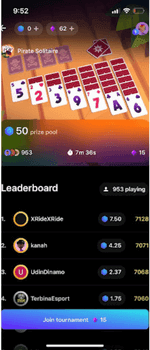 If you own a G-Bot, you can participate in staking events, earn extra bonuses and play Sky Lords. Sky Lords is a G-Bot-only game where your NFT's stats impact the outcome of the game.
How to buy NFTs on Arc8
Costs for G-Bots in the GAMEE marketplace's December 2021 drop:
Common Pack — 100 GMEE
Rare Pack — 500 GMEE
Epic Pack — 2,000 GMEE
Legendary Pack — 5,000 GMEE
If you miss a sale but still want a G-Bot, go to the official collection on OpenSea, where you can also list your individual G-Bots for sale.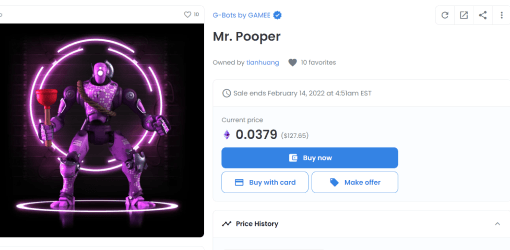 Image source: OpenSea
Another G-Bot drop is planned for the third quarter of 2022. You need a MetaMask wallet connected to the Polygon network to purchase one.
Other crypto games and NFT projects
How to sell Arc8 NFTs
You can list Arc8 G-Bots for sale on secondary marketplaces, most notably, OpenSea. For most NFT marketplaces, you need an account and a compatible crypto wallet to list NFTs for sale. NFT marketplaces are also likely to charge buyers or sellers a marketplace fee (typically around 2.5% to 5% of the sale price), and possibly a listing fee.
About XYZ game developers
Arc8 was developed by GAMEE, which is under the umbrella of Animoca Brands.
Animoca Brands is a Hong Kong-based technology company founded in 2014, specializing in blockchain games and applications. The company has created popular titles such as Crazy Defense Heroes, Phantom Galaxies, Revv Racing and the big boy himself, The Sandbox.
Arc8 roadmap
GAMEE has an ambitious road map for Arc8 in 2022:
Exclusive tournaments for G-Bot owners
Seasons & Player Progression
Play-offs & Achievements
ARENA sale
$ET Token launch
New game modes
G-Bot NFTs are expecting updates in Q2 of 2022 that include:
Packs Opening
1st and 2nd Mini-Game
Starters introduction
Staking
Upgrading & Evolution
Bottom line
Signup is simple and the gaming easy for lovers of mobile crypto games — even for beginners who lack a third-party digital wallet. All you need is a phone and Internet connection to start playing now.
With so many game modes to choose from, there's likely to be one you enjoy. And trying them out comes with little risk, given the 50 free credits at signup.