Finder is committed to editorial independence. While we receive compensation when you click links to partners, they do not influence our content.
Apple AirPods review: Great sound but limited utility
Apple's AirPods deliver top quality sound, but their design needs refinement.
According to Apple's hype, AirPods are wireless, effortless and magical, which sounds impressive — at least in theory.
Apple AirPods: Specifications
| | Apple AirPods |
| --- | --- |
| Battery life | 5 hours, 24 hours with multiple charges in battery case |
| Charge time | 15 minutes for a 3-hour charge |
| Connectivity | Bluetooth |
| Microphone | Yes |
| Price | $159.99 |
Upsides: Why you'd want a pair of AirPods
Great audio quality. Apple has done a great job with the sound that comes out of the AirPods. Audio quality across a range of music genres was represented well, and surprisingly, given the Apple/Beats relationship, they're not heavily tuned towards bass frequencies.
Case adds battery power. Apple didn't invent this, and it's a common feature with other Bluetooth headsets, but it's nicely implemented with a solid magnetic click when you drop the AirPods into their case for storage and recharging.
Good call quality. Voice call quality is notoriously difficult to assess, because there are so many factors to take into consideration. Still, in our calls on the AirPods, those we spoke to had no problems understanding us

—

even at low volumes.
Suitable for jogging. One of our first worries with the AirPods, even before we'd tried them on, was that they'd fall out. We tested this with a three-mile run, after which we were sweaty and tired, but the AirPods stayed the entire route, never once threatening to bounce out of our ears. A sudden impact, such as a car braking, might cause them to go adrift, but for regular everyday use they're pretty solid.
Pairs with non-Apple devices. You can use your AirPods with any Bluetooth device, though Siri is only available when you're paired with an iOS device.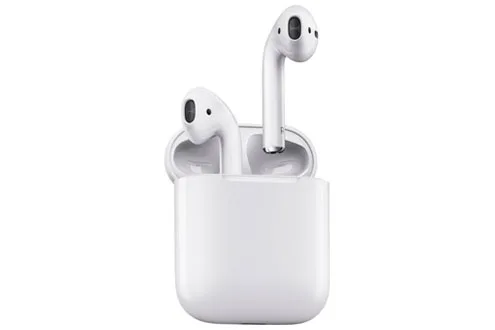 Downsides: Why you might not want a pair of AirPods
In no way inconspicuous. Apple likes its designs to stand out, and the AirPods are no exception. Great if you're walking the fashion runway at Milan, but perhaps a little less desirable late on a Friday night when you're leaving a bar

—

they have that slight social awkwardness that has long been associated with Bluetooth earpieces.
Lacks noise canceling. You do get some noise isolation because the buds go into your ear canal, but there's no functional noise cancellation going on with these buds. That would impact battery life, but it's also the kind of premium feature you might have expected.
One size doesn't fit all. Competing bud earphones come with silicon tips to fit different ear canal sizes, but the AirPods are a one-size-fits-or-falls-out proposition. We didn't have issues with this, but if you typically reach for the largest silicon tips for your earbuds, you might find them a less than optimal fit.
Siri controls everything. The only interaction you can have with Apple's AirPods is to double tap on the side to invoke Siri. Want to adjust volume? You'll have to ask Siri, which is slow and tedious, not to mention a little imprecise. Frankly, it's easier to dig your phone out of your pocket and adjust the actual volume controls.
Short battery life. Five hours is a pretty good battery life for a Bluetooth device. Still, five hours is only five hours isn't enough for all-day office listening or long plane flights without dropping them back into their charging case.
Bluetooth pairing could work a lot better. While AirPods can pair with an Apple device with one tap and then spread to your other devices on the same account, you still have to use the menus to actually shift from one audio source to another. We've seen a number of Bluetooth headsets that will dual pair, which is handy if you're listening through a MacBook but also want your phone calls routed through. The AirPods can't handle that kind of sophistication outside of an Apple Watch and iPhone pairing, meaning you'll have to manually switch them through the Bluetooth menu to swap audio sources.
All white design shows off the earwax. Remember how white iPods used to show every scuff and mark? The AirPods are like that, but with whatever material may collect in your ears. Again, that's a function of any in-ear buds, but the stark glossy white really serves to show it off to its full, revolting potential.
Who is it best suited for?
Apple's AirPods are a perfect example of its ongoing love affair with design over just about everything else, which has both its appeal and its rather obvious drawbacks. They're best suited if you're already heavily within the Apple ecosystem given the quick pairing with iOS and macOS Sierra devices and you like the rather obvious design style. Maybe Apple can overcome the general social stigma associated with Bluetooth headsets in a short span of time, but right now you're likely to feel rather conspicuous wearing them.
Apple's hype wants to suggest that they're wireless, effortless and magical. They're certainly wireless, but the lack of on-device controls beyond the double tap for either Siri or Play/Pause (but not both) means that they're far from effortless — and they're only magical if you've never seen a set of Bluetooth headphones before.
What are my other alternatives?
Everyone is jostling for wireless audio supremacy right now, so your choices are quite wide. If you're looking for great wireless earbuds, consider Samsung's Gear IconX buds or Jabra's Elite Sport buds. If you want to keep things within the Apple family, you could opt for a pair of Beats Solo3 headphones which share the same W1 wireless chips as the AirPods.
If you're after something with more of a fitness angle, consider Plantronics' BackBeat Fit headphones, which wrap around the back of your head. If you're after something with a bit more audio oomph and a lot more battery life, we recently tested out and adored the Plantronics BackBeat PRO 2 headphones.
Where can I get them?
Apple's AirPods are sold through Apple's retail stores and online, and at Best Buy for $159.99.
Bottom line
If you're an Apple aficionado, a pair of AirPods might be the perfect thing to complete your tech set — and you won't be disappointed by the audio quality. But if you're looking for the best wireless earbuds, regardless of brand, several competitors have Apple beat.
More guides on Finder