Finder is committed to editorial independence. While we receive compensation when you click links to partners, they do not influence our opinions or reviews. Learn how we make money.
Ameritas life insurance review
An impressive selection of riders and top marks from A.M. Best and the Better Business Bureau.
As one of the oldest and best-established insurance providers in the US, Ameritas has the size and stability to offer a large suite of life insurance products to a potential policyholder.
Get a quote if…
You want to customize your coverage with a sizable selection of policy and rider options.
Choose a different provider if…
You require customer support outside the peak weekday hours of nine to five.
$100,000 to $20,000,000
Coverage
Depends on policy
Medical Exam Required
Details
| | |
| --- | --- |
| Free quote | Online, Phone |
| Monthly cost | Not listed |
| Policies | Term, Whole, Universal, Variable universal, Index univeral |
| Coverage maximum | $20,000,000 |
| Term lengths | 1, 10, 15, 20 or 30 years |
| Riders | Accidental death benefit rider, Automatic benefit increase rider, Child rider, Conversion rider, Critical illness benefit rider, Guaranteed insurability rider, Level term rider, Return-of-cash-value rider, Spouse rider, Term insurance rider, Waiver-of-premium rider |
| Medical exam required | Depends on policy |
| Available states | Available in all 50 states |
| Issue age | Not listed |
What types of life insurance coverage does Ameritas offer?
From term to universal, Ameritas has a number of life insurance policy options to choose from:
Term
The Ameritas Value Plus Term for Families policy offers fixed premiums and a guaranteed death benefit as long as premiums are paid. Terms range from one to 30 years with the opportunity to convert to a permanent policy at the end of your term.
Whole
Ameritas has a number of whole life policies to choose from, including: Ameritas Growth Whole Life, Ameritas Value Plus Whole Life, Keystone Whole Life and Keystone Foundation Whole Life. These participating policies offer the opportunity to build cash value, earn dividends and a guaranteed interest rate of 4% on accumulated cash value over the life of the policy.
Universal
Universal life insurance policies with Ameritas include the Ameritas Value Plus Universal Life, Excel Essential Universal Life, Excel LifeValue Universal Life and Excel LifeValue Survivor Universal Life. These universal policies offer control over your premiums and guaranteed protection as long as your policy maintains a cash surrender value of at least $1.
Variable universal
With the Ameritas Excel Performance Variable Universal policy, you can select any combination of investment options to invest in with a portion of each premium you pay. You'll have access to a number of investment management tools and are free to tweak your premium payments to benefit your current financial needs.
Index universal
Ameritas offers three index universal policies to choose from: Excel Index Universal Life, Excel Plus Index Universal Life and Growth Index Universal Life. These policies accumulate cash value based on the performance of the equity index they're linked to, like the S&P 500 Index.
Read our review on Ameritas disability insurance
What riders can I add to my life insurance policy?
Policy riders are add-ons designed for specific life circumstances. While each rider comes with a cost, each allows you to customize your coverage and provides an added cushion of protection to your policy:
Accelerated death benefit rider. Pays out a portion of your death benefit if you're diagnosed with a terminal illness.
Accidental death benefit rider. You're guaranteed to receive an additional death benefit if you die in an accident.
Automatic benefit increase rider. Automatically increase your insurance each year in increments of 1% to 10%.
Child rider. This rider offers an additional $25,000 of coverage per child with the option to convert the coverage to a permanent policy.
Conversion rider. You'll have the option to convert your term life policy to a permanent life insurance policy within a specified time period.
Critical illness benefit rider. This rider pays out a lump-sum benefit if you suffer a critical illness, like a stroke.
Guaranteed insurability rider. Offers the option to increase your coverage on predetermined dates without the need for a medical exam.
Level term rider. This add-on makes sure that your benefit amount stays the same during the term of your policy.
Return-of-cash-value rider. If you die within a specified time frame, your beneficiaries will receive an added benefit equal to the amount of premiums you've paid for your policy.
Spouse rider. Like children's insurance, this rider offers additional coverage for up to five additional family members or business partners.
Term insurance rider. Offers the advantages of term insurance for your whole insurance policy to lower the cost of coverage and build your death benefit.
Waiver-of-premium rider. In the event that you become disabled, your premiums will be waived.
How much does Ameritas cost?
How much you'll be expected to pay for a life insurance policy with Ameritas will vary by your location, age, gender, overall health, coverage amount and policy selected.
You can obtain a free quote on the Ameritas website by entering your birthdate, state of residence, gender and coverage amount.
How do I get a low rate?
Ameritas offers four tiers of rates: Standard, Select, Preferred and Preferred Plus.
Tobacco users can be assigned a Standard or Preferred rate based on their ability to meet additional rate tier qualifications. That said, both Standard and Preferred rates for tobacco users are higher than the Standard and Preferred rates offered to non-smokers.
Health and lifestyle factors that may diminish your rate tier include:
High cholesterol
High blood pressure
Weight to height ratio
Tobacco use
Alcohol or substance abuse
Driving violations
Past felonies
Family history of heart disease
Engagement in dangerous sports or activities, such as aviation
Pros and cons of Ameritas
Pros
Customizable policies. Ameritas offers a number of term, whole and universal policies to choose from alongside a comprehensive list of available riders.
Pays dividends. Ameritas is owned by its participating policyholders, and — while not guaranteed — can pay annual dividends.
Strong history. Ameritas boasts a longer history than most, with over 130 years of experience behind its name.
Positive reviews. Ameritas enjoys high ratings across the board from AM Best, Standard & Poor's and the Better Business Bureau.
Cons
Challenging claims process. Several online reviews indicate that filing a claim with Ameritas can be both difficult and time consuming.
Limited support. Ameritas telephone support is only available weekdays from 7 a.m. to 5 p.m. CT
Compare other life insurance companies
If you're looking for more options to compare, take a look at these other providers.
Ameritas reviews and complaints
Ameritas receives an A (Excellent) rating from AM Best and an A+ (Strong) from Standard & Poor's. It's been an accredited business with the Better Business Bureau since 1948 and receives an A+ BBB rating.
Complaints against this insurance provider are few and far between, which speaks to a high level of customer satisfaction. That said, several complaints cite a frustrating claims process with Ameritas and high transaction fees.
How does Ameritas protect my data?
On its website, Ameritas states that it doesn't sell customer information for marketing purposes. Ameritas also states that it holds all of its third-party service providers to the same privacy and security standards. Any medical information is shared strictly for underwriting purposes.
How do I sign up?
To find an Ameritas financial professional near you, go to Amertias' website and click Find a financial professional.
Enter your name, email address, phone number and ZIP code. Indicate what kind of insurance product you're interested in. Add any additional information in the comments section and solve the recaptcha. Click Submit.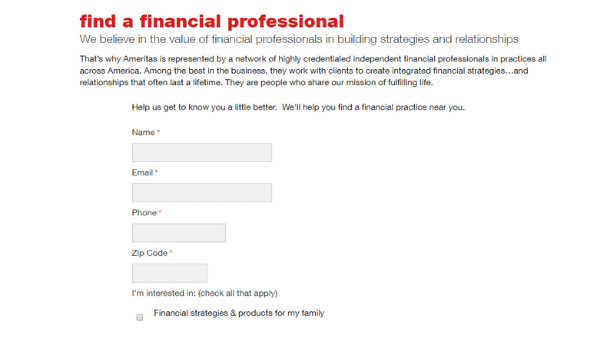 I've signed up. What happens next?
Once you submit your information on the Ameritas website, you'll be matched with a local Ameritas insurance agent. This process typically takes between one to two weeks.
After being matched with an agent, you'll be able to submit an application for life insurance. Turnaround time varies from policy to policy, but you can expect to have coverage within one month of submitting your application.
More about Ameritas
Ameritas was founded in 1887 in Lincoln, Nebraska. Over the next hundred years, it grew from a small Midwest provider to one of the largest insurance companies in the US.
Ameritas is still headquartered in Lincoln, Nebraska, and offers life insurance products alongside disability income and retirement, dental, vision and hearing plans.
Bottom line
While some customers find the claims process to be a bear, Ameritas is well-rated overall. Though it has extensive offerings, you may still want to compare other life insurance providers before submitting your application.
Frequently asked questions