Finder is committed to editorial independence. While we receive compensation when you click links to partners, they do not influence our content.
Amerisleep AS3 mattress review
A firm mattress devotee gives a softer bed a try.
Growing up, I was taught that sleeping on a soft surface would curve the back over time. Despite that ingrained belief, I've always gotten the best sleep on soft hotel beds!
When I got the opportunity to test out an Amerisleep mattress, I chose the AS3 because I was curious if a softer mattress would relieve my back pain. The AS3 is Amerisleep's best seller, with a medium firmness level.
For context, here's some information about me:
I've slept on a very hard mattress my whole life.
I have a curved back and experience lower back pain.
I sleep in all sorts of positions, from soldier to fetus to starfish.
Amerisleep sent me a mattress for free so that I could try it out. I've slept on it before giving this review, and you can rest assured you're getting an honest, unbiased opinion.

Size reviewed: Twin
Cost: $849
Trial period: 100 days
Warranty: 20 years
Free shipping: Yes
Shipping time: 5 days
Shop Amerisleep now
Shipping and unboxing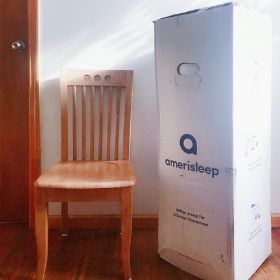 To my pleasant surprise, the AS3 twin mattress arrived in a much smaller box than I anticipated. For reference, the twin mattress box is just a bit taller than a standard chair. Better news, the twin mattress easily fit in the trunk of my car with the back seats pulled down. I was also able to drag this mattress up a couple flights of stairs alone.
If you won't be home to receive the mattress, you can have it shipped to a nearby Fedex location to pick up. This option gave me peace of mind.
Assembly
Tightly vacuumed in plastic, the mattress was easy to take out and assemble. Amerisleep provides an envelope-opening tool in the box to cut through the tightly sealed mattress. I set the box flat on the floor to drag out the rolled mattress. After I lifted my old mattress off my bed frame, I laid the AS3 mattress on my bed.
Then, with the provided tool, I cut the plastic off. Within seconds, the tightly-sealed mattress began expanding into form — and within 20 minutes, it was fully expanded.
First impressions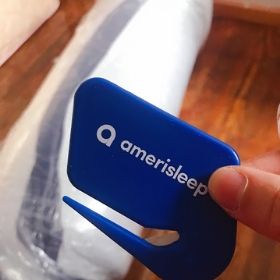 In addition to being pleased with the smooth shipping and unboxing processes, I was honestly super impressed by the quality of Amerisleep's mattress. No lie, Amerisleep's mattress is high quality.
I loved the superior material, extra thickness and memory foam support.
The only thing that irked me was the plastic smell — though it's unrealistic for a vacuum-sealed mattress to have zero scent. For the first couple weeks, I could still smell the plastic. But after switching bed sheets, the smell slowly went away. After about two months, I can say that the new mattress smell is close to gone.
Sleep experience
At first, despite the high-quality mattress and memory foam support, I was just not used to sleeping on a soft mattress. I've slept on a hard mattress my entire life, so a sudden change to a softer mattress was uncomfortable.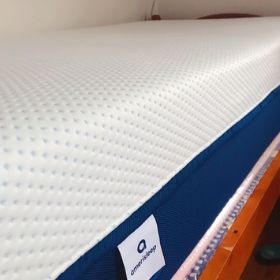 However, after about two months of sleeping on the AS3, I'm beginning to like the mattress more as my body has had more time to adjust. There's a reason why mattress companies provide a 100-night free trial!
More importantly, I've noticed that the AS3 mattress helps my lower back pain. For example, I noticed the mattress will slightly dip under my butt while it firmly supports the rest of my body. This alleviates pressure off my lower back by making sure my whole body is supported. The AS3 mattress also puts less pressure on my waist when I'm on my side. When I slept on a harder mattress, I would wake up with side pain more frequently.
But I do find myself sometimes overheating at night — possibly because the memory foam traps heat. Despite this occasional problem, I sleep fine most of the time.
Shop Amerisleep now
Amerisleep mattress vs. competitors
The Amerisleep AS3 mattress offers a great blend of quality and value. If you're looking for similar brands at competitive price points, consider these close alternatives.
Final verdict
The Amerisleep AS3 mattress didn't eliminate my back pain — but it has alleviated it. I don't believe any mattress can truly eliminate body pain.
If I were to choose a mattress again, I might go with the AS2 because I'm still used to sleeping on a harder mattress. It's going to take some time to undo 20 years of sleeping on a rock!
All in all, I highly recommend Amerisleep due to its impeccable quality. Just make sure you choose a firmness level near what you're used to sleeping on, if you're like me.
More guides on Finder