Finder is committed to editorial independence. While we receive compensation when you click links to partners, they do not influence our opinions or reviews. Learn how we make money.
American Business Lending business loans review
Grow your business with an online loan backed by the Small Business Administration.
Must read: American Business Lending appears to be out of business — its website is no longer in service as of January 2020. However, we're not sure when this happened and couldn't find additional details online. Instead, get financing with another business loan provider today.
Details
| | |
| --- | --- |
| Product Name | American Business Lending SBA loans |
| Min. Amount | $300,000 |
| Max. Amount | $5,000,000 |
| Loan Term | 84 to 300 months |
| APR | Up to 2.75% above Wall Street Journal prime rate |
| Requirements | Financial statements, tax returns, business plan; if applicable real estate purchase agreement, Uniform Franchise Offering Circular and signed Franchise Agreement, information on the debt to refinance |
First, do I qualify?
To qualify for a business loan from ABL, you must:
Run an independently owned and operated for-profit business.
Operate in the US.
Meet Small Business Administration size standards.
Prove you've tried and failed to get financing elsewhere.
Invest your personal assets in the business.
Be able to show a need for the loan.
Not carry any existing debt with the US government.
Need funds for real estate, business acquisition or working capital.
What makes American Business Lending unique?
ABL is a non-bank lender that specializes in SBA 7(a) loans. SBA loans are backed by the government, meaning that the government will cover the cost if you default. It's less risky for the lender, which means they're typically more willing to give you a better deal on rates and fees.
ABL's non-bank status means that it's somewhat more flexible than banks — but getting your money could require the same turnaround. Startups and small businesses that want to expand could especially benefit from taking out a business loan with ABL, which they can use to cover real estate costs and business acquisitions or working capital.
What are the benefits of getting a business loan with ABL?
Competitive interest rates. Because its loans are backed by Uncle Sam, you're likely to get a better deal on interest rates than on a non-SBA loan.
Easy application — for an SBA lender. ABL's site may be low tech, but it's easy to navigate and find the information you need to apply and get in touch with support.
Easier on startups and small businesses. ABL might have a lot of requirements, but it's friendlier to businesses that typically have a hard time finding financing — like small businesses and startups.
What to watch out for
That ABL's loans are backed by the government means its process can be bureaucratic. After all, if you default on your loan, it's taxpayer money that comes to the rescue.
Here are a few potential drawbacks to consider:
Many fees. You have to pay a $15,000 loan packaging fee and an SBA guarantee fee to take out a loan. And if you want to pay back a loan over a term that's longer than 14 years, you can pay up to 25% only without getting slapped with a fee.
Required down payment. ABL requires you to make a 10% to 30% equity injection — essentially a down payment — when you take out your loan.
Confusing eligibility requirements. Qualifying for an SBA loan is a lot tougher than other types of loans, and working your way through exceptions and fine print can take time.
Personal guarantee required. Your loan is government-guaranteed, but you could end up losing personal finances if your business can't pay off the loan.
Slow turnaround time. You might have to wait as long as two months to get your funds. Consider looking elsewhere if you need fast financing.
Compare ABL to other business loan providers
Is borrowing from ABL safe?
Yes. It's not reviewed on Trustpilot or accredited with the Better Business Bureau, but it earns an A+ rating with the BBB regardless. ABL is also a part of the SBA's Preferred Lenders Program, which means it's vetted by a federal agency.
ABL's site doesn't appear to be encrypted, which isn't reassuring. But that might not be a problem, what with no real online application to speak of. Instead, you'll complete a fillable PDF, print it and return it with documentation as requested.
Am I eligible?
Figuring out if you're eligible is a trickier than with other banks. ABL's eligibility requirements are dictated by the SBA, which offers a lot of exceptions to the rule.
To make absolutely sure you qualify, consider contacting ABL directly to describe your business to a service representative.
You'll want to be sure to meet the SBA's minimum requirements that include:
Your business is independently owned and operated. You can't be another company's subsidiary — you must have control over business decisions. An exception are franchises, which are eligible as long as they bring in as much profit a small business might.
Your business is for profit. Nonprofits might have better luck with business grants.
Your business operates in the US. However, you can qualify for this loan if you propose to do business in the US and its territories.
Your small business meets the SBA's definition. The SBA has ever-changing definitions of what constitutes a small business by industry. Make sure your business technically qualifies as small before you apply.
You've exhausted all other financing options. SBA loans exist to help out businesses that have trouble getting funding they need elsewhere.
Owners have invested their own assets in the business. A personal investment shows that you're fully committed to your business — and have a stake in it if it fails.
You're able to demonstrate a need for a loan. You must have a plan for the proceeds
You don't have any outstanding debt with the US government. Otherwise, you're disqualified.
You need funding for real estate–related projects, business acquisition or working capital. SBA loans are designed to help businesses grow physically and financially. If that's not what you're looking for, you might want to consider another lender.
How do I apply?
Buckle up for a long, involved process when applying for a loan with ABL. The whole thing can take around 60 days to funding and involves lots of documents.
Go to ABL's website and click Apply Now.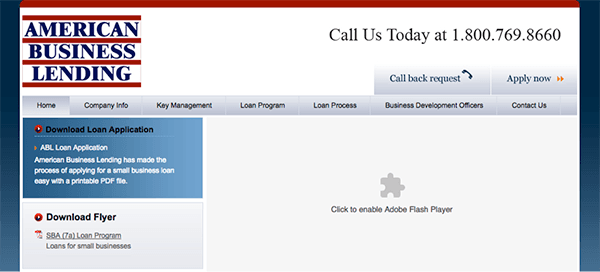 2. You should see a popup asking you to complete an application. Click the link to download PDF form.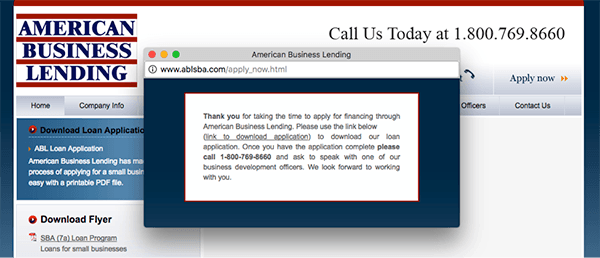 The application should open as a PDF. Once it's open, call 800-769-8660 to talk to a business development officer, who will walk you through the application process.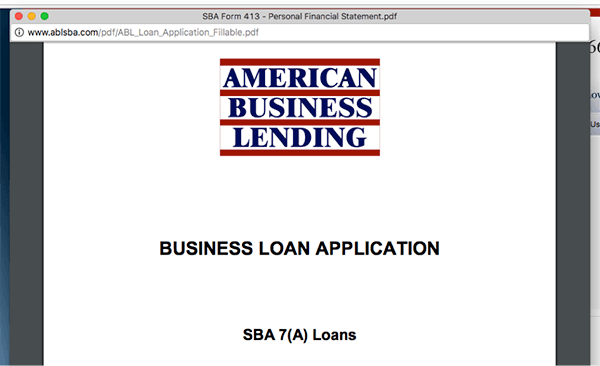 3. Once you've completed and submitted your application, an underwriter will use it to prepare a report to submit to the ABL Credit Committee. They might need to contact you for clarification, so be ready to answer questions. 4. If the ABL Credit Committee approves your loan, the underwriter sends a commitment letter with the details of your loan. Read it carefully and contact your business development officer if you have any questions. 5. Sign and return your commitment letter along with a deposit check (used for fees associated with loan closing). 6. Once ABL receives your signed commitment letter, a loan packager and closer will work with you to gather further documentation to apply for an SBA loan. This process typically takes up to 45 days. 7. ABL will give you your funds and close your loan — or approve your application — once all of your documents are reviewed.
Don't have 60 days to wait for financing? Get a fast business loan
What documents do I need to apply?
To apply for an SBA 7(a) loan from ABL, you may need to at least provide:
A recent interim financial statement. This is a statement of your business's finances for the current fiscal year, no more than 45 days old. An accounts receivable and accounts payable aging report will do.
Business tax returns for the past three years. This should account for your financing for the past three fiscal years.
Personal tax returns for the past three years. You must provide personal tax returns for all individuals owning 20% or more of your business.
A business plan or financial projections for the next two years. Only required for startups. But it's not a bad idea to get a business plan ready before you start looking for loans — it could provide clearer picture of your financing needs.
A schedule of your business's debt. You must provide the information on business debt that is no more than 45 days old.
Management resumes. ABL requires that you include resumes for all owners, partners, directors, officers, stockholders and guarantors.
Official documents of ownership. These include articles or certificates of incorporation, your business's bylaws, assumed name certificates and partnership agreements.
ABL might ask you for additional documentation depending on your business type and how you intend to use your business loan.
I got a business loan from ABL. Now what?
Now it's time to start paying back your loan. Ask your loan packager and closer if it's possible to set up autopay with your business's checking account to avoid accidentally missing payments.
To save on needless interest, consider paying off your loan early if your loan term is less than 15 years. But keep in mind that ABL can charge a penalty on prepayments that represent more than 25% of the principal balance.
Bottom line
ABL business loans are designed to help startups and small businesses grow by buying real estate and purchasing other companies. Small businesses looking for financing for other projects or for a loan of less than $300,000 should look elsewhere.
But even if you do qualify for this loan, it's a good idea to compare your options to make sure it's the best fit for your business's needs.
Frequently asked questions