Finder is committed to editorial independence. While we receive compensation when you click links to partners, they do not influence our opinions or reviews. Learn how we make money.
The best Amazon Prime Video movies
Prepare for a binge session with these 15 flicks.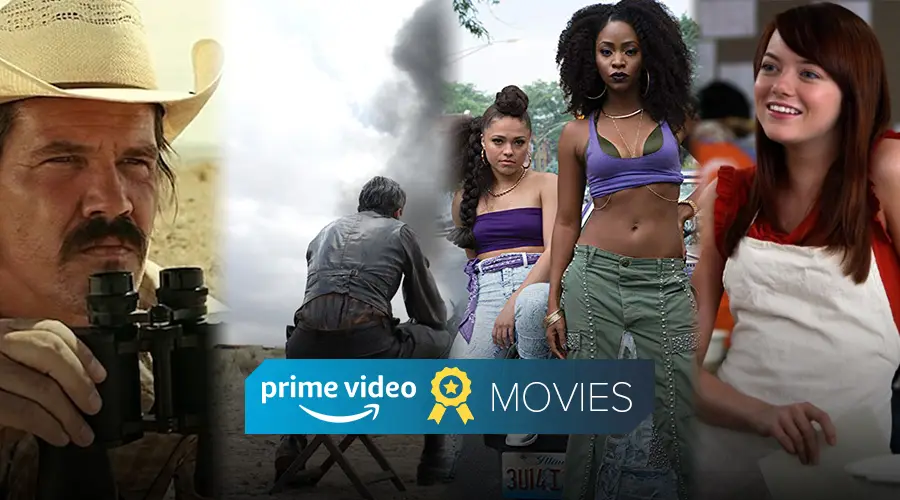 Amazon Prime has one of the most expansive libraries of any streaming service. With a wide selection of movies included in your subscription and even more available to rent on the platform, you won't get bored.
Here are the best movies we've found so far.
1. Eighth Grade
---
Year: 2018
Cast: Elsie Fisher, Josh Hamilton, Emily Robinson
---
Eighth Grade enjoyed plenty of buzz and acclaim when it came out in 2018, and for good reason. The movie centers on thirteen-year-old Kayla, who endures the tidal wave of contemporary suburban adolescence as she makes her way through the last week of middle school, ending a school year that, so far, has been a disaster.
Realistic, funny, and very empathetic, Eighth Grade does a great job at showing the typical troubles associated with puberty. However, despite approaching themes like social media, the movie also has a timeless feel ⁠— so much so that any viewer, regardless of when they grew up, can resonate with the main character. The movie may draw you in with a promise of nostalgia and laughs, but the narrative is much more complex. You should let it surprise you.
2. Spider-Man: Into the Spider-Verse
---
Year: 2018
Cast: Shameik Moore, Jake Johnson, Hailee Steinfeld, Mahershala Ali, Brian Tyree Henry, Lily Tomlin
---
After being bitten by a radioactive spider, Brooklyn teenager Miles Morales develops mysterious powers that transform him into the one and only Spider-Man. However, when he meets Peter Parker, he realizes that there are many others who share his special talents. Soon, the Spider-Men band together to defeat a dangerous villain.
Visually striking and wonderfully written, this animated movie is a treat for hardcore comic fans and newbies alike. The movie has pretty much everything ⁠— action, humor, diversity, enthusiasm and ambition. Even better, in a time when superhero flicks are everywhere, Spider-Man: Into the Spider-Verse manages to stand out from the crowd. We strongly advise you stream it immediately.
3. Fantastic Mr. Fox
---
Year: 2009
Cast: George Clooney, Meryl Streep, Bill Murray
---
Charming and funny, Fantastic Mr. Fox follows the title character as he succumbs to his animal instincts after 12 years of bliss and raids the farms of his human neighbors. In the process, he endangers not only his family, but the entire animal community, who has to band together to fight the opposition.
Directed by Wes Anderson, the movie is a treat for viewers of all ages, with an engaging story and stunning animation. If you ever wanted to root for a knife-wielding rat, now's your chance.
4. Suspiria
---
Year: 2018
Cast: Dakota Johnson, Tilda Swinton, Chloë Grace Moretz
---
One of the most hyped horror releases of the last few months, Suspiria revolves around a world-renowned dance company whose female directors are accused of witchcraft. At the same time, an inquisitive psychotherapist and a member of the troupe uncover dark and sinister secrets as they probe the depths of the studio's hidden underground chambers.
Bonkers and ambitious, this horrific flick is not recommended for the faint of heart. Everyone else, buckle up for a wild ride. Suspiria is inspired by the 1977 Italian film of the same title directed by Dario Argento, which quickly gained cult status. We're guessing this one will follow in its footsteps in no time.
5. Beautiful Boy
---
Year: 2018
Cast: Steve Carell, Timothée Chalamet, Maura Tierney, Amy Ryan
---
Beautiful Boy centers on Nic, a teenager who seems to have it all ⁠— including talent, good grades and a knack for several extracurricular activities. But when Nic's addiction to meth threatens to destroy everything, it will come down to his father to do whatever it takes to save his son and family.
Timothée Chalamet and Steve Carell both deliver mesmerizing performances in this inspiring tale of addiction, survival, recovery and relapse. Beautiful Boy is often devastating, but it's a fascinating and important movie as it doesn't glamorize drug use. Instead, it perfectly captures addiction in its most destructive form.
6. Generation Wealth
---
Year: 2018
Cast: Lauren Greenfield, Limo Bob, George W. Bush, Caitlyn Jenner
---
For the past 25 years, photographer and filmmaker Lauren Greenfield has travelled the world, documenting a vast range of cultural movements and moments. Yet, she realized that much of her work pointed at one uniting phenomenon: wealth culture. That's what this documentary is all about ⁠— it examines materialism, celebrity culture and social status.
Greenfield forces viewers to examine the current culture of wealth and understand that humanity should strive for balance ⁠— and she does so by showing, not telling, which makes this whole endeavor even more compelling. All in all, Generation Wealth might be a tad bleak, but it's very thought-provoking.
7. Jurassic Park
---
Year: 1993
Cast: Sam Neill, Laura Dern, Jeff Goldblum, Richard Attenborough
---
The movie that sparked an entire franchise, Jurassic Park takes place in an adventure park full of cloned dinosaurs. As expected, things go very wrong and the dinosaurs escape, leaving the survivors running for their lives.
The monster of all monster movies, Jurassic Park was released in 1993 but still holds up today, despite all the sequels and reboots. A box office hit at the time, the movie offers plenty of thrills, so it might be time to revisit this beloved classic.
8. Closer
---
Year: 2004
Cast: Julia Roberts, Jude Law, Natalie Portman, Clive Owen
---
Set in London, Closer follows four people as they engage in a series of chance meetings, doomed relationships, and casual betrayals.
Explosive performances and delicious dialogue make Closer stand out from the crowd, regardless of how toxic the relationships depicted on screen may get. You're not sure if you should be rooting for these flawed characters, but you definitely want to find out what happens next. All in all, this movie will make you uncomfortable in the best way possible.
9. The Adjustment Bureau
---
Year: 2011
Cast: Matt Damon, Emily Blunt, Jon Stewart, Anthony Mackie
---
Loosely based on the Philip K. Dick short story Adjustment Team, The Adjustment Bureau centers on a United States congressman who discovers that what appear to be chance events in his life are actually orchestrated by a technologically advanced intelligence network. As a result, he has to decide whether to follow his premeditated path or risk it all for a chance at love.
Intriguing and riveting, The Adjustment Bureau is a clever romance disguised as a thriller, compelling and incredibly well-acted. Matt Damon and Emily Blunt have great chemistry, so there's no wonder the congressman is contemplating abandoning success to be with the woman who caught his eye. You'll have to tune in to see if he succeeds.
10. The King of Comedy
---
Year: 1982
Cast: Robert De Niro, Jerry Lewis, Sandra Bernhard
---
The King of Comedy, directed by Martin Scorsese, is a satirical black comedy that follows Rupert, a mentally-deranged and unsuccessful stand-up comedian. After he meets a popular talk show host, Jerry Langford, he's convinced that the encounter will lead to his big break. As a result, Rupert kidnaps Langford and ask for a guest spot on the talk show in exchange for his release.
A movie ahead of its time, The King of Comedy explores the desperation among common people striving to achieve fame and the lengths some fans are willing to go to in order to see their dreams come true. The movie is sharp and unsettling, offering some memorable performances and plenty to talk about once the end credits roll.
11. Indiana Jones 1 – 4
---
Year: 1989
Cast: Harrison Ford, Sean Connery, Denholm Elliott, Alison Doody
---
If you want to hear a heated debate, try asking my friends what the best Indiana Jones film is after they've all been drinking. There's always the purist who stands up for the original Raiders of the Lost Ark, Lucas and Spielberg's incredibly tight re-imagining of ye olde action serials. There's often an ever-so-slightly larger group who insist that the best entry was Indiana Jones and The Last Crusade, a father and son quest for the Holy Grail. And then there'll be that edgier outlier who swears by the darker, heart-ripping antics of Indiana Jones and the Temple of Doom.
Before fist fights can break out, my crew usually bond over one simple fact: despite our differences, we can universally agree on the letdown nature of Indiana Jones and The Kingdom of the Crystal Skull. Avoid it, stick to the original trilogy and you can't go wrong. You're guaranteed to be swinging into a priceless, whip-cracking action-adventure series that belongs in a museum.
12. No Country For Old Men
---
Year: 2007
Cast: Tommy Lee Jones, Javier Bardem, Josh Brolin, Woody Harrelson
---
Prepare to meet Anton Chigurh, the most magnetic on-screen villain since Anthony Hopkins was laced into a face mask as Hannibal Lector. Chigurh's an absolute terminator, an implacable hitman hired to locate Llewelyn Moss, a good ol' boy who's stumbled across a suitcase full of cash left in a drug deal gone wrong. Slight problem: said luggage carries a fairly primitive tracking device, too, and what follows is a state-wide game of cat-and-mouse. To make matters even more complicated, an aging and disillusioned Sheriff Bell is only half a step behind them both, plus the cartels have decided to hire a plan-B mercenary.
Admittedly, the ending isn't for everybody, but there's also a general consensus that everything leading up to it represents an incredibly taut neo-noir thriller. Couple this with intense moments of ultra-violent action, plus some darkly humorous musings on the moral rot in America, and No Country For Old Men is a modern masterpiece.
13. Jaws
---
Year: 1975
Cast: Roy Scheider, Robert Shaw, Richard Dreyfuss, Lorraine Gary
---
Sometimes great horror is purely in the music and what you can't see. It's been nearly 40 years but the creeping dread of John Williams "duunn dunnnn" theme from Jaws still sends chills up my spine. I'm confident that if you were to play that swelling double-note menace over the speakers of any indoor pool complex, people would cast reason aside and get out.
The power of this music was a godsend for Steven Spielberg, a fledgling director who invested too much faith in his prop department's ability to create lifelike sharks. Turning what was a 25-foot polystyrene lemon into lemonade, Spielberg shifted course onto some of the most creative and cost-effective jump-scares in the history of film. The end result is a great monster flick that's damn near perfect, thanks to the plight of a hapless Chief Brody and a strong set of supporting characters.
14. L.A. Confidential
---
Year: 1997
Cast: Kevin Spacey, Russell Crowe, Guy Pearce, James Cromwell
---
Widely regarded as Hollywood's last great noir film, L.A. Confidential tells the 1950s tale of compromised dreams and the unfortunates who fell victim to the siren's song of Tinseltown. When a massacre takes place at a cafe and one of the dead is a young prostitute, further investigation reveals an employer who specializes in surgically altering "the wares" to better resemble movie stars. Cue: a much wider conspiracy that's picked apart by three vastly different law-enforcers. You have Ed Exley, an ice-cold careerist; Jack Vincennes, a spotlight-chasing "Hollywood Cop" who does studio consultancy; and Bud White, an ask-questions-later brute.
While director Curtis Hanson had his bases well covered with top-billed stars like Kevin Spacey and Kim Basinger, he elevated this film from good to great by filling out his ensemble cast with relatively unknowns Guy Pearce and Russel Crowe. Allow yourself to be seduced by L.A. Confidential and you'll go on a complex, engrossing thrill ride that thoroughly deserves every Oscar it won.
15. Gleason
---
Year: 2016
Cast: Steve Gleason, Mike Gleason, Scott Fujita, Mike McKenzie
---
After being diagnosed with ALS (Amyotrophic lateral sclerosis), formerly known as Lou Gehrig's disease, New Orleans Saints football player Steve Gleason decides to put up the best fight possible and record a series of video journals for his unborn son. When the battle starts to look insurmountable, the plan shifts to submitting this footage to charity to raise awareness about this disease as the film documents Gleason's slow deterioration over the course of a five-year period.
Equal parts inspirational, heartbreaking and brutally candid, Gleason runs the full gamut of human emotions. This is a front row seat to a man moving through the five stages of grief, plus the film juggles the themes of marital stress, religious conviction and even a bit of lighthearted toilet humor when the worst indignities of the disease kick in. This is a tough watch but an important one, too ⁠— an unflinching portrayal of a person fighting back against incredible adversity.
Bottom line
Amazon Prime Video has plenty of movies included in the subscription to keep you entertained. But when you factor in the movies that are available to rent on the platform, there's almost nothing you can't stream.
If you're looking for even more digital content, or you just want to make sure you're getting the best deal, compare streaming services.