Finder is committed to editorial independence. While we receive compensation when you click links to partners, they do not influence our content.
Amazon Echo Spot review
Amazon's addition of a small display gives the Echo Speaker a fun feel.
Pros and cons
Clear display screen
Discreet design
Decent audio
Video calling capability
Video monitoring is on a permissions basis.
Still no multivoice support
Drop-in feature could be embarrassing.
You can get an Alexa speaker for less.
Amazon Echo Spot: Design
The most notable aspect of the Amazon Echo Spot is its design. For a smart speaker, it sure doesn't look like one. In fact, the design practically screams "smart alarm clock," and that's a category that hasn't been explored with any depth to date.
With a rounded design that measures around 3.5 x 4 x 3.5 inches, the Echo Spot is on the smaller side for a smart speaker — although not quite as diminutive as its sibling Echo Dot or the Google Home Mini.
The design is a round ball with a third of its body sliced away to "reveal" the round display screen, which measures in at 2.5 inches. With a relatively low resolution of 480 pixels across, Amazon cleverly limits what you can watch on it, so you're not likely to complain about this aspect of its construction.
At the top, you'll find the usual array of volume and microphone muting buttons, which might come in handy as a bedside device — if you follow me.
The display screen is touch-sensitive, but inputs are limited to left, right and downward swipes to reveal the settings, mute and brightness adjustment bar.
Aside from the power cable that snakes out from the rear, you've got a standard 3.5-mm audio jack to connect the Echo Spot up to bigger and better speakers. The Echo Spot is also Bluetooth-capable for streaming music.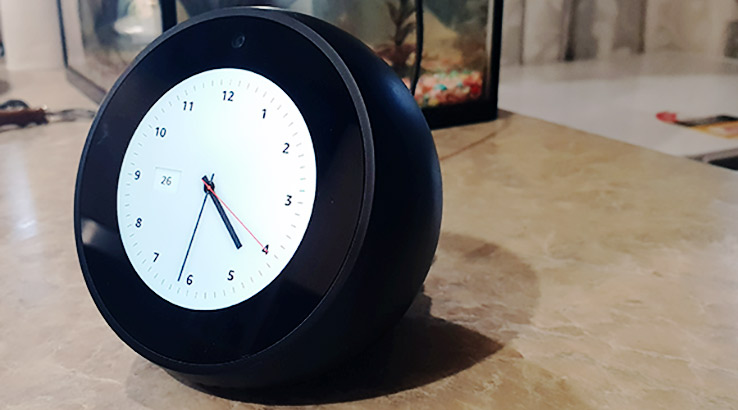 Amazon Echo Spot: Speaker and screen quality
The Echo Spot isn't sold by Amazon as a high-end speaker device, and that's for a good reason. Audio is more attuned to offering voice-based information than it is to working as a music speaker, although the Spot is superior to the cheaper Echo Dot.
That its screen allows for visual display is a feature that no other smart speaker currently matches. At launch, this is limited to news bulletins from select sources, as well as movie trailers via IMDB. At launch, the ABC News bulletin seemed to never update, but hopefully that's a launch quirk or feed issue and not a permanent problem.
You can also watch Amazon Prime Video through the Echo Spot, although it's certainly not ideal. I mean, The Marvellous Mrs. Maisel is exceptional viewing, but it's not well-presented on a tiny round screen.
The display screen can also show shopping lists, timers or alarms and, of course, clock faces. Most of these are analog clock faces, although some digital faces are available. You can set a night mode for relative dimming, but I found that this is still relatively bright. So if electronic light disturbs your sleep, this could be problematic.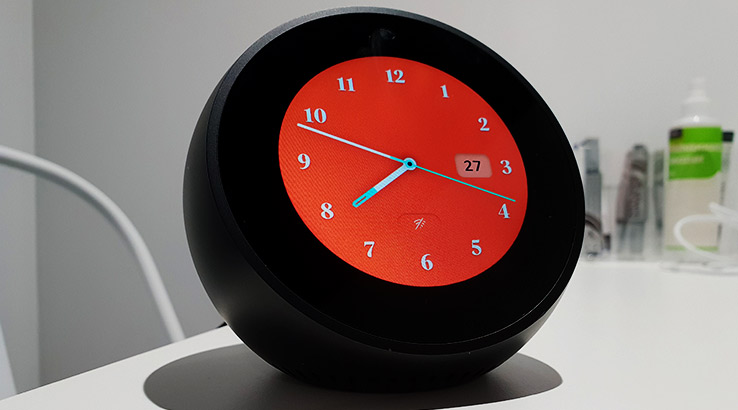 A camera sits behind the display screen giving the Echo Spot its other party trick: video calling. While regular Echo speakers support voice calls, the camera on the Spot allows for two types of video calling. As long as your recipient has an Echo Spot, your will appear on their device or optionally through the Amazon Echo app.
The other video-call type exclusive to the Spot is what Amazon calls "Drop In" calling. It's a way to fire up the Spot's camera without call accept or reject buttons and meant to be used for contacting close family members or trusted friends. You have to enable Drop In on both sides of an Echo conversation to make it work. Once that's done, if you tell Alexa to Drop In on your friends or family, they get a brief chime, about five seconds of blurred video and then they're live, no matter what they're doing.
Hopefully, they're not getting dressed or stepping out of the shower. Drop In worked quite well for basic video quality in my tests, but it did give me pause for thought as to where I'd place the Echo Spot and who I'd give Drop In access to.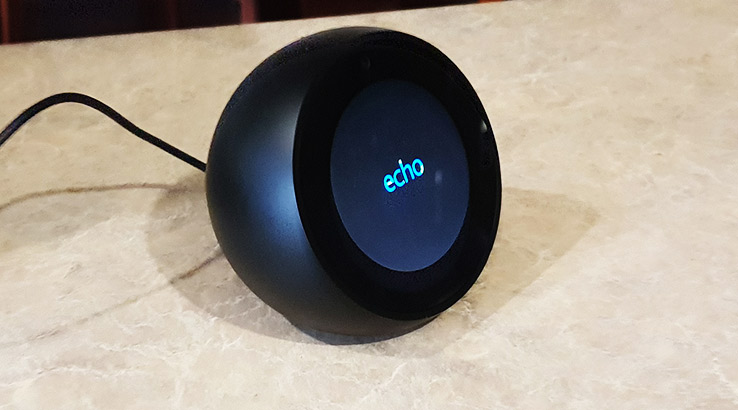 Amazon Echo Spot: Smart home quality
The Echo Spot isn't just a smart alarm clock with video calling. It's also a fully capable Alexa-based smart speaker that gives you full access to the library of Alexa Skills, which you install to the Echo Spot from the Amazon Alexa app on Android or iOS smartphones.
There's a wide and growing range of skills available, covering everything from banking to checking flights to smart home integration. In most respects, the Echo Spot is no different from any other Alexa-enabled device. The integration of a display screen does mean that some apps can display relevant information onscreen, such as detailed weather alerts. But it's still far from universal, so expect a lot of skill logos or the plain clock face with some skills.
I did have some concerns about how the Echo Spot's unusual shape might affect its microphone pickup, but it performed quite well at picking up my voice, even from a distance. Alexa's voice still has that artificial quality that reminds you that it's not actually human, but she's certainly listening all the time, unless you disable the microphone.
Echo Spot's screen also allows you to integrate it with a range of smart home cameras and doorbells. Its ring and range of video doorbells were recently acquired by Amazon, so those products are supported by the Echo, as well as Arlo's range of cameras and Belkin's WeMo switches and lights, just to name a few. Searching for the requisite skills in the Echo App is a bit of a chore, since they're not very well sorted.
There's also an odd catch here for video monitoring. While you can feed video from a Ring Doorbell to the Echo Spot, you have to explicitly ask it to do so each time it rings or detects motion.
An automatic feed would've been ideal. Otherwise, you've got to be alerted to a ring event, then tell Alexa to view the feed and wait for it to get the feed… by which time you've probably missed your Amazon delivery.
Amazon Echo Spot: Verdict
The Echo Spot is a very different kind of smart speaker. The inclusion of a display screen adds all sorts of smartphone-style capabilities into what is otherwise a voice-driven market.
Amazon hasn't done a lot with the screen, but it is simple and easy to use. It's also a speaker with a cute industrial design. While you'd probably hide an Echo Dot, your Echo Spot is much more likely to be proudly displayed.
You'll pay a premium for the privilege, and it's going to work a lot better in a house that's already Alexa-enabled rather than being your first Echo speaker. But it works well within those constraints.
Amazon Echo Spot: Pricing and availability
The Amazon Echo Spot is available for $130.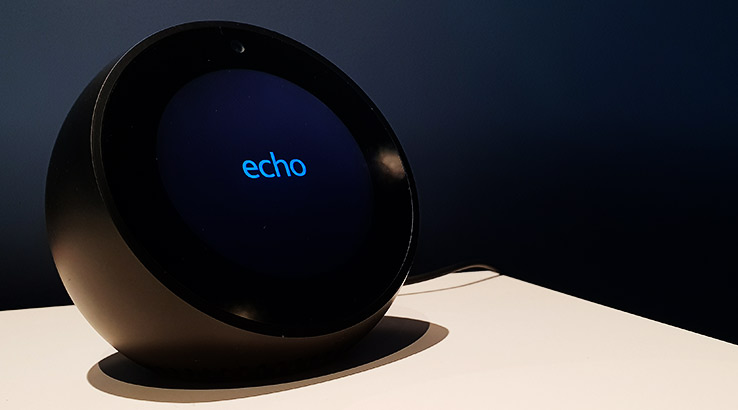 Back to top
Amazon Echo Spot: Alternatives
The smart speaker space is a busy one, with many options open to you.
The Echo Dot is the closest match to the Echo Spot in terms of features and audio quality, and is considerably cheaper at just $29. If you want better audio quality than the Spot, consider the $100 Amazon Echo or the $110 Echo Plus if Zigbee integration is important to your smart home plans.
If you're not already in a particular ecosystem, you could consider the Google Home Mini for a low-cost solution, or its Echo equivalent, the Google Home speaker.
If you're an iOS user with a focus on HomeKit smart home features and love high-end audio, you might opt for Apple's exceptional-sounding HomePod speaker.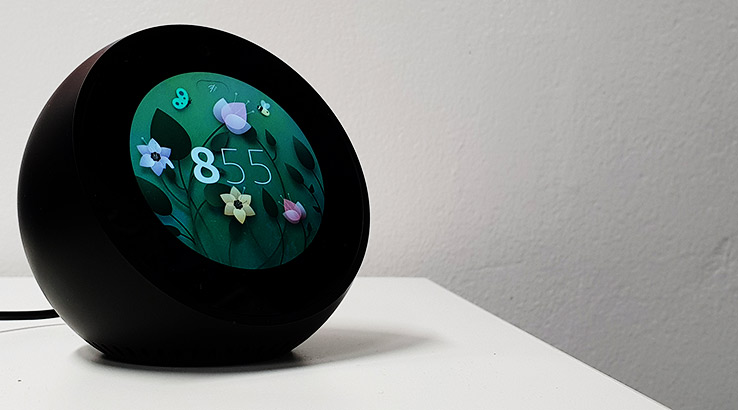 Amazon Echo Spot: What the other reviewers say
| Site | Comment | Score |
| --- | --- | --- |
| Techradar | "This addition to the Echo family is a fun, versatile video device." | 4/5 |
| The Verge | "Amazon's new Echo Spot is the perfect smart alarm clock for your bedroom, except for one super annoying thing: it has a camera on it." | N/A |
| Engadget | "This alarm clock's tiny screen belies a big feature set." | 84/100 |
| Sydney Morning Herald | "The Spot seems most practical as an alarm clock for your bedside, or video phone for the living area, but $199 might be a big ask when the smartphone in your pocket can do the same job." | N/A |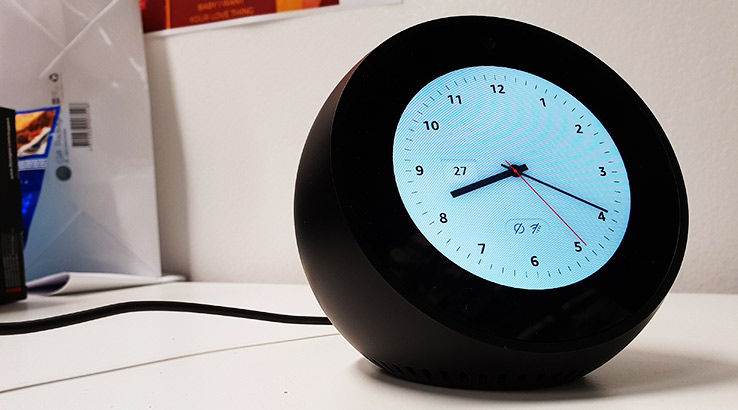 Specifications
Product Name

Amazon Echo Spot
Assistant

Alexa
Wireless network

Dual-band 802.11 a/b/g/n @ 2.4GHz/5GHz
Weight (grams)

419
Height

104mm
Width

97mm
Depth

81mm
Speaker information

1.4″ speaker with 3.5mm stereo output
Bluetooth

Yes
Min. Frequency Response (Hz)

TBC
Max. Frequency Response (Hz)

TBC

Audio out

Yes

Water rating

NA
Back to top