Finder is committed to editorial independence. While we receive compensation when you click links to partners, they do not influence our content.
Alternatives to Turbo Title Loan
Consider these alternatives to Turbo Title Loan.
Facing a tough financial situation and need access to cash — fast? If you were thinking of borrowing from Turbo Title Loan and visited its site recently, you probably noticed things have changed. Even though you can't apply with this lender anymore, there are still other options for you to consider.
Can I still get an auto title loan from Turbo Title Loan?
No. As of May 31, 2018, Turbo Title Loan stopped offering loans. When you visit its site, you'll be directed on how to make payments on outstanding balances if you're an existing borrower.
Otherwise, you can't access the online application.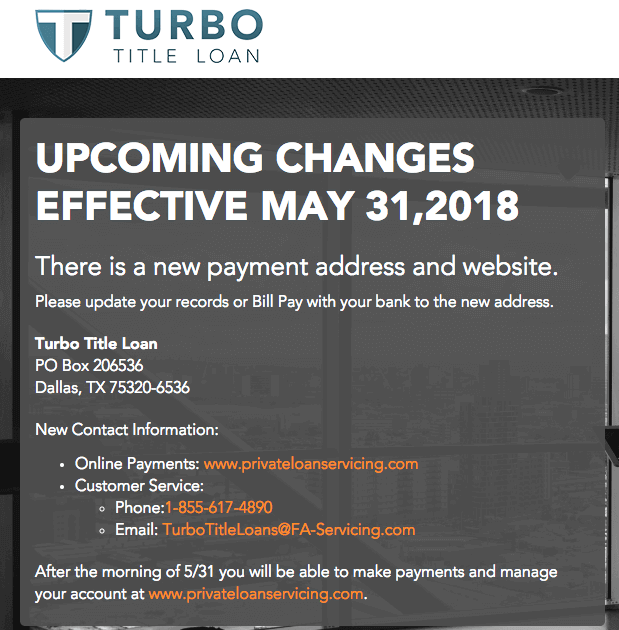 Top 3 alternative title loan providers to consider
These providers offer loans in many of the same states as Turbo Title Loan and have similar terms.
1. Max Cash
Max Cash is a title loan connection service that operates in 46 states. Not every lender affiliated with Max Cash requires a bank account, and you could qualify for a loan from 50% to 90% of your vehicle's value. You can apply for a loan or refinance, and Max Cash will go through its lenders to find a service that works for you.
Loan amounts: Up to $50,000
APR: Varies by lender
Loan terms: Varies by lender
Max Cash doesn't provide loans to residents of Colorado, Connecticut, Hawaii, Montana, Nebraska, New York, Rhode Island, South Dakota, Washington or Wyoming.
2. LoanMart
LoanMart is a direct auto title lender. Unlike some providers, which only allow you to borrow a percentage of what your car is worth, LoanMart may be able to finance up to 120% of your vehicle's value. You can continue to drive your car while you have a loan out, but remember: Since you're using your car as collateral, you risk losing it if you can't repay.
Loan amounts: $2,500 to $50,000
APR: 60% to 222%
Loan terms: 1 year – 5 years
LoanMart only provides loans to residents of Alabama, Arizona, Illinois, Missouri, New Mexico, South Carolina and Utah.
3. Finova Financial
Finova Financial isn't the most widespread auto title lender, but you don't need to have a bank account and it offers longer terms than most auto title loans. However, online payments through MoneyGram can be costly, and Finova Financial also requires that you have comprehensive and collision insurance on your car before you borrow.
Loan amounts: $750 to $5,000
APR: Up to 30%
Loan terms: 1 year – 2 years
Finova Financial provides loans to residents of Arizona, California, Florida, New Mexico, South Carolina, Tennessee and Oregon.
What are my other options?
Choose another title loan provider. Turbo Title Loan isn't the only title loan provider out there. You can compare your options to find another auto title lender near you that offers similar loan amounts and terms.
Check out other short-term options. A payday loan allows you to borrow a small amount, but the payback time is quick — usually just two weeks. On the other hand, installment loans are for larger amounts and have longer terms.
Consider seeking alternatives. Sometimes a title loan or short-term loan doesn't suit your needs. You can browse some alternatives if you don't want to take out a new loan.
Beware of high fees
Auto title loans are costly. Often, you have only a month or two to repay your loan before it's due, and interest rates tend to be in the hundreds. Defaulting on an auto title loan is risky.
You could hurt your credit score, or worse, lose your car. Before you borrow, make sure you can afford to repay your loan on time to avoid excess fees and the possibility of repossession.
Compare more auto title loans
Bottom line
Turbo Title Loan may be going out of business, but that doesn't mean you're left without options. Max Cash, LoanMart and Finova Financial are our recommended alternatives, but you can also compare more title loans to find a lender that can help you when you need a little extra money.
Frequently asked questions
[/single_call_shortcode][/single_call_shortcode]
More guides on Finder