Finder is committed to editorial independence. While we receive compensation when you click links to partners, they do not influence our content.
Compare Allswell and Tuft & Needle mattress
Stretch your new-bed bucks further with the right budget-friendly brand.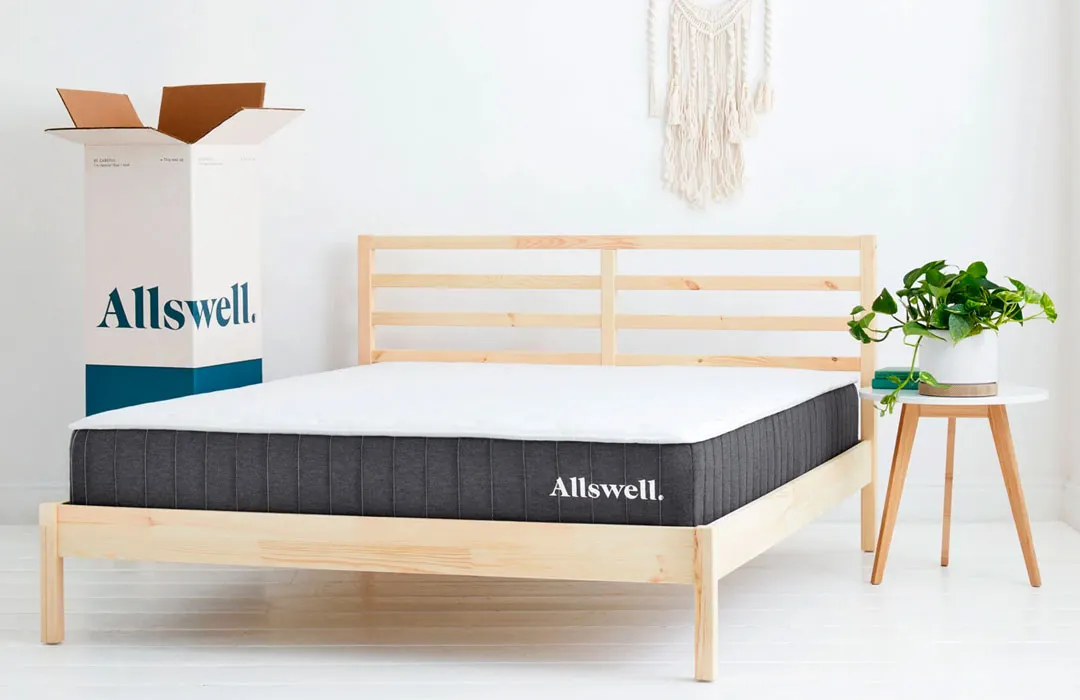 Allswell and Tuft & Needle both offer affordable mattresses rolled in a box and delivered to you to unwrap. While both brands let you try your new bed for up to 100 nights before committing, learn a little more about each mattress before you hit the purchase button.
I've slept on the original models for both of these brands. Here are the key features of each and my personal experience attempting a good night's snooze.
Compare Original Allswell and Original Tuft & Needle features
Mattress type: Hybrid foam and coils
Original mattress thickness: 10 inches for both
Trial period: 100 nights
Warranty: 10-year limited
Financing? Yes, with Affirm (for both)
Free delivery? Yes for all 50 states
Shop Allswell
Mattress type: Foam
Original mattress thickness: 10 inches
Trial period: 100 nights
Warranty: 10-year limited
Financing? Yes, with Affirm
Free delivery? Yes for continental US
Shop Tuft & Needle
Brand overviews
A newcomer to the online mattress space, Walmart-owned Allswell launched in 2018. This brand offers three mattress models, all of which are foam and individually-wrapped coil hybrids. The Original Allswell mattress — the thinnest of the bunch, at 10 inches high — is affordable at $375 for a queen. The Luxe, $645 for a queen, is a mid-range option, offering two inches of added thickness and advanced cooling swirl foam, while the Supreme, the highest-end option, is priced at $985 for a queen.
Compare Allswell and Tuft & Needle financing
Allswell and Tuft & Needle both offer financing through Affirm. The difference between the two is that Allswell requires a minimum $250 purchase amount to use Affirm financing, whereas Tuft & Needle doesn't have this limitation.
Unfortunately, residents of West Virginia and Iowa are not eligible for Affirm financing due to state laws. But that's across the board with all Affirm offerings, not just these two brands.
Shipping and returns
Both brands offer free standard shipping options, with a few key differences.
Shipping to Alaska and Hawaii
Allswell offers free shipping to all 50 US states, while T&N excludes Alaska and Hawaii in its offer. Tuft & Needle mattress delivery to these states can cost between $150 and $200.
White glove delivery
Both Allswell and Tuft & Needle offer optional white glove delivery to the continental US for a nonrefundable fee.
Allswell offers the options of $99 in-home setup or $149 in-home setup and removal of your old mattress. Tuft & Needle offers one $150 option, which includes both in-home setup and mattress removal. Even if you don't want your old mattress hauled away, you'll still be on the hook for the full white glove delivery fee.
Expedited shipping
Allswell offers two-day express shipping to customers in the continental US for a nonrefundable fee of $50. Orders placed by noon EST Monday through Friday will ship out the same day. Orders placed after that cutoff will ship out the next business day.
Tuft & Needle offers same-day shipping to certain ZIP codes in New York City, Phoenix, Los Angeles and San Francisco for a nonrefundable $50 fee per mattress.
Trial periods
Both brands offer nearly identical 100-night trial periods. If you don't love your new mattress at any point within 100 days of purchase, contact Allswell or Tuft & Needle customer service to arrange a return and refund. Both brands limit this policy to one return per household.
Tuft & Needle extends its 100-night trial to its other products, including the pouch, bed frames and platforms, sheets and pillows.
Allswell offers a 30-day trial on its bedding and mattress toppers.
Positive online reviews
As a newer company, Allswell doesn't have many online reviews just yet. But according to reviews that customers left on the company's Facebook page, most people are pleased with the affordable price tag and quality materials. Several reviews mentioned Allswell mattresses relieve back pain, offering a "just right" feel that's neither too firm nor too soft.
Tuft & Needle gets similar positive reviews online, related to both its affordability and comfort. One reviewer even stated that this mattress is great for sex and sleeping. Others say that their T&N limits motion transfer, allowing couples to get a good night's rest.
Case study: Gabrielle's experience
Gabrielle Pastorek
Writer
Tuft & Needle's original foam mattress was the first bed-in-a-box mattress I'd ever tried. The price was right — I paid $600 for a queen size — and the mattress was a huge step up from my very old hand-me-down spring bed. But after sleeping on it for several months, I found it to be a bit too firm and suspected that it was contributing to my back pain. Still, I kept my Tuft & Needle for about two years before getting an Allswell for free.
The original Allswell mattress sells for $375 for a queen, about half the price as the Tuft & Needle's base model. The other major difference is that Allswell is a hybrid mattress, combining memory foam with individually-wrapped coils, whereas Tuft & Needle is all foam. The Allswell mattress seems to offer better back support without creating pressure points. It's also considerably more responsive than the Tuft & Needle, making it easier to find a comfortable spot.
I chose my free original Allswell mattress over the Tuft & Needle, which my German Shepherd mix now happily lounges on.
Customer service experience
Allswell has fewer customer service reviews, since it's been in business for a much shorter time than Tuft & Needle. The company isn't accredited with the Better Business Bureau, but has a B+ rating. Some customers wrote reviews on Allswell's Facebook page explaining customer service issues. One customer received the wrong mattress and is unable to speak with customer service about an exchange. Still, others report top-notch customer support and fast, hassle-free delivery.
Tuft & Needle is accredited with the BBB and holds an A+ and 5-star rating. Customers have been pleased with a fast, smooth delivery process, friendly customer service and easy, hassle-free returns. Customer service reviews are similarly glowing on the company's Facebook page, earning it a 4.6 out of 5 rating.
Bottom line
There are lots of similarities between Allswell and Tuft & Needle, including their price points, trial periods, warranties and financing options. While Allswell edges out T&N with an even more budget-friendly option in its Original Allswell mattress and free shipping to Alaska and Hawaii, Tuft & Needle earns the blue ribbon for excellent customer service.
I personally found Allswell's Original mattress to be more comfortable than Tuft & Needle's Original model, thanks to its hybrid design. But if you're looking for an all-foam option, the Original Tuft & Needle mattress offers a great value.
If you'd still like to shop around for the perfect bed for you, compare other online mattress options before pulling the trigger on one of these brands.
Compare all the mattresses from Allswell and Tuft & Needle
Frequently asked questions
More guides on Finder