Alicia Keys and ELF serve up skincare with a side of self-care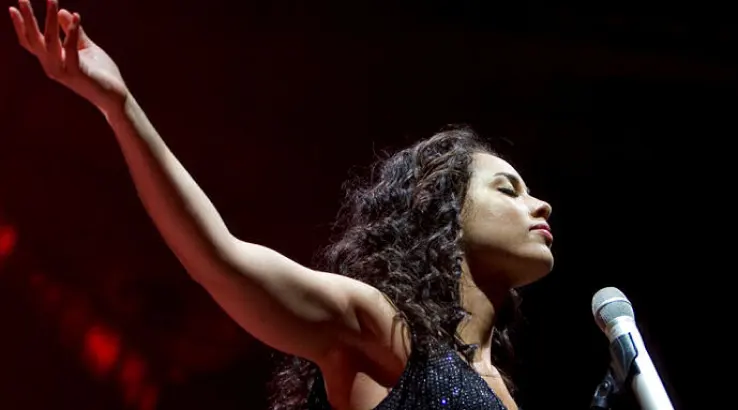 Here's what we know about the 15-time Grammy winner's beauty brand.
Last week musical powerhouse Alicia Keys announced Keys Soulcare, her beauty collaboration with ELF. On Instagram, she wrote that the brand is "something that will bring us closer to ourselves, our radiance, our confidence and each other. A place where we can have real conversations about who we are and who we want to be."
Keys Soulcare will launch a preview in December, including a sage and oat milk candle and two skincare products. The full collection will be released in early 2021. A portion of all proceeds will be donated to nonprofit organizations.
More than just a product line, Keys Soulcare will be a lifestyle brand, with a website and weekly newsletter that features original content by Keys and other positive creative voices. Don't expect flashy makeup or glitzy glam. Keys Soulcare aims to promote self care, with a focus on daily skincare rituals and making time for yourself in the hustle of daily life.
Specific product information hasn't been released — but here's what we know so far.
Keys Soulcare will be about authenticity
Back in 2016, Keys wrote an essay for Lenny Letter about her struggle with society's expectation of women, in particular the stereotypical approach to conventional beauty standards.
"Every time I left the house, I would be worried if I didn't put on makeup," she wrote. "What if someone wanted a picture?? What if they POSTED it??? These were the insecure, superficial but honest thoughts I was thinking. And all of it, one way or another, was based too much on what other people thought of me."
Since then, Keys has walked the walk, wearing little to no makeup to public appearances and working that au natural look in photoshoots. She's even written songs about it. Her track "When a Girl Can't Be Herself," from the 2016 album Here, goes like this:
In the morning from the minute that I wake up / What if I don't want to put on all that makeup / Who says I must conceal what I'm made of / Maybe all this Maybelline is covering my self-esteem.
So it's safe to expect that her ELF collaboration will put a particular focus on natural beauty … or what we should just call beauty.
It was developed with board-certified dermatologist
Keys developed the products with Renée Snyder, a board-certified dermatologist based in Austin, Texas. Snyder has a track record of creating clean, plant-based beauty products with a focus on sustainability and a less-is-more approach to beauty. We expect the Keys Soulcare products to follow suit.
It won't stop at skincare
Keys Soulcare will also include "air care" — which we interpret as candles — and body care, so you can pamper more than just your face.
Where to buy Keys Soulcare
You can buy the Alicia Keys x ELF collab at keyssoulcare.com or through select retailers. Unfortunately, right now we don't know exactly what "select retailers" means. However, ELF is normally sold at Walmart, Target and most drugstores. While we assume that Keys Soulcare will be stocked at CVS, Walgreens, Right Aid and Duane Reede, we'll update this article when we know for sure.
What to buy in the meantime
If you're looking for clean products to pamper your skin before Keys Soulcare comes along, here's what to buy:
You can also get your fill of Keys by listening to her newest album, Alicia, which features her call for authenticity, So Done (feat. Khalid).
Photo: Supplied