Alaska Airlines' new deal with American will enable access to global network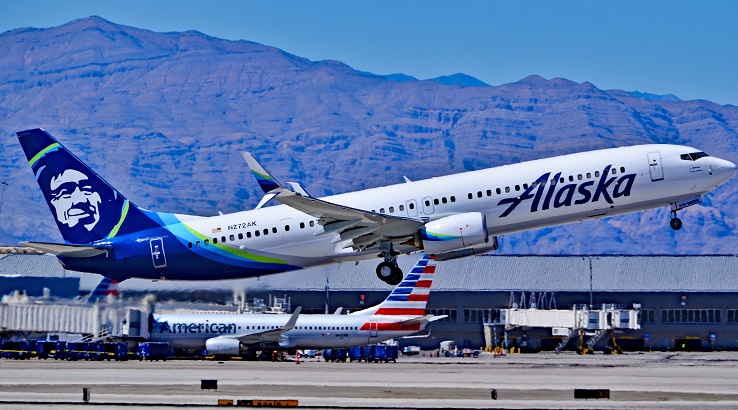 Alaska Airlines' application to the OneWorld alliance will give its customers more routes and better service.
On Thursday, Alaska Airlines announced its intentions to join American Airlines' OneWorld alliance. This move, expected to be completed in 2021, launches Alaska Airlines into international air travel and makes Seattle an international hub.
Even before that application is finalized, the two airlines will launch a new American route from Seattle to Bangalore, India, which will premiere in October 2020, as well as a new route between Seattle and London to start flying on March 2021.
"Alaska Airlines has been an outstanding partner for nearly 40 years, and we're excited to expand West Coast international service together," said American Airlines President Robert Isom in the announcement. "By connecting American's strength in long-haul international flying and Alaska's presence across the West Coast, we will build a better network for our customers than either airline could build alone. Together, we will deliver more value, benefits and choice for customers across the U.S. and around the globe."
Alaska Airlines' application to OneWorld is subject to government approval. The first change to Alaska Airlines service has already happened with a codesharing partnership program between American and Alaska that was scheduled to start its sunset in 2020. One element of the codeshare is reciprocal access to lounges. American fliers will be able to use all seven Alaska lounges in the United States, and Alaska customers will be able to use American's nearly 50 Admiral Club lounges. Entry into these lounges will depend on ticket class or elite status.
Additionally, the codeshare allows Alaska customers to earn and use frequent flier miles on American flights and vice versa. Plans to end the codeshare were abandoned with the announcement of Alaska's application.
Shifting alliances
Upon acceptance, Alaska and American are expected to announce a new slate of West Coast international flights. "Beginning West Coast international service from Seattle will complement American's strong existing international network from LAX," said Vasu Raja, American's senior vice president for network strategy. "India is a grossly underserved market, despite the number of businesses with a major presence in both India and the West Coast. By adding Seattle to Bangalore, we're giving customers from more than 70 U.S. cities access to India in one stop or less — versus the two, three or four stops they'd have to make to get there in the past."
While the Alaska-American partnership may have been a way to continue American's support for the Pacific Northwest regional carrier, it may also be retaliatory against Delta.
In 2016, following Alaska's merger with Virgin American, Delta — Alaska's longstanding partner — walked away. Previously, it was with Delta that Alaska had the codeshare agreement with. While the companies maintained an interline agreement, which permitted easier transfers between airlines, Delta indicated that it is no longer interested in working with Alaska.
Alaska, however, was still interested in Seattle. "We view Seattle and the Pacific Northwest as one of the most important markets in the country, with strong economic growth, cultural diversity and some of the world's most innovative brands and minds," Delta Vice President for Seattle Mike Medeiros said at the time. "As a result, we have invested heavily in our product, services, facilities and the community. Our focus now is earning the long-term trust of Pacific Northwest customers by demonstrating the value of partnering with a global airline and the benefits of being a Delta SkyMiles Member."
With Delta declaring Seattle a hub, it placed itself directly in competition with Alaska, with the possibility of the larger airline pushing the smaller airline out of contention for many of Alaska's key routes. Alaska's partnership with American, however, changes the dynamics of this fight, with Delta suddenly looking like the weaker party. With Alaska's current route map being focused almost exclusively on North and Central America, access to the OneWorld network brings Alaska to or even beyond Delta's level, while allowing American to compete with Delta on both coasts.
"At this point, it's certainly not good news for Delta," said Brett Snyder, who runs the Cranky Concierge travel service.
Picture: Wikimedia