Finder is committed to editorial independence. While we receive compensation when you click links to partners, they do not influence our content.
Agricultural carrier insurance
Compare agricultural truck insurance for livestock, grain and refrigerated goods carriers.
Agricultural truck insurance covers owner-drivers and businesses that haul goods such as livestock, grain and refrigerated goods. Compare agricultural truck insurances to meet unique risks, like the additional costs of rounding up livestock or spoiled cargo after an accident.
How much does commerical carrier insurance cost?
The average annual cost of carrier insurance can range between $7,000 to $10,000 per carrier vehicle. But your exact cost depends on your driving record and other factors:
Your chosen level of coverage and policy features
The market value or agreed sum insured of the vehicle
The invoice value of the vehicle's equipment, cargo and personal effects
Your deductible
Driving history, age and driving experience
Your location
How can I save on commercial carrier insurance?
Keep these conditions in mind when comparing policies to score a better rate:
Choose a higher deductible. Consider raising your deductible to reduce your premium payments. But be certain you can cover the deductible in the event of an accident.
Keep a clean track record. Drivers without any losses generally get lower premiums.
Ask for discounts. The ability to bundle coverage with other options will help to lower your premium, for example.
Get the right coverage. Don't pay extra for coverage you don't need.
Get multiple quotes and compare your options. Make sure you're comparing equivalent coverage so you can understand what you're getting for your money.
Connect with a commercial agent who understands your industry and receive a personalized quote in as little as four minutes.
A variety of business policies from liability to workers comp
Get a personalized quote in minutes
Speak to an agent specializing in your industry
Start your quote online for less hassle
Compare commercial carrier insurance
Who needs agricultural carrier insurance?
Compare just a few examples of who might need agricultural truck insurance.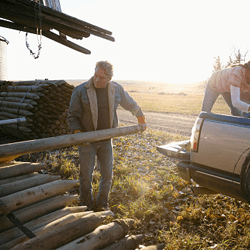 What does agricultural carrier insurance cover?
In general, motor carrier insurance may cover the following types of damage or loss.
Accidents, collisions, overturning or jackknifing
Cargo damage including shifting, ocean shipping, loading and unloading
Worker injuries or property damage while unloading a truck
Debris removal costs, emergency services attendance and relocating cargo
Floods, fires, storms, lightning and hurricanes
Theft, vandalism, non-delivery, hijacking and armed holdup
Industrial or labor disturbances such as strikes or lockouts
Compare commercial car insurance
What kind of coverage do carrier trucks need?
Collision coverage.

Covers the cost to repair or replace a vehicle after an accident.
Comprehensive protection.

Covers damage caused by factors other than an accident. This could include weather damage, theft and vandalism.
Liability insurance.

Protects companies and drivers who are considered at fault for damage or injuries caused in an accident.
Uninsured or underinsured coverage.

Provides increased coverage if another driver harms your vehicle or employee and doesn't have enough insurance to cover damages.
What additional carrier coverage should I consider?
Livestock, refrigerated-goods and grain carriers have some additional challenges that require additional insurance features to help cover them. If you transport any of these items, you may want to take steps to ensure you have more specialized coverage for these goods, rather than general carrier insurance.
Refrigerated container breakdown. Insures refrigerated-goods carriers against cargo spoilage.
Deterioration of goods due to temperature. Covers damage, deterioration or loss of goods that require temperature-controlled transport.
Spoilage cover. Insures against the loss of perishable goods due to spoilage after an accident.
Livestock wandering, roundup and agistment. Covers the cost of recovering, collecting and safely holding livestock after an accident until they can continue their transport.
Humane slaughtering. Covers the value of livestock that needs to be destroyed for humane reasons after an accident.
Fumigation and decontamination. Covers the cost of fumigation and decontamination if you are legally responsible or have been ordered to decontaminate your cargo.
Personal driver insurance. Provides death benefits and repatriation for long hauls.
Business insurance. This umbrella coverage helps cover loss of earnings or other business interruptions
Exclusions vs limits
Exclusions affect what you can and cannot claim under a policy, while limitations affect how much you can get back. It's important to be aware of both when considering coverage value.
What's not covered with carrier insurance?
Almost all insurance policies have limitations and exclusions. It's important to note that with some carrier insurance policies, you may come across some of the following limitations and exclusions.
Horses, stud animals or prize animals do not fall under the category of livestock
Livestock that was not in good health before loading
Failure of refrigeration if you have not regularly serviced and maintained your system
Damage caused by moths, mold, mildew, vermin or other pests
Ordinary leakage, wear and tear or loss in weight or volume of goods
Dangerous goods
Mishandling of goods or improper use or storage of equipment or cargo
What limits apply?
Additional maximum limits typically apply in addition to limitations. For example, you might only be covered for market value of a truck, trailer, personal possessions or trade tools only, not the actual cost of purchasing a replacement truck. And you'll typically get overage for the invoice value of a load up to a certain limit.
Limits and sub-limits can apply to the maximum amount you can be reimbursed for different types of loss and can vary between insurers and policies. For example, you might find a total limit of $30 million for third-party liability, with a sub-limit of $250,000 for hazardous goods liability. In many cases, the maximum limit of a certain type of coverage might not be enough to cover the full costs, and depending on the situation, there may be more than one applicable limit and different conditions.
Case study: What happens after a car accident during livestock transport?
A livestock policy might pay up to $25,000 in total for livestock roundup and agistment costs following an accident. This might be the maximum total amount, but the amount paid might be less if a replacement livestock carrier arrives before the agistment costs come to $25,000.
The limits might be different where agistment is necessary to restore injured livestock to their pre-loss condition. Here, an insurer might only pay up to the lesser of the following amounts:
The animals' sum insured.
The loss due to agreed depreciation had the animals been sold as injured livestock. In other words, if you could only sell the injured animals at half their sum insured, then the insurer will only pay out up to half of the sum insured for agistment costs.
Bottom line
Hauling agricultural goods comes with its own unique challenges. When selecting insurance, make sure you are aware of your needs and what the policy covers. And always compare your options to ensure you're getting the best coverage at the best price.
Frequently asked questions
Compare commercial car insurance
Learn more about commercial vehicle insurance
More guides on Finder