Finder is committed to editorial independence. While we receive compensation when you click links to partners, they do not influence our content.
Adidas discount and promo codes
Best deal: Get 15% off by joining Creators Club
From style to performance, this German brand has it all. Shop shoes and athletic wear for the whole family and stay looking effortlessly cool.
What can I buy from Adidas?
Adidas sells shoes and apparel for children and adults. It offers fashion and lifestyle footwear, and everything you need to equip yourself to play your favorite sport or do your favorite activity.
Some of the sports Adidas offers specialized gear for include:
Running
Soccer
Basketball
Football
Baseball
Skateboarding
Snowboarding
Tennis
Golf
Hockey
Lacrosse
Volleyball
Yoga
Weightlifting
Whatever your passion, Adidas can help you get ready to do looking good and feeling comfortable.
The brand frequently collaborates with top designers like Alexander Wang and Stella McCartney, and also offers customized sneakers to add your own unique flair to your footwear.
How do I use my promo code?
Adidas size guide: What size do I need?
Is Adidas plus-size friendly?
Although Adidas doesn't offer a dedicated plus-size line, it does have more options than many other athletic brands. It offers a size XXL, and its bras fit women with bra sizes up to 44E. This won't accommodate all plus-size ladies, but smaller curvy women can comfortably shop at Adidas.
Shipping, delivery and payments
Can I get free delivery?
Yes. Adidas offers free shipping on many items. If your item ships free, it's clearly stated on the product page under the Add to Bag button.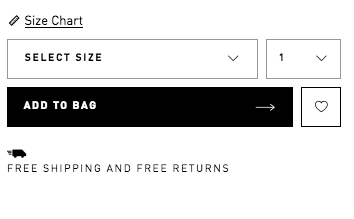 Shipping costs
Shipping costs depend on what you order, and you won't know what you'll pay until you check out. Most orders are shipped the same or next day, but expect to get your items 5 to 10 business days.
How can I track my order?
Once your order's shipped, Adidas sends you a shipping confirmation email that includes a link to track your order. You can also go directly to the order tracking tool on the Adidas site.
Payment options
Pay for your Adidas order on its secure site using Visa, Mastercard, American Express or Discover. For your added convenience and security, payments are also accepted via Apple Pay and PayPal.
What is the Adidas return policy?
If you're unhappy with your Adidas items, you have 30 days from the day you made your purchase to return. They're typically processed 7 to 10 business days, but you could expect longer times — up to 15 days — to get a refund during busy times, like the holidays. Adidas won't accept returns for customized and personalized products.
Are Adidas returns free?
Yes. Return your item to any physical Adidas store or print out a free, prepaid UPS return label. All returns must be mailed from the US to qualify for free return shipping.
Can I exchange for a different color or size?
No, Adidas doesn't offer exchanges at this time. You can always return your item and order the new size or color, though.
How do I return items to Adidas?
You can return your order to any Adidas store, or mail it back using the prepaid return label through UPS. You can access the label via the Online Returns page. Make sure to include the return detail slip in the box and cover up any previous shipping information on the outside.
When's the next Adidas sale?
Adidas offers sales a few times a year, including on Black Friday and Cyber Monday. These are often some of the best times to shop for Adidas shoes and apparel. Plus, the Sale section is always available to shop if you're in a hurry to get a great deal — many items are discounted 50% or more.
Sign up for the finder.com deals newsletter to hear about all the best deals every week. We promise we won't share your email or spam you.
What sets this brand apart?
Adidas is unique for its long history and European flair. It's one of those athletic brands that manages to seamlessly combine style and function. We love Adidas on the streets just as much as on the field — it has something to offer fashionistas and athletes alike.
What do people really say about Adidas?
Online reviewers praise Adidas for its high quality and innovative designs. One customer mentioned that he appreciated that Adidas was just as well constructed as Nike, but with less mainstream styles. However, not all Adidas customers were happy with their shopping experience. Some customers complained that their items took longer than expected to arrive and that customer service agents were unresponsive by email.
What is Adidas's history?
Adidas was founded in Germany in 1924 — nearly 100 years ago. It still has headquarters in Herzogenaurach, Germany, although it's now a multinational corporation. In fact, it's the largest sportswear manufacturer in Europe and the second largest in the world after Nike. Brands in the Adidas family include Reebok, TaylorMade golf company — including Ashworth, Runtastic and 8.33% of Bayern Munich, the football club.
How can I contact customer support?
You can send an email to Adidas using the form on its website. Prefer to talk on the phone? Just call 800-982-9337 — agents are available from 8 a.m. to 11 p.m. ET, seven days a week.
What about social media?
Whatever your favorite social network, it's easy to connect with Adidas. We particularly like the way the brand has divided its Instagram pages by interest. Follow the separate page for women, hoops, originals, skateboarding, running and more — or follow them all! It's up to you.
Why should I shop at Adidas?
Pros
World-renowned brand. It's the number two athletic brand — worldwide.
Free returns. It's easy to send back items that don't work at no cost to you.
Cons
No expedited delivery. Only standard shipping is offered.
Inconsistent shipping policy. Free shipping isn't always available.
Bottom line
Few brands carry the legacy and prestige Adidas does. For a company to survive nearly a century, it has to offer something special. We enjoy the quality and designs of Adidas shoes and apparel, and also appreciate the unique style the brand offers. Perks like free returns and free shipping for many items make shopping on the Adidas site a breeze.
Frequently asked questions
Image: Adidas
More guides on Finder