Aavegotchi game guide
Open-source, community-owned game with collectible ghost frens.
Free to try
Complete daily quests
Earn crypto & trade card NFTs
Runs on HIVE blockchain
Go to site
Disclaimer: This page is not financial advice or an endorsement of digital assets, providers or services. Digital assets are volatile and risky, and past performance is no guarantee of future results. Potential regulations or policies can affect their availability and services provided. Talk with a financial professional before making a decision. Finder or the author may own cryptocurrency discussed on this page.
Built on Polygon, Aavegotchi is a play-to-earn metaverse game with pixel ghosts. Players can socialize, earn, farm, play minigames and more.
The Aavegotchis are the characters, which are ghost NFTs that you can buy and sell. Users can customize their Aavegotchi and earn financial rewards, and get land in the Gotchiverse where you can build and farm for more rewards. You can actively control your Aavegotchi in minigames, or sit back and earn income passively through interest since the Aavegotchi NFTs are financially-backed by ERC-20 tokens.
The game aesthetic, lore and overall feel is reminiscent of Undertale and Stardew Valley. The Litepaper has fun language, and the game has colorful and bright animations with upbeat music — basically retro pixel farming RPG meets DeFi gaming.
There's a lot to this game, but here are the basics to start playing.
Highlights
Built on Polygon
Free to play
Trade many collectible NFTs
Buy virtual land
Play mini-games for rewards
What is Aavegotchi?
Aavegotchi is a game developed by Singapore-based Pixelcraft Studios, built on the Polygon (MATIC) blockchain. The game launched in 2020. Aave, the Open Source Protocol, also had a hand in developing this metaverse.
Aavegotchis are the NFT pixelated ghosts used in the Aavegotchi metaverse — the Gotchiverse. Aavegotchis love "farming, voting, and sh*tposting with their frens."
The Gotchiverse is in the Ether Realm, "beyond the Human Realm, where smart contracts twinkle and dark forests lurk," according to the Litepaper. The metaverse is built on Aavegotchi Protocol with direct input from the AavegotchiDAO.

Image source: Aavegotchi
The lore behind Aavegotchi talks about the "Liquidator Invasion" that describes how Liquidators destroyed all but a few of their own creations, the Aavegotchis. The surviving Aavegotchis are the most powerful, known as the "9 Adapt," and used the last of their energy to build the Great Portal, which bridges the Ether and Human Realms. Inside the Great Portal are the slain Aavegotchis.
Eventually, the Prophecy will happen, which is the great "lickquidators invasion." There's not much information on what this exactly means, but it's assumed that owned parcels will be attacked, so players must create defensive structures around their owned parcels; we cover this more later.
Aavegotchi and the Gotchiverse also have an active in-game marketplace and mini-games. And will soon offer an upgraded social component for the Aavegotchi community.
Image source: Aavegotchi
There are three distinct zones within the metaverse: The Citaadel, The Grid and The Beyond.
| | | |
| --- | --- | --- |
| The Citaadel | The Grid | The Beyond |
| Home base of the Aavegotchis in the Gotchiverse. Has the Great Portal. | Everything outside the Citaadel. Contains virtual parcels where walls and towers can be built. Contains The Aarena, where Aavegotchis can battle each other in Battle Royales for Spirit Force. | Locked. Unavailable until Act 2. |
Playing Aavegotchi
Go to verse.aavegotchi.com, and sign in with a Web3 wallet on the Polygon network. It supports multiple crypto wallets including MetaMask, Coinbase Wallet and Wallet Connect.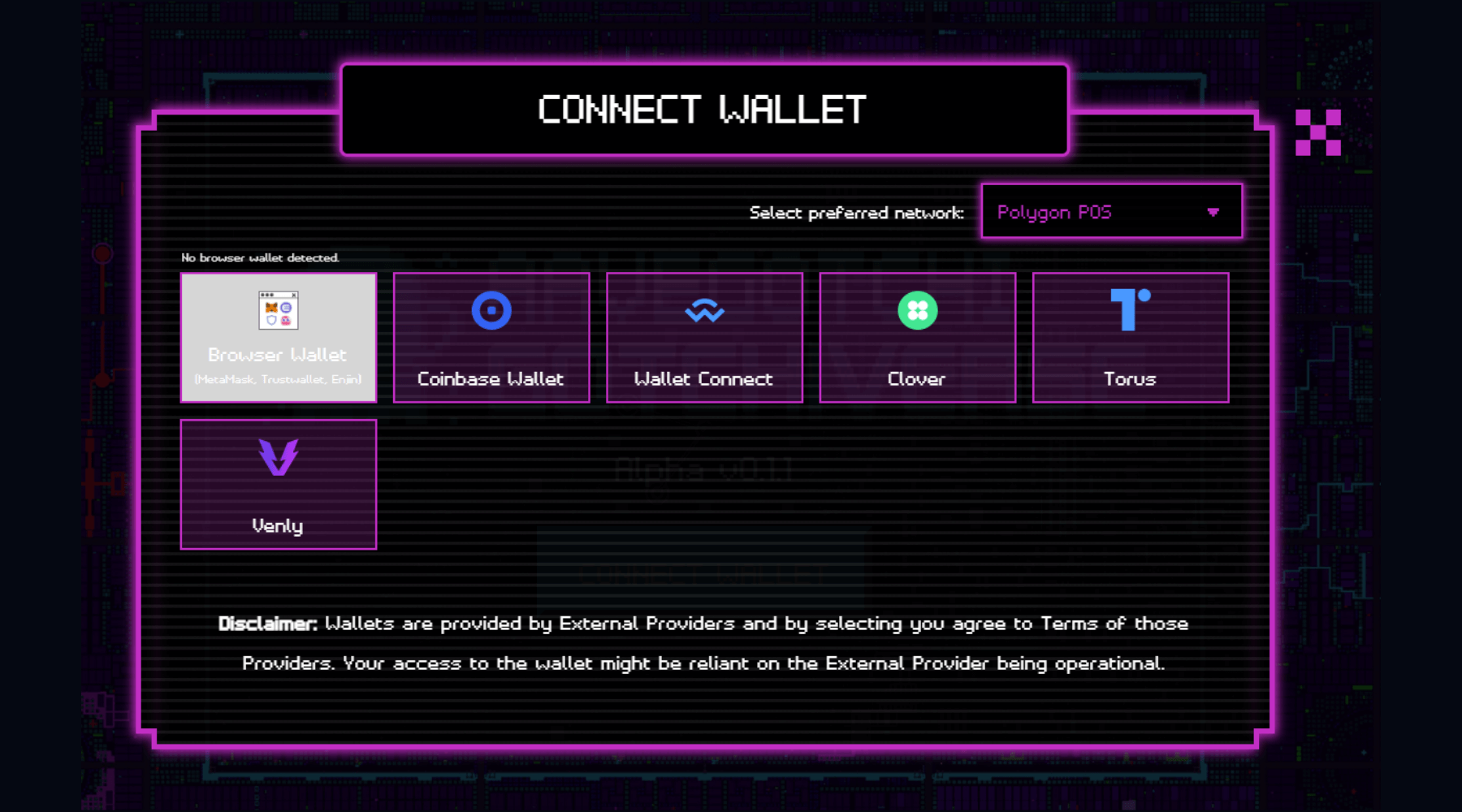 Image source: Aavegotchi
There are a four ways to get the playable Aavegotchi characters:
Summon. Players must purchase an unopened portal to summon an Aavegotchi. An unopened portal gives you 10 Aavegotchis to choose from (you only get to choose one). You can get a Portal from Aauction House, Drop Ticket Raffle or at the Baazaar — the auctions and raffles are limited, timed events.
Buy an opened portal. You can buy an already opened portal in the Gotchi Baazaar, however, opened portals have fewer Aavegotchis to choose from than unopened ones (again, you only get to choose one).
Buy one directly. Purchase an Aavegotchi directly in the Gotchi Baazaar or from a secondary marketplace, such as OpenSea.
Borrow one. You can borrow an Aavegotchi with the Gotchi Lending program. Go to app.aavegotchi.com/lending to browse listings and learn more about the lending program.
There are multiple steps to summon and claim an Aavegotchi when you buy an unopened Portal. The Litepaper created a flowchart illustrating how it works:

Image source: Aavegotchi
If you're a new player and you're hesitant to invest right away, borrowing an Aavegotchi with the lending program is a solid starting point. However, you can only borrow for a limited time, and you can't equip or unequip any wearables on the borrowed Aavegotchi.
With an Aavegotchi in hand, you can finally begin playing. The main way to play is through Rarity farming, which is done in three ways: Selecting an Aavegotchi with rare traits during the summoning process, equipping NFT wearables to your Aavegotchi or playing the minigames.
You can also purchase REALM parcels in the Gotchiverse, which comes with its own perks and rewards. REALM parcels are being made available periodically through auctions on the Gotchiverse main site.
What are the Aavegotchi tokens?
The Aavegotchi token (GHST) is the in-game currency of Aavegotchi and is available on centralized and decentralized exchanges. Have a look at the Get GHST page on the Aavegotchi website for a list of options.
GHST tokens also serve as the governance token for the AavegotchiDAO and Aavegotchi project. As the project develops, GHST tokens will be distributed to a wider array of users. As this occurs, the project's founders will hold fewer tokens to put power over the Aavegotchi project increasingly in the hands of the players.
There are also FRENS tokens that can't be traded outside of the Aavegotchi ecosystem. These are earned by staking GHST tokens within the game and can be converted into raffle tickets or "drop" tickets. Use your raffle tickets for a chance to win wearables, and drop tickets can be used for a chance to win portals or REALM parcels.
How to get Aavegotchi token?
Trade GHST on Uniswap and other exchanges with ether (ETH). Get ETH on a number of different exchanges such as Crypto.com and Binance.
Compatible exchange: Crypto.com App
Priorities security with a $750 million insurance fund
User-friendly user interface
Long list of features such as lending, borrowing, staking and crypto debit cards
Poorly rated customer service
Certain cryptocurrency support is geographically restricted
High withdrawal fees
Crypto.com supports a wide range of cryptocurrencies and features. Its user-friendly interface makes it a good choice for both inexperienced and experienced users.
Fees for trading are competitive, though can be high when withdrawing to an external wallet from the exchange.
There is a detailed knowledge base available on how features work, as well as Crypto.com university that teaches about various assets.
The company prioritizes security, marketing and design, but reviews suggest that customer service is lacking.
Deposit Methods

Credit card
Cryptocurrency
PayPal
TransferWise
SEPA


Deposit Fees

None

Withdrawal Fees

Cryptocurrency: Fees vary

Trading Fees

Maker: 0.04-0.20%
Taker: 0.10-0.20%
How does play-to-earn work with Aavegotchi?
Some ways to earn in the game include:
Trading Aavegotchis
Players can summon Aavegotchis from Portals and sell them on the secondary market.
Earn with minigames
Minigames vary in how they work, but they are all player-controlled games. Some games offer Experience (XP) rewards. Right now, these games are being created by players (official games coming soon), and a few include "Reverse Pacman," "Portal Rider" and "Gotchi Tower Defense."
Minigames are continually being developed in the Gotchiverse, and community members can contribute as well. You could, for example, have full or part ownership of a minigame within the Gotchiverse. Your ownership would be represented in the form of an NFT and could produce an income for you.
Rarity farming
Done by increasing your Aavegotchi's rarity level with rare wearables or summoning rare Aavegotchis, or voting in the AavegotchiDAO. GHST awards are rewarded, funded by the Rarity Farming rewards pool (40% of GHST spend on wearables, consumables and other game items are directed to the pool).
The three rewards for Rarity Farming are: Aavegotchi Rarity Scores (BRS), Kinship Scores and XP. XP can also be earned by participating in special events or playing minigames (both limited and announced on Discord and other channels).
Earn passive interest
Each Aavegotchi is financially-backed by Spirit Force (more on those below), so they accrue interest over time.
What are Aavegotchi NFTs?
Anything within the game that you can own is represented as an NFT.
Avegotchi characters
Aavegotchis and Portals are both NFTs (ERC-721 tokens). Improve the "rarity score" of an Aavegotchi by customizing it with wearables.
Once you get an Aavegotchi, you can view it on the Gotchi Profile page, where you can view stats, XP, rarity score, wearables and traits. Each Aavegotchi starts with six traits.
Below is the rarity and trait probability of the Aavegotchis:
| | | | |
| --- | --- | --- | --- |
| Rarity type | Range of low traits | Range of high traits | Percentage |
| Common | 25 – 74 | 23 – 74 | 50% |
| Uncommon | 10 – 24 | 75 – 90 | 30% |
| Rare | 2 – 9 | 91 – 98 | 16% |
| Mythical | 0 – 1 | 99 – 100 | 4% |
Each Aavegotchi is financially-backed by Tokens (ERC-20 tokens), called Spirit Force. The amount of Spirit Force is determined by how many aTokens are staked to an Aavegotchi. These aTokens accrue interest in real time that gets automatically sent to the owner's crypto wallet — in short, Spirit Force generates a yield through Aave's lending protocol and it's sent to the player.
Wearables
Wearables are also NFTs (ERC-998 tokens), created by the developers and its own community of artists. There are multiple categories of wearables already, including weapons, pajamas, sushi, Santa, rasta and partnership sets.

Image source: Aavegotchi
Virtual land
The Gotchiverse is subdivided so that players can own pieces of the Gotchiverse with parcels of virtual land. The individual parcels are called REALM, and owners of these parcels can earn resources called Gotchus Alchemica. These resources can be used to create structures called Installations, which are defensive structures against the Prophecy, the impending "lickquidators invasion."
Within the REALM parcels, you can farm, craft, trade, lend your Aavegotchis or engage in combat.
How to buy and sell NFTs on Aavegotchi
Individual Aavegotchis are sold for GHST on the Gotchi Baazaar, or you can get unopened or opened Portals to select an Aavegotchi upon summoning.
A quick look at the Gotchi Baazaar reveals that the lowest current price for an Aavegotchi is around 390 GHST. You can also scan the prices for portals, which are in a similar price range.
If you want to sell your Aavegotchi, you can do so in the Gotchi Baazaar or on a secondary marketplace like OpenSea.
About the Aavegotchi developers
The game is developed by Pixelcraft Studios, based out of Singapore.
The team is featured on the Aavegotchi Wiki, which we love to see with DeFi games. Many blockchain games omit who made the game, so this kind of transparency garners trust.
A big name that stuck out to us was Jesse Johnson, aka GldnXross, who helped develop the NFT minting marketplace, Mintable. He also created the value-Staked NFTs concept.
Other team members have extensive experience and biographies noted on the Wiki, many with blockchain development, tech company and programming experience. The developers are transparent about how the game works, how to earn and how to get started.
Aavegotchi roadmap
The Aavegotchi metaverse has completed Phase 1: Incubation. The game is now in Phase 2: Breakout, which runs from Q1 of 2022 to Q4 of 2023. Phase 3, called Ubiquitous, runs from 2024 and beyond.
Notable updates and milestones for Phase 2 and 3 include:
Aavegotchi Builder SDK
REALM public land sales
Mobile app launch
Aavegotchi minigame builder
Aavegotchi hardware wallet
Compare marketplaces to buy NFTs
Bottom line
Overall, we're impressed by the scale of this game. There are many features and ways to play, the NFTs are cute and collectible, the developers are transparent and — perhaps most importantly — there are many ways to earn.
The minigames are a great feature, allowing players to use their unique Aavegotchis to earn rewards. The wearables have real utility since they increase your Aavegotchi's rarity level.
Buying REALM, renting out your NFTs, farming and more — we're thrilled to see a DeFi game with so many features and ways to play. And it has expansive guides and FAQs to check out if you're ever unsure of how a specific feature works.
However, the game has a bit of a learning curve, and may not be suited for beginner players. But starting out is low-risk, since new players don't have to buy an Aavegotchi to get started.