Finder makes money from featured partners, but editorial opinions are our own.

Advertiser disclosure
13 tips to survive and thrive on a low-income budget
What I wish I knew when I was working on a journalist's starter salary.
I finished school armed with a degree in creative writing and a master's in Middle Eastern studies — not exactly high-paying fields. But the reality of this didn't sink in until my first job out of school as a newspaper copy editor in Beirut.
While the work was exciting and right up my alley as a news junkie, the $1,000 a month I took home barely covered my expenses — which now included student loan repayments. True, a $12,000 yearly salary in Beirut isn't as impossibly low as it would be in my current city of New York, but it was still extremely tight.
Here are a few tips and tricks I picked up from those years of living on a shoestring budget. And don't worry — you don't need to live in Beirut to take advantage of them.
1. Don't live alone.
Rent can be one of your biggest monthly expenses, but it doesn't have to be.
While I was in Beirut, living in an apartment by myself was completely out of the question. There was no way I could afford it. But even renting a room in my neighborhood was half my salary. I was lucky enough to be in a relationship, so I cut rent in half by sharing a room with my partner. But not everyone has a significant other they can — or should — move in with.
Had that been off the table, I would have done what I did as a grad student: rent an apartment with a roommate rather than sublet a room. I was able to save $200 a month compared to similar apartments because renters often up the price of rooms they're subletting to make a profit.
I've found the same to be true in New York: If you're willing to do some leg work, you can often find a much more affordable option when you search as a group.
2. Consider the total cost of living in your neighborhood.
Where you live also has a huge impact on your wallet. Rent can vary dramatically between neighborhoods, as can transportation costs, grocery bills and other living expenses. I chose to live in a slightly more expensive area of Beirut because I could walk to work.
After crunching the numbers, it became clear that I'd end up paying more for transportation if I moved to a different neighborhood than I'd save on rent. Groceries were also more easily accessible, so I could save by cooking for myself rather than ordering out every night.
11 questions I asked myself before moving to a new neighborhood
3. Take advantage of free events.
One of the rudest wake-up calls of adulthood was realizing that friendships can be expensive. Even just hanging out at a café can be unaffordable if you're on a tight budget. That's where free events can be a real lifesaver.
Beirut was pretty lacking in this department, but I was still able to save money on date night by going to the odd film festival, comedy show or gallery opening. If I were into sports, I probably would have made a habit of going to free soccer games.
Most cities have a host of free events you can go to — like outdoor screenings, plays in the park and concerts. You can often find these through online or print publications that list free events around town like The Skint in New York. Otherwise, searching social media might be your next best bet.
4. Cut down on bar time.
If you drink, you might spend more on alcohol than you think. Especially if you live in a place with a heavy drinking culture like New York and some areas of Beirut. After all, that's where restaurants make the bulk of their profits.
Cutting back or quitting entirely is the best way to save on alcohol. But even buying booze to drink at home with friends is significantly cheaper than going to a bar every time you want to hang out.
Use our calculator to see how much you could save by cutting down on alcohol
5. Let apps find deals for you.
There are plenty of apps out there designed to help you save on everything from restaurants to the pharmacy. Some, like Coupon Sherpa, act like digital coupon books you can bring with you when you go shopping.
Many others like Honey and Giving Assistant automatically enter promo codes when you shop online. And some sites like Amazon have their own app where you can create wish lists and get notified when items are on sale.
Pro tip: Look locally. I was able to save on food expenses after I moved back home by using the New York- and Boston-based Food For All, which allows you to pick up discounted meals from restaurants in an effort to reduce food waste.
6. Become a prepper.
No, not a doomsday prepper — a meal prepper. Popularized by BuzzFeed, meal prepping involves planning out your meals over the weekend to save you time and money throughout the week.
Another bonus is cutting down on food waste. Typically, it involves making a few staple items that you can mix, match and otherwise dress up with condiments.
I love to cook and tend to make too much food when I do, so meal prepping was a no-brainer for me. If you're not sure where to start, every food blog worth its salt has a healthy meal prep guide complete with shopping lists and estimated costs.
Cooking novices also might want to consider signing up for a trial with a meal kit company like Hello Fresh to learn the ropes. These are often heavily discounted or even free for the first few months and come with detailed instructions.
7. Create a budget and stick to it.
Getting by on a shoestring budget isn't easy, but there are steps you can take to make it feel roomier than it is. And building up savings is crucial for avoiding high-cost debt if an unexpected expense crops up. If you need help figuring out your finances, check out this step-by-step guide to budgeting for beginners and roundup of budgeting apps to help you get started.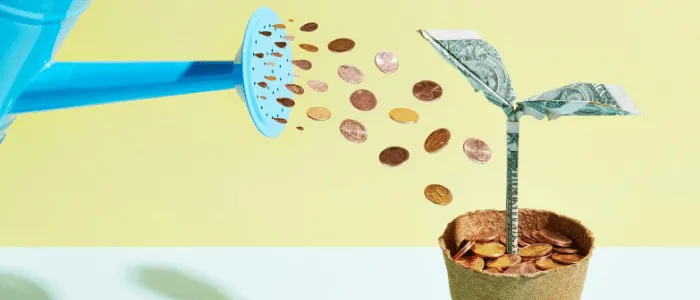 8. Indulge in small luxuries.
Just because you're living on a tight budget doesn't mean you can't indulge every now and then. Ordering my favorite meal once a month was enough to make me feel like I wasn't totally deprived of the things that brought joy to my life. And it helped me avoid crash shopping — where I'd go without nice things for so long that I'd break down and end up on a shopping binge I couldn't afford.
Not all luxuries need to cost money, either. I got into the habit of making my bed every morning and cleaning on my days off. Slipping under tucked-in sheets every night made me feel fancy, especially after a long night out. And having a tidy room made me feel calm and collected, even when the rest of the apartment was a mess.
9. Don't forget to save.
The tighter money got, the harder it was to put some aside. Fortunately, I had an incentive: I needed to be able to afford a flight back home should I decide to leave Beirut.
Saving up an emergency fund is key to staying on top of your finances — and maybe even more important when you're on a tight budget. One unexpected twist and you could end up putting hundreds of dollars you don't have on a credit card or taking out a notoriously expensive short-term loan. Both come with a high risk of getting caught in a cycle of debt.
To avoid this, take a look at your monthly income and expenses and figure out how much you can comfortably afford to set aside in a savings account. Or in my case, a lockbox I hid in my closet since opening a savings account in Beirut was way too complicated.
10. Go for used work clothes.
I've always been a thrift store person, so when it came time to buy office-appropriate attire, they were my first stop. You can often find well-made items — even from designers — for a fraction of the price.
Beirut wasn't exactly overrun with thrift shops like my native Brooklyn, but I was able to scrape together a wardrobe through clothing swaps and other expats looking to lighten their suitcases. You can often find clothing swaps through Facebook or other social media sites, even if you don't know anyone planning on overhauling their wardrobe.
11. Avoid unnecessary credit card spending.
I lived a cash-based existence the entire time I was in Beirut, but there were more than a few times I wished I'd had a credit card. Life was short on luxuries, and I would have gladly promised to pay a bit more for a weekend trip to Cyprus or a new AC, even if it meant going into debt.
I'm glad I didn't, though. Credit cards can lead to a cycle of debt if you can't pay off your balance in full each month. And even if you only take a few months to pay it off, it's still more expensive thanks to interest.
For nonessential items, I've found that it's best to save up. Which is what not having a credit card forced me to do. True, I didn't get the miles or points. But I couldn't have afforded to spend enough for them to be of much value anyway.
12. Ask for a raise.
Just because you started with a low salary doesn't mean it has to stay that way. If you've worked hard and made an impression on management, you could be entitled to a pay raise. Sometimes all you have to do is ask.
With that said, don't go into your boss's office blind. I made the rookie mistake of asking for a raise too early because my financial situation had changed — not knowing that the newspaper was facing major financial problems itself.
Before you get started, you might want to take a look at these pay raise tips from experts to get advice on how to approach the sensitive topic.
13. Know when it's time to move on.
Being broke is exhausting and unsustainable if you ever plan on retiring. While some low-paying jobs are more emotionally rewarding and can help you build up valuable experience, there's no reason to not move on if another opportunity presents itself.
I didn't have anything lined up when I quit, but I wish I had — it's easier to find a job when you already have one. In 2018, employed job candidates got offers that were 23% higher than their unemployed counterparts, according to a Federal Reserve study.
If you're living paycheck to paycheck, regularly checking job boards can help you get a realistic idea of other options out there. And don't let your LinkedIn account collect dust — employers can sometimes contact you if you have the skills they're looking for.
More ways to help you save …
9 money tips I would give my younger self